According to a 2022 Harris Poll conducted on behalf of CVS Health, 91% of Americans say self-care is important. Yet four out of 10 also say they can't afford to practice it themselves—and 50% say brands don't make products with people like them in mind.
Recognizing this gap in inclusivity, CVS Pharmacy set out to develop a comprehensive self-care collection that would speak to all genders, races, ethnicities, sexual orientations, abilities, and ages.
The line, coined one+other (pronounced one another), launched last January with 200+ SKUs, including personal care items that range from nail polish remover to razors to cotton swabs.
"We began by evaluating existing products across a variety of categories to identify where they fell short and how we could make them appropriate for anyone looking for accessible, everyday essentials," said Andrea Harrison VP, Merchandising, Beauty & Personal Care, CVS Health. "For example, our nail clippers previously featured very feminine packaging, but there is no need to genderize that product. Everyone uses clippers—and cotton balls, and even nail polish remover, and hair accessories. We realized that for some products we'd been narrowing down the consumer base in a way that didn't make sense."
The next step was making sure the wide range of shoppers who come into CVS stores all saw themselves represented on the shelves. "The reach of CVS is vast—we cater to people of every skin color and type, age, gender, and budget," said Harrison. So, to inform product development of one+other, CVS looked "at current trends, as well as at other brands that were successfully speaking to a wide variety of shoppers."
The result? A line that addresses the needs of consumers more comprehensively. "Our aim is to make sure that everybody can find a solution in our self-care aisles that makes them feel seen and confident," explains Harrison.
One+other also aims to reach consumers who may not have been specifically targeted before. For instance, in their research, CVS identified a group of shoppers who'd been notably underserved in self-care: those with the kinds of disabilities that might make it challenging to use traditional tools, like nail clippers or tweezers.
"We recognized a need for more representation in the self-care aisle for the disability community, so, in July 2023 we introduced the Universal Tools collection to make self-care solutions more inclusive for all consumers," said Michael Wier, Vice President of Merchandising, Store Brands, CVS Health. "Developed with accessibility in mind, this collection of comfortable-to-use tools, including tweezers, nail clippers, and rounded-tip scissors, was designed in collaboration with members of the disability community and includes a variety of features such as wide, open handles and non-slip, easy-to-grip silicone patterns that are uniquely textured to distinguish them from other tools."
In addition, CVS heeded feedback from surveys and product testing to ensure all of the product packaging in this new collection of tools was easy to open. "Over 50 percent of people with mobility or dexterity challenges say product packaging poses accessibility challenges at least once a week, so making sure we have accessible packaging will remain a top priority," said Wier.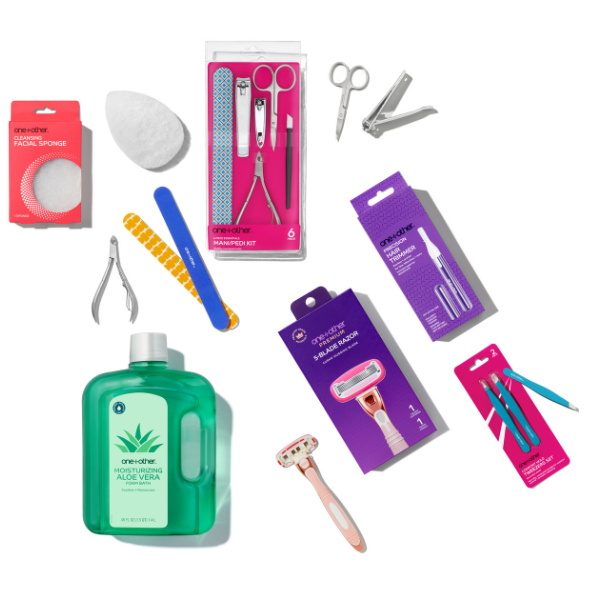 To ensure they were authentically reflecting the unique needs of the disability community, CVS enlisted the help of Gauge, an insights tool focused on diverse perspectives. Through Gauge, CVS was able to conduct surveys among a select group of participants with mobility, dexterity and/ or visual disabilities "to ensure the marketing materials and communication we developed had accessibility at the forefront," said Wier.
Finally, to spread the word, CVS marketed one+other across all the retailer's channels – including email, direct mail, digital circular, internal communications, and permanent planogram signage. They also partnered with influential voices within the disability and beauty/personal care communities, including occupational therapist Lindsey DeLong, and lifestyle influencers Molly Burke, Lolo Spencer and April Lockhart. This suite of third-party voices created content that showed how these products can address their unique needs—and "it really seemed to resonate with consumers in the disability community and beyond," said Wier. Together, the videos and posts resulted in nearly 240K organic engagements, including likes, comments, shares, and saves.
The launch of one+other has prompted the retailer to consider how they can be more inclusive throughout their personal care business—not just within the one+other collection. "As we think about inspiring consumers through accessibility and reflecting diversity, there are a few other things we're working on too," said Harrison. "We continue to be really focused on skin care, and we are constantly looking for more personalized solutions. For example, we recently expanded our Skin Care Center pilot from three stores to five. These centers provide a higher level of personalization with designated CVS Beauty Consultants who help consumers figure out the right products for their concerns. There are also tools and education that give consumers a very personalized experience in a place where you wouldn't normally expect to find that level of customization."
Now, as CVS rounds the corner on 10 months of one+other, the retailer feels confident the products and their messaging are landing well with customers both old and new. "We are likely attracting a broader base of consumers who might have felt alienated in the past, either in terms of price or package or even the way a product was placed in the store," said Harrison.
For CVS, one+other will remain a priority going forward. "This initiative is key for us because it's important to our consumer," said Harrison. "As we think about what new innovations to bring to our shelves, we always focus on retaining and exciting our current consumers, as well as trying to reach new ones. But we also know that more than ever, we need our aisles to represent and celebrate the diversity of the communities CVS serves."