Presperse, one of the beauty industry's leading ingredients suppliers, is known for its commitment to high-quality formulations and sustainable practices. It's also a terrific place to work. Under the leadership of President and CEO Joy Atkinson, who joined the company in the fall of 2020, Presperse has cultivated a culture that empowers and develops its employees, provides meaningful and rewarding opportunities, and prioritizes social responsibility. As a result, Presperse was designated a Great Place to Work for 2022-2023—and again for 2023-2024. The company has also seen profits increase and revenues triple. Atkinson said she strategically set out to create a culture people love—and ultimately it has been really valuable for the company as a whole.
"I was brought in to Presperse in 2020 to initiate a turnaround, something I've faced before in my career, so I recognized immediately that a number of employees were feeling…less than vibrant," recalled Atkinson.  "As a result, for the first three months on the job, I did a SWOT [strength, weaknesses, opportunities, and threats] analysis, a classic tool of mine."
The analysis was based on official meetings, informal conversations, hard data—and the attitudes of the employees. "We learned there was a definite leadership gap. The employees had so much to offer, but they'd been suppressed and felt like they couldn't voice their opinions without fear of repercussions."
With this realization, Atkinson began to create a safe space where employees would feel comfortable having a voice. She also relied on some teachings from the book "Delivering Happiness" by Tony Hsieh, the late founder of Zappos.
"I am a person who believes in surrounding myself with great people—and then I get out of their way," says Atkinson. "Like that Bette Midler song that says, I want to be the wind beneath their wings and I try to provide employees with an environment where they can grow and their gifts are utilized—and also where they can feel like mistakes are okay. It's a continuous-learning culture."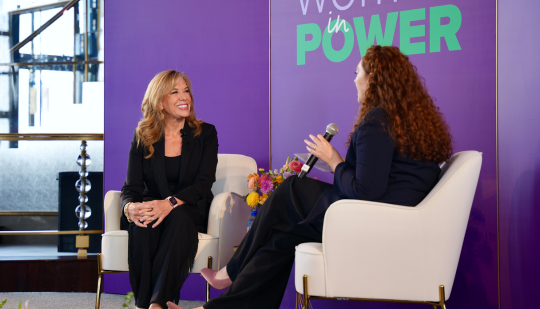 To accomplish all of this, Atkinson began by instituting an anonymous question box, where people could submit their questions and she would either respond directly herself—or, if she didn't have the answer, Atkinson would reach out to managers to get a proper response. By the spring of 2021, Atkinson had also replaced the entire top management team, bringing in new people who approached leadership the way she did and who also valued creating a positive work culture.
"I told the Presperse board to expect a hockey stick recovery—that it might get worse before it gets better. But by that spring, we were rocking and rolling. Things had begun to turn around, and employees were in a more positive mind set. We were also already on a growth trajectory. Not huge growth, because we were starting towards the bottom, but it was a positive," says Atkinson. She still, however, had one major issue to resolve.
"This was in the middle of COVID," says Atkinson, "and we needed to address whether or not to bring employees back to the office."
To make this decision, Atkinson and her leadership team went out to employees and asked them how they were doing—how working from home was working out. "And what came back was that most loved the flexibility and freedom to take their kids to school, run an errand, or be available to address family emergencies," says Atkinson. "So, I made the decision that we'd be a work-from-anywhere company, which was innovative at the time."
This new policy enabled people who preferred to work from home to stay there—but also provided clean, functional office space for those who wanted to come into the office. "And, of course, there were some employees who had to come in routinely because their jobs are in something like research and development, where you need to be in a lab," explains Atkinson. But they too had the option of staying home when their in-person presence was not required.
One reason Atkinson elected to go with the work-from-anywhere strategy was because it aligned with her desire to empower employees—and empowerment requires trust.  "Our work-from-anywhere policy was intended to say to employees, okay, I trust you. You know what our KPIs [key performance indicators] are, and we have to deliver on them. But if you can do that in a work from anywhere environment, that's great, let's keep it that way."
The strategy was immediately successful, with employees reporting back on how it had positively impacted their quality of life. "The work-from-anywhere policy allowed for grace within your personal life," says Stacy Cardaci, a customer success manager at Presperse. "As a mom of two, being able to participate in small moments for my children, while having a career, has been priceless."
With the new work schedule established, Atkinson turned to her next goal for creating an improved workplace culture: moving away from being a mission-based company and toward becoming a purpose-driven one. "Although mission is still important, purpose really drives what we do every day. And the basis of purpose is trust. So not only do we want to be a trusted partner to our customers, our suppliers, our stakeholders, but most importantly, we want to be trusting each other," says Atkinson.
In order to implement this, Atkinson established the following priorities: safety, a positive work environment, quality products—and making Presperse's commitment to social responsibility and sustainability official. "Presperse was already an EcoVadis partner [a global platform that rates businesses' sustainability practices] but I wanted to create a corporate social responsibility and sustainability platform too," says Atkinson. "So, I reached out to all the employees and said, 'Hey, I believe in this, who wants to raise the flag with me?' And Izabela Staniszewska, who was in charge of quality assurance at the time, stepped up and said not only do I have PhD in chemistry, but I also have a masters in environmental science, and this is something I am passionate about. Izabela is now my partner in our social responsibility corporate platform."
Step one in establishing this platform was signing the Presidential United Nations Global Compact, and reviewing their recommended sustainable development goals (SDGs). "We evaluated which companies were following these SDGs—and chose the four goals that seemed most important and relevant to the cosmetic and fragrance industry. And one of those goals was working toward becoming a designated Great Place to Work," recalls Atkinson.
To qualify for this designation, a company is assessed via an intensive process of employee interviews and questionnaires. "Quite frankly," says Atkinson, "I was a little afraid. I've been at companies that have attempted to get this designation before…and their scores were not good. But I thought to myself, well, I've been here for about a year and now we'll have a benchmark, right? And you'll learn something about the company, regardless."
"I never thought we'd become a great place to work right out of the gate. But in fact, we did," she says.
The first time Presperse got the designation, for the year 2022-2023, they received a score of 86 out of 100 (65 is the minimum qualifying score, with a 90 percent employee participation rate). And when they reapplied this year for 2023-2024, they were awarded a 96.
How does Atkinson explain this better-than-expected result? "Before, Presperse was a top-down command environment. But as a female leader, I've been doing things differently," she says. "I prefer a servant-leader role, which means I'm here to serve the employees and needs of our customers and help pave the road so that the teams can travel on it."
And employees say they're thriving in this environment.
The Great Place to Work organization is not the only one to take note of the turnaround at Presperse under Atkinson's leadership. Atkinson and Presperse will be featured on "Empowered" hosted by Meg Ryan on PBS later this fall. The educational docu-series focuses on under-represented industry sectors and the opportunities therein.
"The series' primary purpose is to educate and empower young women by showing them leadership roles through many different industries. The people featured have ranged from astronauts to women in the military to research and development. I was very honored that they reached out to me to represent an aspect of the cosmetic industry and how I'd broken through a glass ceiling in the cosmetics raw material space," says Atkinson.
As for Presperse's continued success, Atkinson says she believes they've found a formula that works—and the evidence of its success is clear in both the aforementioned bump in revenue, as well as in the execution of innovative new programs like Let's Make Beauty, a first-ever ecommerce site that helps support emerging beauty brands by offering the world's best cosmetic ingredients in small pack sizes without minimum order requirements.
"Our current success is a combination of a lot of things: empowered work culture, hiring outstanding people—and recognizing the outstanding people that were already here by releasing them from whatever was holding them back," says Atkinson. "At Presperse we want employees to know we see your gifts and we want you to bring them every day. We appreciate you."