In this report, Tribe Dynamics shared the top hair brands for May 2019, revealing several successful influencer brand partnerships within the category.
Top Hair Brands:
Olaplex – $6,026,161
Redken – $5,985,450
Brazillian Bond Builder – $5,581,710
L'Oreal Paris –  $5,581,153
Matrix – $4,677,348
Schwarzkopf Professional – $3,641,182
Artic Fox Hair Color – $3,309,716
Pulp Riot – $3,025,371
Amika – $2,893,636
Wella – $2,609,056
Spotlight: L'Oréal Paris Surges With Signature Cannes Activations
Thanks to star-studded promotions throughout the Cannes Film Festival, L'Oréal Paris haircare broke back into the Top 10 following an April absence, with its $5.6M EMV marking a Top 10-leading 153% month-over-month growth. Meanwhile, though it did not rank among the Top 10, L'Oréal Professionnel s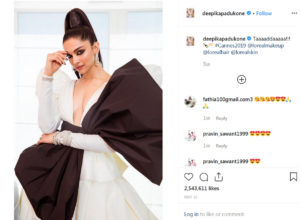 aw a 75% MoM jump, powering $2.4M EMV.
EMV generation for both L'Oréal Paris haircare and L'Oréal Professionnel stemmed primarily from the brands' respective celebrity partners. Actress Deepika Padukone (@deepikapadukone on Instagram) emerged as L'Oréal Paris haircare's top earner with $1.7M EMV, early double the $987.0k EMV generated by the brand's No. 2 ambassador, fellow actress Eva Longoria Bastón (@evalongoria). Crediting L'Oréal Paris' cosmetics, skincare, and haircare in her red carpet looks, Padukone's nine posts ranked as L'Oréal Paris haircare's nine highest EMV-driving pieces of May content. Miss Universe 2016 Iris Mittenaere (@irismittenaeremf) was the No. 1 earner for L'Oréal Professionnel, with the model's $915.6k EMV outpacing the next-greatest total by nearly $700k. As was the case with Padukone, Mittenaere's 10 posts—mostly showing off various Cannes ensembles—proved L'Oréal Professionnel's top 10 EMV-driving mentions.
DOWNLOAD THE HAIR CARE REPORT »