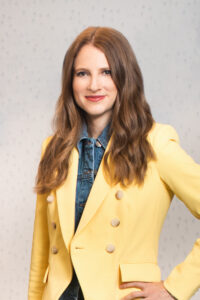 Amanda Baldwin joined Supergoop! as President in 2016, overseeing the sun care brand through a period of significant domestic growth and international expansion, alongside Founder and Chair, Holly Thaggard. Now, as Amanda takes the helm as CEO, she talked to CEW Beauty News about continuing Supergoop!'s mission to change the way the world thinks about sunscreen, why education is the brand's holy grail and how the brand prioritizes clean, feel-good formulas.
CEW Beauty News: What were Supergoop!'s highlights and lowlights in 2020? How did a sunscreen brand fare when so many of us were stuck indoors?
Amanda Baldwin: I'm incredibly humbled by the performance of Supergoop! The year was full of highlights, and I think it really comes down to the fact that we have an incredibly powerful mission and a really special team, and when you put those two things together, you really stay focused on your true north. We also had an incredible year in terms of international expansion. We went global as the brand launched in Canada, the U.K. and China. While we were collectively in a lockdown and our daily lives definitely changed, at the same time, the sun still came out. I do think that people's perception of health and wellness, and doing the right things for themselves, only became more elevated in 2020. Embracing the outdoors and being outside, in a different way than we were before, was very much part of people's lives, and our products are as relevant as ever. When you have a really strong mission, you're able to sort of mitigate the rest. We've worked very, very hard to educate consumers on the importance of daily SPF usage, even to protect against blue light from the screen. I happen to be sitting in an office right now with the sunlight coming through the window. That is giving me the same UV exposure that I would be getting if I was walking to work every day.
BN: Were there any particular products that did especially well last year?
AB: We saw incredible growth across the entire portfolio. We launched Glowscreen SPF 40 at the end of February and it fits very well into the idea of Zoom-ready beauty and with our current lifestyle of maybe not wearing the full face of makeup that you might have been wearing at the office. You just want a little 'glow up', as they say.
CEW BN: What were some of the key changes that you made digitally and with regard to your retail partners?
AB: We have always believed in thinking digitally first, so that was a very natural reflex for us. Our marketing team is incredibly in tune with meeting the consumer where she or he is, thinking about their lives, and developing product and messaging that feels right. We've certainly learned a lot about how to communicate effectively, but this is the toolkit that we were already using, just being out there and educating people. Holly, our founder, has been at this for 15-plus years. If there's one thing we've all learned from her, it's that you just keep going. You educate consumers by inspiring them and making something fun. We have an exclamation point in our brand name. And that's the spirit of how we educate in a way that creates joy, versus a kind of intimidation. We really believe that we can help people learn about SPF, and which product is right for them. Holly was a teacher before she founded the business. Holly's early insight, which is still our mission, is to change the way the world thinks about sunscreen so that everybody wears it every day. And obviously also to eradicate skin cancer.
CEW BN: What are some of the innovations and launches that you're most excited about this year?
AB: We have just launched our Daily Dose Vitamin C + SPF 40 at the end of December, and the success has been extraordinary beyond our wildest imagination. It's such a testament to what you can achieve when you create a product that has never been seen before. That's really how we think about product development. It's hard for me to even articulate how incredibly strongly the product is doing. We have already reached 500 percent of our forecast.
CEW BN: What is your focus for 2021 and beyond?
AB: We continue to have really strong growth across the business, across all channels, and across all products. Our DTC business is on fire. It's not about focusing on one or the other. It's about how do you have all happening simultaneously and harmoniously so that it's self-reinforcing.
CEW BN: What sets Supergoop! apart from other reef-safe sun care brands?
AB: For us, product innovation is about ingredient choices. Reef-safe is defined by the sunscreen actives that you use. It is often worth looking down the rest of the label of a product and making sure the other 90 percent of the formula is clean too. We have a no-list of toxic ingredients. We are very holistic about clean, which is unique in the sun care category. We believe in product innovation, in going where no SPF has gone before, and having options. We believe there is an SPF for everyone, everywhere, and that the right answer for me is not necessarily the right answer for somebody else. We believe in every skin tone and skin type and lifestyle choice. Nobody else who has a philosophy like that in our category.
CEW BN: What do you mean when you say that there is an SPF for everyone?
AB: When I meet a Supergoop! consumer, they all have the one product that has changed their perception about SPF, the one product that got them to wear SPF every day. Everyone's answer is different. They'll say, 'Amanda, I love the Glow Stick' or 'the (Re)setting Powder is amazing.' These choices are so personal and I think that really sets us apart. We believe not just in SPF, but in an SPF for you.
CEW BN: What is the future of clean sunscreen?
AB: Supergoop! was clean before clean was even a conversation. Holly was the first person to create a clean chemical formula without oxybenzone 15 years ago. We removed octinoxate from all formulas in late 2019. We thought it was time for an 'SPF refresh.' Our motto at Supergoop! has always been, 'test, learn, iterate,' so in that spirit, we launched a whole new look in addition to new, reef-safe formulas. Our list of ingredients that we won't use is constantly growing, constantly evolving. For us, clean is not a static definition, it's evolving. We are also really motivated by the definition of clean that goes beyond just the formula, what it means to be truly environmentally responsible.
CEW BN: On a personal note, you began your career on Wall Street. What inspired you to make the leap from finance to beauty?
AB: I started in finance because I wanted to learn about business. I honestly wouldn't be in the seat that I am today if I couldn't think through P&L on a spreadsheet. I still have a passion for that. However, as an investor, I decided that I was on the wrong side of the table. I thought the people running the businesses had all the fun. Plus, I have a deep love of brands and products, and a deep love of building teams and really getting in there, and watching people flourish and grow as individuals. Supergoop!'s announcement of key leadership changes is incredibly exciting for us. I believe so deeply in the team, and what we're trying to do. Having Tony Sciortino, CFO and COO, and Natalia Obolensky, General Manager of Asia Pacific, join us is another step change in the organization. We couldn't be more optimistic about the future and what we're all creating together.