About two billion people globally live with some form of disability, yet these individuals are often excluded from the beauty industry—in both representation and product offering. That wasn't acceptable to Alexis Schrimpf, Design Vice President, Skin and Personal Care for P&G Beauty.
Alexis leads end-to-end creative development for Olay globally, across all touchpoints, experiences, and equity, as well as guiding and coaching global design teams for SK-II, Old Spice, Safeguard, Secret and Ivory. She's no stranger to innovation—Alexis cofounded SeeMe Beauty, a skin care brand designed specifically for women over 50. An industrial designer, Alexis tapped into her training to solve one of the biggest issues for persons with dexterity issues and limb differences—the twisting motion needed to open jars. The result: The Easy Open Lid, which is incorporated into the product design of Olay's Regenerist Micro-Sculpting Cream with plans to roll out to other Olay products. By 2025, P&G has pledged to make its packaging more accessible for people with disabilities.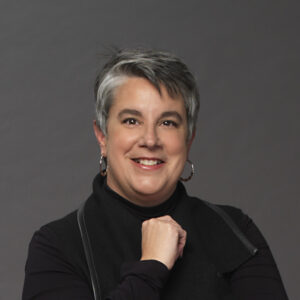 Alexis was honored this year as a CEW Achiever Awards honoree.
Here, she discusses her passion for improving packaging design, P&G's efforts to attract a diverse employee pool, and the best advice she's given and received.
Beauty News: What is behind the efforts to make products more accessible for persons with disabilities?
Alexis Schrimpf: The market for accessible products is very large and it's important for us to pay attention to the needs of these consumers. We did a lot of listening and learning to see where we could improve. The ability to open a jar was one of the biggest challenges we encountered. Two other designers joined me in my backyard during COVID working on designs that would enable dexterity. We started ideating—what were the dexterity issues? How could we make the jar more accessible? Talking to customers, we found that twisting can be challenging. We were inspired by levers used on handicap-accessible doors. With craft supplies and a hot glue gun, we started creating prototypes which became the Easy Open Lid. We continue to ideate, talk to consumers, listen to feedback and continue to improve. Adding accessibility is important in everything we do, and we plan to share our learnings with the industry. Another learning: Only 10 percent of those with vision issues read braille. So, we incorporated both braille and raised dots on lids.  (The dots are a pilot to see if using markings to note a product type, a cleanser for example, are preferred).Working on innovations and solutions that make a difference for consumers is right up a designer's alley. That is why I originally got into this field. We continue to explore tactile markings [Herbal Essences has markings to distinguish product type, for example] and to solve dexterity issues.I believe good ergonomics and accessible packaging that is built into product design is fundamental. If we build this into our work from the beginning, we'll have truly integrated solutions that benefi t everybody.
BN: How are you working to encourage more designers in the industry? Are women properly represented?
AS: When I was in college, the design program was 40 men and three women. Today there is a more even split by gender; the same is true for designers at P&G Beauty. The area where I see underrepresentation is African Americans in the field. According to a survey from 2019, only 3 percent of designers today identify as African American. That means 3 percent do the design work for a larger population. I believe we will be much better when the design population is representative of the population we serve. I work with the University of Cincinnati's DAAP Program (The College of Design, Architecture, Art and Planning) and HBCUs (Historically Black Colleges & Universities) such as Central State University to systemically make inroads through scholarships, mentoring programs and recruiting, that together will build a more diverse pipeline of students interested in design.
BN: What advice do you give to women in the industry? What's the best advice you've received?
AS: Don't be afraid; don't be timid. Too often I see women not speaking up with conviction. If you don't have a seat at the table, demand a seat. Use your voice and your talent to impact the business and consumers' lives.
The best advice I ever received was that you are only as good as your Plan B. First plans are great, but you are only going to be successful if you have a Plan B… and maybe a Plan C and D. You rarely get it right the first time, so you have to be able to shift gears.
To learn more about Olay's efforts to make products for all, click here.