BeautyStat, the fast-growing skin care company founded by Ron Robinson, has named Yaso Murray its first Chief Marketing Officer. Murray was most recently the CMO at Image Skincare and brings vast industry experience from roles at Philosophy, La Prairie, and The Estée Lauder Companies, where she first encountered Ron.
"BeautyStat is a special brand. Ron has the trifecta," says Murray in discussing what attracted her to the company. "He's a celebrity chemist and he's disrupting the skin care space in a big and bold way that nobody has done before. We've seen derms and aestheticians but no real chemists in the space. He really is in the lab formulating products."
The second and third components of the appeal of BeautyStat is Ron's development of the first 20% stable vitamin C serum, as well as his role as the go-to expert in ingredients built from his blog and social media of the same name. His Instagram @ronrobinsoncosmeticchemist, where he dispenses information about ingredients and trends, has nearly 25 million followers. Robinson has more than 20 years of experience in the beauty industry, from developing Clinique's best-selling products to leading product development at L'Oreal, Revlon, and Avon. Recently he advised Hailey Bieber on her Rhode Skincare line.
One of Murray's goals is to enrich the storytelling behind the brand and its founder. "There is so much misinformation out there and he's built himself into the insider. We need to translate that into 360-degree integrated marketing. It's not transactional, it is a bigger macro-level idea of evangelizing community. There's a mission that drew me to BeautyStat."
Building a brand that appeals to all ideals of beauty is also part of the blueprint. "Seeing this industry change over the past five to eight years and the emphasis on diversity and inclusivity is amazing. We want to be part of the mission to democratize what beauty means to the consumer."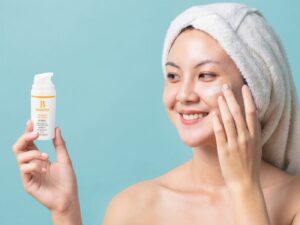 Ulta Beauty, which launched BeautyStat in February 2023, is aligned with the brand's ethos. "Their belief that beauty is 'for everyone' is so embedded with who we are." BeautyStat is also sold at Bloomingdale's, Nordstrom, Neiman Marcus, and at online retailers including dermstore.com and its own DTC.
Murray has plans to build beyond the existing lineup which includes serums, sunscreens, cleansers, eye creams, exfoliating peel pads, probiotic creams and clay creams with one or two new items a year. "Launches will come from a place of needs and disruptive technology, not just marketing," she adds noting launches could include stretch into other hero ingredients.
With help from a recent cash infusion, Murray will build out a larger team to execute marketing initiatives. BeautyStat was recently a benefactor in Aurora James' latest effort to fund BIPOC founders. James, the brains behind The Fifteen Percent Pledge, which encourages retailers to dedicate a minimum of 15% of their offerings to Black-owned brands, joined forces with Alisa Williams, a partner at private equity firm VMG Partners, with an initial investment of $25 million into brands including BeautyStat. James says of BeautyStat, "We wanted to make sure he was equipped with everything possible to have the best shot at the market."
Meet executives from leading indie beauty brands like BeautyStat at CEW's annual Beauty Bazaar event on September 21 at Chelsea Industrial in Manhattan. Network and connect with hundreds of beauty industry colleagues, engage with dozens of beauty activations, and find out first the Finalists of the 2023 Beauty Awards, including the Finalists of the Indie Beauty Award sponsored by Financo Raymond James.