This week's edition of Beauty Scene features news in personal care, cosmetics and skin care. First up is Degree's new campaign in collaboration with longevity experts, Blue Zones, designed to inspire Americans to move more. Then, there's Glossier's hotly-anticipated eye-and-lip cream in one.  And last, a new Millennial-focused clean cosmetics brand, Arrive, by a former beauty editor is making waves. Here's what you need to know.
Degree Partners with Blue Zones on "It's Time To Get Moving" Campaign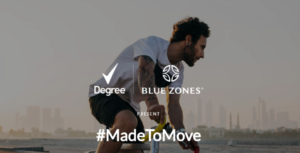 Last week, Degree celebrated its new partnership with Blue Zones, the global experts in community health and well-being transformation, at a press event held at the New Museum in Manhattan. Blue Zones founder and National Geographic fellow, Dan Buettner, explained how Blue Zones identified five places in the world  where people live into their 100s and are the healthiest. These locations include Okinawa, Japan; Sardinia, Italy; Nicoya, Costa Rica; Ikaria, Greece; and Loma Linda, California. These regions share nine common behaviors that contribute to longevity — one is the shared activity of moving naturally each day.
Movement, of course, is intrinsic to Degree's brand DNA. To that end, in collaboration with Blue Zones, Degree is creating movement opportunities, tools and resources for 10 million people by 2024. Degree's Made To Move grant program provides $500,000 in funding for city projects that promote increased movement at the local level, while leaving a lasting impact. Five communities will receive funding from Degree for technical assistance from Blue Zones-built environment experts on ways to advance activity-friendly design, as well as support for movement first policies and projects. As part of their partnership, Degree and Blue Zones will measure impact for each city project at multiple touchpoints to track against the brand's larger commitment.
Community organizations and city officials can visit BlueZones.com to apply and access Degree and Blue Zones' Made To Move grant criteria and supporting documentation. Anyone looking to move more can visit DegreeDeodorant.com for Blue Zones-approved tips and inspiration.
Glossier Launches 2-in-1 Eye + Lip Plumping Cream Bubblewrap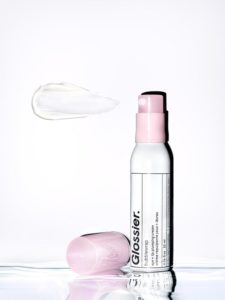 Double-duty beauty: Glossier's latest skin care launch has the beauty community buzzing, per usual. Adding to its skin care-focused lineup, the brand's latest is designed to hydrate the most fragile areas on the face — eyes and lips. The water-in-oil emulsion absorbs quickly, starting as a rich cream, then transforming into a light texture. Skin immediately appears plumper, and over time Bubblewrap works to smooth the look of skin in both areas.
In a clinical trial, 94% said their eye area felt moisturized immediately, while 85% said their eye area felt deeply hydrated after two hours. About 85% said their lips felt smoother immediately; lip hydration increased in 91% of subjects after two hours. The cream's key ingredients include hyaluronic acid, peptide complex, avocado oil, blueberry extract and squalane. The hypoallergenic cream is dermatologist-tested and ophthalmologist-tested, in addition to being vegan. Bubblewrap retails for $26 at glossier.com.
New Cosmetics Range Arrive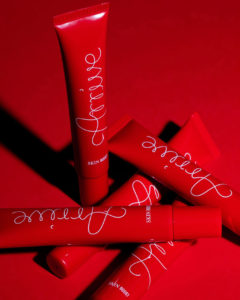 Clean ingredients? Check. Instagram-ready, Millennial-marketed wares? Check. Arrive is a new beauty brand created by a former beauty editor, Zoe Brenneke, who wasn't able to find a line that was clean, effective, affordable and well-designed — so she created one herself. Zoe is a former brand consultant and beauty editor for sites like The Zoe Report and Byrdie.
Housed in red packaging adorned with white script font, Arrive launches with a tight edit of just three products: Skin Boost ($26, available in five shades), Bronzer, and Bronzer Brush. Skin Boost is the star product of the line, boasting a consistency and coverage that's in between a tinted moisturizer and a foundation. The Bronzer is $28 and comes in two shades, while the Bronzer Brush is $20. Consumers can also purchase a customizable bundle of all three for $65. Arrive is available online at arrivehere.com.