Musical artist Gwen Stefani's iconic beauty look is matte red lips, cat eyes, and bold brows.
These were the elements that inspired the creation of GXVE by Gwen Stefani, a new makeup line that launches March 3 on GXVEBeauty.com and Sephora.com. Pronounced give, GXVE was inspired by Gwen's signature, which features a 'X' next to a 'G' to signify a kiss.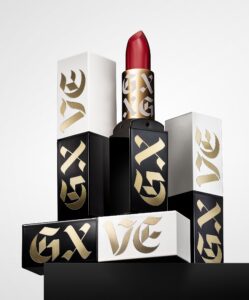 The eight-SKU offering includes a matte liquid lipstick, a matte lipstick, a satin lipstick (all lip items are in a true red shade), two brow products, an eyeshadow quad, a priming face oil and an eyeliner, ranging in price from $21 for the eyeliner to $48 for the face oil. Items roll out to Sephora doors March 10.
Erin Sale, the company's CMO, said that the collection is inspired by Gwen's long-held fascination with makeup.
"Before music, it was makeup," she said. "GXVE by Gwen Stefani has been an organic evolution in Gwen's incredible journey, bringing a makeup obsession to life that's been a part of her for as long as she can remember."
Gwen worked at a makeup counter in a mall near her home in Anaheim, California prior to her music career.
"From there, she continued to use makeup as an expression of her individuality, serving iconic looks for decades from (her former rock band) No Doubt to her solo career," said Erin. "During each of these eras, she's realized firsthand makeup's transformative power, and its unique ability to give you that feeling, an experience she's excited to share with others."
Erin said the collection is intended to meet clean beauty standards while offering color and performance.
"The collection of artistry-level products was created with makeup lovers in mind, but still offers easy-to-use products in wearable shades that elevate your every day," said Erin. "It was also important for us to cater to a diverse range of skin tones and age demographics, and our marketing strategy will reflect that."
The singer was involved in every step of the creation of the brand, which took three years to bring to fruition. Having been a global ambassador for Revlon and Urban Decay, said Erin, she built up a "fantastic experience in this space, and this was a natural next step for her."