Myavana, a Black-owned, female-founded beauty-tech company based in Atlanta, Georgia, is poised to launch its first-of-its-kind Web3 Metaverse experience, "In The Lab With Myavana," during National Coding Week, September 18.
This innovative venture aims not only to redefine textured hair care but also to inspire underrepresented groups, especially women and girls, to consider careers in technology.
"As pioneers of personalized hair care, we are on a mission to fundamentally change how women with textured hair are educated about hair care through new immersive, technology-driven experiences that influence hair product purchasing decisions based on their individual hair needs, Myavana founder Candace Harris tells CEW.
Harris, a Forbes 30 under 30 honoree and WWD Top 50 Beauty Innovator, is a trailblazer in the field of AI hair care technology. She founded the company in 2012, leveraging her background in computer science to develop a proprietary AI hair care technology that analyzes hair strands and then uses that insight to make personalized product recommendations from a database of 3,000 commercially available hair care products. She says her company has assessed over two billion hair strands to date, making it the world's largest database of textured hair care database.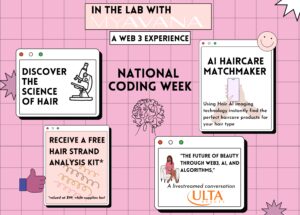 Starting on September 18, 2023, and running through August 2024, Myavana will introduce this technology to the world via a unique Web3 experience that includes a 3D virtual space encompassing a lobby, salon, living room, classroom, and laboratory. Once visitors arrive in the lobby, they will receive a complimentary hair analysis kit (valued at $99).
The virtual salon, hosted by Myavana CEO & Founder Candace Harris, offers not only the AI Hair tool but also virtual consultations with Myavana hair experts and professional stylists as well as access to a vast video library on textured hair care and a live-streamed discussion titled "The Future of Beauty Through Web3, AI, and Algorithms." The panel discussion, set for 12 pm ET today, Tuesday, September 19, 2023, will feature Augustina Sartori, Sr. Director of Digital Innovation at Ulta Beauty.
Working with Myavana, hair care companies can gain valuable insights into textured hair conditions to inform product development needs. As a B2C and B2B solution, Myavana's hyper personalized consumer intelligence data can change how hair product purchasing decisions are made by consumers – offering a massive data validated opportunity for the hair care products industry.
"We are thrilled to be partnering with Ulta Beauty, the leader in beauty retail, who also shares our vision of digital innovation and technology-enabled personalized care," Harris tells CEW.