New York-based skin care brand Peach & Lily hosted its first Los Angeles pop-up this week, taking over a 10,000-square foot Bel Air mansion to host ticketed master classes, and show off its latest trio of products.
Alicia Yoon, the brand's founder, said that the event was designed to connect directly with fans of the brand, which began seven years ago as an e-tailer for Japanese and Korean beauty products, but now includes its own products as well.
"As a digitally native brand, it's important to have that in-person connectivity, and to understand what products people are responding to," said Alicia.
The pop-up was the site of four workshops on hydration, acne and sun care, where Alicia and her fellow aestheticians did a deep dive into the subjects and answered consumer's questions. The $10 tickets, which included a bag of sheet masks and samples, sold out. The workshops also provided attendees an opportunity to see Peach & Lily's latest trio of offerings – the Overnight Star Sleeping Mask, Pore Proof Perfecting Clay Mask and Cold Brew Eye Recover Stick.
Each of the new products was highlighted in a separate section of the modern, luxurious home. One bedroom was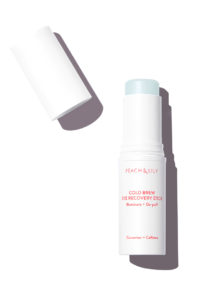 given over to the Sleeping Mask, lit up in shades of mauve and pink to reflect the packaging of the product; paper lanterns, twinkling fairy lights and glowing orbs scattered on the bed provided an ethereal ambience for a product that Yoon said was designed to create glowing skin after one overnight use. In another room, a bathtub was filled to overflowing with pink flowers, underscoring the Pore Proof Perfecting Clay Mask. And the ingredients of the Cold New Eye Recovery Stick – coffee, cucumber – were highlighted on a kitchen counter, also showing up in fresh squeezed juices and honey-sweetened coffee.
"We wanted this event to be not just about surface insights, but to share what we have gained after years of studying skin care," said Alicia, a former investment banker and licensed aesthetician who founded the e-tail arm of her brand in 2012 as a way to bring little-known Japanese and Korean products to the US. Her own skin care products came out last year, and now number 13 items including the newest offerings.
The pop-up also served as a test lab of sorts; Alicia had set up a 'co-creation' corner, showcasing a number of different textures – creamy, whipped, silky – and asking attendees to share their thoughts on what they felt like. Visitors were also able to smell different fragrances, and see what certain ingredients, such as peptides, actually looked like. Staffers took their feedback to incorporate into 2020 and 2021 potential launches.
"We wanted to understand our customers' thoughts, and combine that with our own science of skin care, while also giving a sensorial experience to people coming through," said ALicia. "Texture has always been extremely important to us. It's one thing to have the right ingredients and have a product be effective. But it also needs to be delightful to use."
The new products are priced at $28 and $43, but sold out on the first day.