Yesterday kicked off Climate Week NYC. To honor that, L'Oreal announced a major EUR 15 Million Climate Emergency Fund to help support our most vulnerable communities. Beiersdorf also announced plans to improve recycling efforts and lower emissions. Meanwhile, Babor, a category leader in sustainable product development, rolled out the first three products of its ambitious 2024 rebrand and "Green Agenda."
In fashion news, Edward Enninful today announced that Chioma Nnadi will become Head of Editorial Content at British Vogue. And yesterday was a dark day for Olivier Roustieng, who alerted the fashion community over Instagram that clothes intended for his Balmain Paris Fashion Week show had gone missing after the truck transporting the collection was stolen. "This morning, I woke up with a smile, starting the fittings for my next show at 9 am, and this is what happened…50 Balmain pieces stolen," he posted yesterday on his personal Instagram feed, olivier_rousteing. "Our delivery was hijacked. The camion got stolen. Thank god, the driver is safe."
The note, typed on a black back ground, was met with 5,041 messages of mostly love and positive energy but as of press time, the camion was still at large. In other fashion news, several high brow guests at the J.W. Anderson show were called out by Eva Chen on her new Style Not Com Instagram handle for exiting their seats prematurely—while the models were still walking during the finale. You can watch the J. W. Anderson finale footage at the Q R code below.
You can read those stories and more at the links below.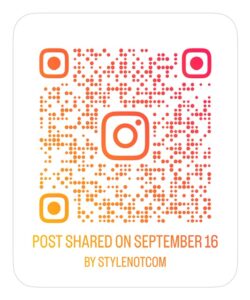 L'Oreal Pledges 15 Million to Climate Emergency Fund
L'Oreal's latest initiative highlights the role corporations can play in mitigating the impacts of climate change. (CEW)
Inside Babor's Ambitious 2024 Green Agenda
With streamlined packaging and even cleaner formulation for their new eye mask, collagen serum, and retinol cream, the brand is leading the way in environmental stewardship. (CEW)
Beiersdorf unveils its latest initiative advancing sustainability.
Starting from 2023/24, Beiersdorf's European deodorant lineup, will commit to a minimum of 50% recycled aluminium in their cans, which will also be 11.6% lighter, leading to a notable 58% reduction in the CO2e emissions. (Cosmetics Design Europe)
Estée Lauder Companies New Incubation Ventures Acquires minority share in Code Mint
Code Mint is a well known clean beauty brand created by a former influencer turned entrepeneur from China. (Global Cosmetics News)
Balmain Clothes Stolen Before Fashion Show
Some clothes may be gone but the show must go on. (WWD)
Zen and the Art of Subtraction
A philosopher explains how much better he felt when he stopped trying to "self optimize." (New York Times)