When you first open the Renewal Eye Zone Patch from Babor's newly rebranded DOCTOR BABOR line, you may be hard pressed to find the directions. Unlike most beauty products, it doesn't contain a detailed pamphlet in five different languages explaining how to use it. Instead, it features a discrete QR code on the bottom of the box where the instructions live in the cloud.
Babor's decision to eschew paper inserts is just one of many small ways the brand has reimagined their packaging to make it more sustainable. "We are extremely proud that with BABOR we have created high performance, luxury skincare in a mindful and sustainable way. Every new product launch is a sophisticated challenge," says Robert Bartel, Director of Product Development for Babor. In an era where sustainability is not just a buzzword but a guiding principle for responsible businesses, Babor, a family-owned company in its third generation, is helping to set the standard for environmental stewardship with its 2024 rebrand.
The three products launching today—which include the Triple Pro-Retinol Eye Zone Patch, the Refine Triple Pro-Retinol Renewal Cream, and the Lifting Collagen Peptide Derma Filler, offer a sneak peak of the brand's 2024 refresh. Formulated with luxurious textures and cutting-edge ingredients in keeping with the brand's 65-year-old spa heritage, the products also adhere to the clean and sustainable commitments outlined in the company's Green Beauty Agenda.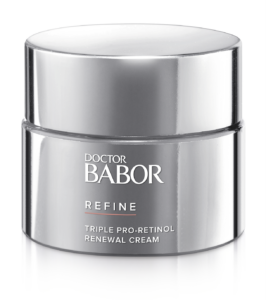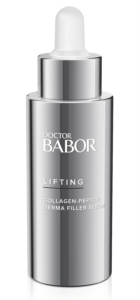 While Babor's cross-departmental sustainability board, established in 2020, steers their ambitious sustainability projects, their commitment to eco-conscious practices goes back more than six decades. Founded in 1956 as "biomedical natural cosmetics," Babor was one of the pioneers in addressing critical environmental issues, such as wastewater treatment and waste separation. Even the delivery of finished products reflects their eco-friendly ethos. For the past 14 years, Babor has relied on "green" postmen, thanks to a partnership with DHL, ensuring CO2-neutral deliveries. Additionally, employees at Babor use the company's own electric cars to travel shorter distances, further reducing their carbon footprint.
Their Green Agenda revolves around three key pillars: CO2 reduction, eco-friendly packaging, and clean ingredients. Let's take a deep dive into the details.
Green Agenda Goal #1: Keep Our Waters Clean
In 2021, Babor first joined forces with the Audi Environmental Foundation and the innovative start-up everwave to extract over 3.2 tons of plastic from the Danube. A year later, they've taken their clean-up initiative a step further by partnering with the Ferry Porsche Foundation. This collaboration extended their clean-up efforts for five weeks, ensuring that more plastic waste is removed from the Danube. It's a remarkable commitment to cleaning our oceans and protecting marine life.
Green Agenda Goal #2: Reduce Co2 Emissions
Babor's pledge isn't just about offsetting its Co2 footprint; it's about actively avoiding making it big in the first place. "We want to reduce our carbon emissions by 50 % until 2025", says Tim Saunier, CEO and President of BABOR Americas. By using green electricity, photovoltaics, and climate-neutral green natural gas, Babor's production headquarters in Aachen achieved carbon neutrality in 2014. Since 2020, they've maintained a climate-neutral corporate carbon footprint and product carbon footprint as any emissions they cannot avoid yet are compensated thanks to a collaboration with an NGO. "Our new production site, the BABOR BEAUTY CLUSTER, is an all-electric factory that will function without fossil fuels by 2024. It sets a new standard in terms of sustainable skincare production," Tim adds.
In collaboration with ClimatePartner, Babor accurately calculates its CO2 footprint and offsets all emissions that cannot be eliminated through in-house measures.
Babor also supports a wind farm in the Philippines and the international Plastic Bank initiative, which empowers people in Haiti, Indonesia, and the Philippines to collect plastic from beaches, turning it into social plastic for new products. With every ton of CO2 offset, Babor compensates 10 kg of plastic waste. It's a powerful example of a brand taking meaningful action for the planet.
Green Agenda Goal #3: Convert to Eco-Friendly Packaging
Babor's goal is to ensure that all its packaging becomes 100% recyclable, while reducing virgin plastic usage by 30%. Their commitment to eco-friendly packaging is already evident—Babor's packages contain no plastic fillers, and they prioritize FSC-certified paper whenever possible. Packaging developers are actively working on creating innovative recyclable packaging solutions and reducing unnecessary cellophane wrapping. This reflects their dedication to minimizing waste throughout their supply chain.
Green Agenda Goal #4: Eliminate Microplastics and Other Toxic Ingredients
In a bid to uphold the highest standards of clean beauty, Babor is formulating its products to be free of microplastic particles and environmentally harmful synthetic polymers. They're transitioning resource-critical raw materials to certified alternatives.
All new recipes are developed without microplastics – not just microplastic particles, but also synthetic polymers. The products should be free of silicones, parabens, PEGs, mineral oils, critical sulfates, and synthetic colorants. Existing formulas are being converted to eco-friendly alternatives by 2025. If needed, they opt for polymers that conserve resources and are environmentally friendly. Moreover, Babor exclusively uses certified palm oil derivatives while actively reducing their consumption. It's a commitment to ensuring that every product they offer aligns with their sustainability goals.
While the capsule collection of new DOCTOR BABOR products—particularly the oversized eye mask—may well become best sellers, it is the responsibility and care that has gone into the brand's sustainable evolution that is perhaps even more noteworthy than the formulations themselves. While maintaining the standard of luxury skincare they have become known for, Babor's Green Agenda offers a compelling blueprint for how beauty brands can evolve without compromising on their environmental responsibilities.