SkinCeuticals has always looked at fresh ways to bring medical aesthetics to consumers. They were the first to introduce branded retail through SkinCeuticals flagships in doctor's offices, and now the brand has a network of more than 130 flagships across the country. Now, as Skinceuticals opens skin care stores in NYC and Miami, even more consumers can be reached.
"Following extensive research, we sought to create a modern environment tailored to on-the-go customers who desired access to a credible professional, which ranked high in importance to consumers," said Stephanie Kramer, Global General Manager, SkinCeuticals. "As a brand who has science and knowledge at the forefront of their mission, we want to meet the consumer where they are and engage with those who may be new to the brand and curious about medical aesthetics. A professional opinion remains an unmatched resource for skin care clients, whether experienced or brand new. The SkinCeuticals SkinLab concept was a natural next step in our commitment to the medical professional and our consumers."
Becoming a Holistic Skin Care Destination
Each of the SkinCeuticals SkinLabs are designed to engage customers in a new way. Always located in high-traffic areas and retail-focused, each location is owned and operated by the brand's physician partners so that the doctors can make connections with a new base who may become lifelong patients.
"SkinCeuticals SkinLab is a holistic skin care destination that combines the validation of doctors and cutting-edge technologies with the ease and convenience that today's consumer has come to expect," Stephanie said. "With the tagline 'Great Skin, Made Easy,' the doctor and brand become more innovative and accessible than ever." Each location offers a stress-free environment with a simplified treatment menu, including their three science-backed signature treatments: Skinfirm, Skinbright, and Skinsmooth.
Opening a NYC store was a natural next move for SkinCeuticals. "New York was always in our plans when concepting the SkinCeuticals SkinLab model," Stephanie said. "It is a fast-growing market for SkinCeuticals, a perfect fit to the New York customer demands and it is home to our U.S. brand headquarters. We're so pleased that we can now be that much more accessible to those New Yorkers that already love SkinCeuticals, as well as open our doors to welcome new consumers."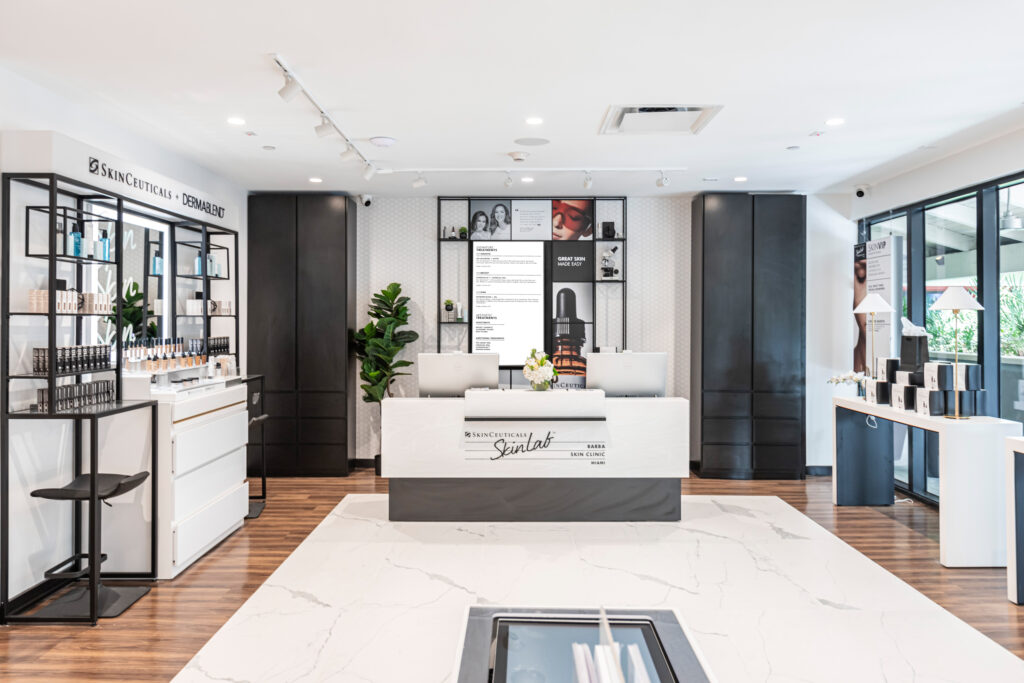 SkinCeuticals partnered with Tribeca Medspa for the SkinLab in NYC, since they have a 13-year relationship and are one of their top flagships in the country. "Identifying the right doctor partner and location is of paramount importance when it comes to SkinCeuticals SkinLab," Stephanie said. "They have always been in unison with our brand mission and we're thrilled that they decided to take this next step in our partnership. We're looking forward to continuing our work with Bill Tobin, co-owner of Tribeca Medspa, as well as his incredible team, which includes Dr. Gerald Ginsberg and Dr. Michele Anzilotti."
New York, Miami Locales Aim to Meet Regional Needs
Located in the heart of the Upper East Side, it offers the full assortment of SkinCeuticals advanced homecare as well as a curated menu of facial services and minimally invasive aesthetic treatments, overseen by medical director and board-certified dermatologist Dr. Anzilotti. The location has five state-of-the-art treatment rooms as well as a lounge that's ideal for private events.
The NYC location will offer the first SkinVIP Membership Program, which allows members to choose one treatment a month while enjoying special perks on products along with laser, skin tightening, body contouring and aesthetic treatments for $249 a month. "Our hope is that the rollout of the SkinVIP program will both incentivize and reward consumers for coming back to us regularly," Stephanie said. "We recognize the best results stem from an integrated approach—combining our products with in-office treatments—and are pleased to be able to offer value to those that believe in the power of results."
For the Miami SkinLab, they partnered with Dr. Alicia Barba, a leading dermatologist in the area and a member of SkinCeuticals' physician advisory board. "Her clinics have always been centered around accessible, approachable aesthetics so when identifying a partner to bring this new proposition to life, Dr. Barba was a natural fit," Stephanie said. "Miami is home to some of our most successful flagships, which have helped us to gain a deep understanding of the city and those who call it home. The Coconut Grove neighborhood of Miami stood out to us as the beauty needs of residents and the surrounding communities increased. We strived to expand our footprint in the Miami market due to the savvy, skincare-educated consumer and are ecstatic to do so with the esteemed Dr. Barba, in an ever-growing location."