Sonia Summers, CEO and Founder of Beauty Barrage, makes it clear what her company is, and what it is not.
Beauty Barrage delivers highly-trained sales associates who are laser-focused on expanding brand sales through education and experiences. These hand-picked experts—many of whom are micro-influencers in their own right—service a network of more than 3,000 stores.
"We've disrupted the antiquated in-store field sales model. Our Brand Ambassadors are not freelancers, they are all W2 employees, they have skin in the game," says Sonia, explaining that she incentivizes teams and pays them more for increased sales and stretch goals.
Sonia founded Beauty Barrage five years ago, after seeing a distinct need in the market. And demand for high-touch will only escalate as the $80 billion U.S. beauty market is poised to get more competitive—and crowded—in the years to come.
"People can love your brand, but a bad in-store experience can destroy that," says Sonia, noting that more than 32 percent of those who are fans of a line don't return after a disappointing sales encounter. "Products don't dance on shelves. You need to have people in place who live and breathe the brand and stay and play with consumers."
Sonia has the background to know what it takes. After a successful career with powerhouses such as Avon and Valeant Pharmaceuticals, she opened The Beauty Strategy Group in 2008, offering a menu of services to take brands to the next level. Emboldened by success, Sonia pinpointed a need to help companies move the needle at the key point of sale—in stores. The result is Beauty Barrage, which now counts multinationals such as L'Oréal, Coty and Perricone MD, and rising indies, such as Nudestix, as partners. The company is also a master at staging events and temporary installations, such as last year's Revolve Holiday Beauty Pop-up.
The company works from class to mass—from Bergdorf Goodman to CVS. Although specialty and department stores are the sweet spot, Sonia says demand is mounting at mass to remain competitive and help consumers in an environment where most merchandise isn't customer friendly due to packaging and merchandising decisions. A recent shade-matching event at a mass chain, for example, produced sales beyond what could be achieved without a demonstration of the product.
Here, Sonia discusses the impact Brand Ambassadors have on not only sales, but loyalty; how she finds her superstars, and what kind of results clients can expect.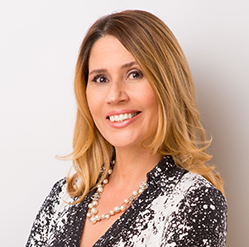 CEW: What makes Beauty Barrage different?
Sonia Summers: We don't hire freelancers: We're not a staffing agency. What we do is hire W2 employees who become experts in your brand and can increase your sales. Beauty Barrage has built-in relationships with retail management, and we go in as your brand. Each brand is managed by an entire team, including an Account Director, scheduler, education manager, recruiter, analyst and coordinator – and this team orchestrates all field activities by collaborating with our Sales Directors, Market Influencers and national team of more than 300 Brand Ambassadors.
CEW: Where do you find the right people? How do you train your Brand Ambassadors?
S.S.: People work for people. We hire sales people with a great track record, and good contacts: sales talent from prior positions, who want to continue to work with them. Our own people refer great people. We love taking someone who is hungry, from any industry. If they have passion, we train them. We have found a great percentage of our BA's come here fresh. They want to be competitive and exceed sales targets.
We have a diverse group ranging from millennials to baby boomers, as well as men. Our people receive some type of education at least three times a month. We just hired a new Vice President of Learning and Development, Heather Forcari, a 25-year beauty industry veteran with experience at L'Oréal and Estée Lauder. She's introducing many creative video opportunities, such as tutorials, tips and tricks. We provide even more content than the brands give us because we want to make sure we are delivering in store. Our client portal allows brands to view their monthly schedules, shift surveys from all BA's, and even view current trends.
CEW: What have been some of your brand partners' results?
S.S.: We've been able to produce a 134 percent increase in sales for an up-and-coming skin care brand. We garnered a 56 percent increase for an appliance brand, and we generated a 360 percent increase for a sun care brand. I'm happy to share a client testimonial that speaks to our results.
"The first time we used Beauty Barrage was during a three-week test in our New York market. During this test, we saw high-double-digit growth that continued well after the test period ended," said Holly Bashor, Vice President Sales & Education at Dr. Brandt.
CEW: How quickly can your team get activated? How fast will brands see results? Are you a good investment?
S.S.: Beauty Barrage has a solid onboarding process for brands that can be fast-tracked to three weeks (this includes training our team, ensuring that we are set up for success).
As far as results, if we are helping to get your brand out of a hole, that could take up to a year. If you're just launching and have a sales plan you have to hit, it typically takes about three to six months. (We have delivered sooner, but we prefer to under-promise and over-deliver.)
Our services include analysts who look at your sales and compare with historical data, so we can pinpoint what healthy growth should look like, and project when we should get you to the [desired] ROI. We're not inexpensive. We have found that cutting corners results in a lot of time spent making sure freelancers actually show up and training them. In the end, you'll wind up paying more, spending countless hours on sourcing and chasing down people, rather than working on your strategy.
In fact, choosing Beauty Barrage for your field sales needs offers about a 40 percent savings compared to hiring and managing your own team. We are a turnkey sales management solution. We come with account management, we come with field management—we're tying it all up in a bow for you. We handle everything so that you can do your job, and be as strategic as possible. One of our clients, Perricone MD, summed up our services perfectly: 'It's like having a larger field sales team that you don't need to worry about.'
CEW: What are the biggest challenges facing the beauty industry and how can Beauty Barrage help?
S.S.: There are so many messages [in stores]. You have to analyze shoppers and give them the right tools to make decisions, or samples so they'll return to buy. Our Brand Ambassadors use social media to let people know when they will be in the stores for a mini-facial, a makeover or a gift with purchase. They share reviews of products or show if a particular influencer liked a product. They create relationships and community networks. It's all about creating connections and building positive brand experiences for the customer.
For more information on how to put Beauty Barrage to work for you, contact: [email protected].