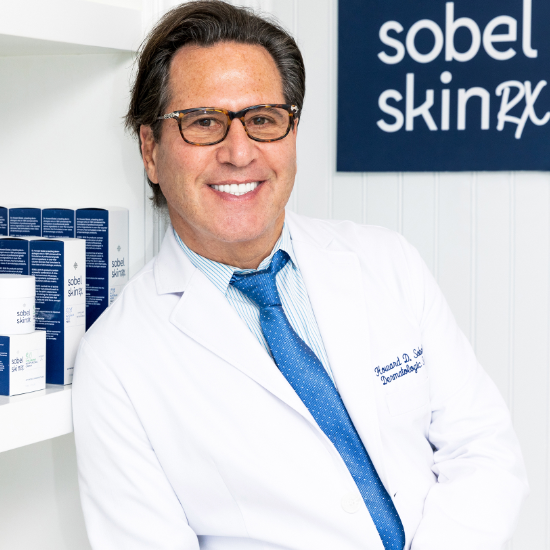 A pioneer in dermatology, Dr. Howard Sobel has been recognized by New York Magazine and Castle Connolly's Guide as one of the best dermatologists and dermatologic surgeons for 21 consecutive years. He is also the Founder and Director of Sobel Skin, New York's premier aesthetic dermatology center and medi-spa in Manhattan.
Dr. Sobel's artistic approach to cosmetic dermatology combines modern technology with over 30 years of experience in skin care. His Sobel Skin practice provides the latest advancements in dermatology, dermatologic cosmetic surgery and progressive face and body treatments all provided in the luxurious Park Avenue setting of his state-of-the-art skin center.
Among the first dermatologists to perform Liposuction under local anesthesia, he is the physician who popularized "micro-liposuction" for patients looking to sculpt their physique in small areas that cannot be exercised away. Dr. Sobel is also regarded as a skilled master at enhancing and sculpting his patient's profile with a combination of techniques to create visible, lasting results with little to no downtown. Dubbed the "Master of Botox", his "Trifecta Face Lift" uses a combination of Botox, fillers, and laser to brighten and refine the skin, lift, tone and erase fine lines and wrinkles, dark spots, and dull skin.
Before founding the clean-clinical Sobel Skin Rx collection, he created DDF, the first dermatologist-developed OTC skincare line sold to Proctor and Gamble in 2007. Today, the award-winning Sobel Skin Rx clean-clinical collection takes clean scientifically proven anti-aging ingredients, increases their strength to maximum levels and puts them in a revolutionary SD100 delivery system that allows for optimal penetration without irritation.
Dr. Sobel is a member of several medical Societies and Organizations including the American Academy of Cosmetic Surgery, American Academy of Dermatology (AAD), American Society of Dermatologic Surgery, American Society for Laser Medicine & Surgery, American Society of Liposuction Surgery, N.Y. State Society of Dermatology, and other groups. He has been quoted as an expert in national media including The Today Show, 48 Hours, CNN, CBS, ABC and NBC News, Allure, Elle, Vogue, Marie Claire,