There are more than 60 million women 50+ in the U.S.—and most are what's called a super consumer, which means she controls 95 percent of household purchases and 80 percent of luxury travel purchases.  So why wouldn't a retailer target that kind of buying power? QVC executives wondered that too.
"We know that women 50+ love to shop. They find it fun, energizing, stress-relieving—and they are inspired by storytelling, which is at the heart of our QVC business model," says Anna Baker, QVC's VP and GMM Beauty.
QVC has certainly offered products appropriate for the 50-plus consumer for decades—and featured brand founders and hosts that fall into this demographic. But, given this consumer's affluence and influence over household spending, creating specific content just for her suddenly seemed like an opportunity not to be ignored.
"This consumer is active, youthful, and on-trend. They are influenced by shopping videos and engaged across all digital platforms. They shop like Millennials and are technologically savvy. They engage with us across many platforms – social, mobile, streaming, etc.," says Anna. "This is a demographic that often gets overlooked and isn't targeted. But we decided this consumer should be embraced and celebrated."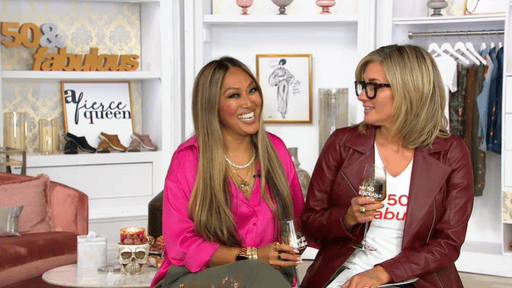 To do this, QVC sought new ways to engage with women over 50. One of their first efforts was "Over 50 & Fabulous," a first of its kind program that premiered last February as a limited, six-episode television and streaming series with host Mally Roncal, a makeup artist, influencer, and founder of Mally Beauty, which launched on QVC in 2005.
When QVC first approached Mally about the role, she says, "I was thrilled and honored and so excited to get to speak to this powerful but often forgotten audience. I turn 52 in January, and I've never felt better about who I am. So, my immediate response was 'Yes! What can I do to make it happen?'"
The show initially ran live every Friday from 8-9 p.m. EST between February 3 to March 10, with each episode loosely featuring an age-appropriate theme, such as menopause, dating after divorce, or empty nesting. During the hour-long program, viewers could shop featured brands curated just for her, as well as submit comments and questions that Mally would address in the "Aftershow," a second program that took a deeper (and dishier) dive into the evening's topic.
The "Aftershow" was then livestreamed from 9 -10 p.m. EST across QVC.com, QVC's Facebook, QVC's YouTube and on the QVC+ Streaming app. (Both shows were also available to stream after they'd aired live.)
"We wanted to build a welcoming community for women who aren't afraid to be their authentic selves," says Anna. "The limited-run series and after-show livestreams were designed to offer a forum for women to feel seen. To listen. To be understood. And to connect with each other with courage and confidence. We are proud of this new community we created for women that extends across QVC on-air, online, on social media, and on streaming platforms."
That first run of "Over 50 & Fabulous" and the "Aftershow" garnered such a robust response from shoppers 50+ that QVC brought it back in August for another six-week course hosted again by Mally and featuring special guests. And while the 8 pm on-air show is now on hiatus until the new year, the livestreaming "Aftershow" will continue to run at 9 p.m. every Friday evening.
"In all honesty, when I first agreed to do the show, I thought we might find shoppers who were a little lonely on a Friday night, looking for connection. And the connection part was right—but there are some fierce queens out there," says Mally. "These women were excited about the program and so strong and lifting each other up. And I say this with the most humility, I am blessed to have become a sort of ring leader that allows these voices to come together."
Mally adds that the "Aftershow," which is truly a community-building program (no direct selling is done) has gelled into a group of strong, smart, engaged women, many of whom return week after week just to be part of the conversation. "Being a makeup artist, I've always had a little bit of Barbara Walters in me. You know, makeup chair confessions," says Mally. "But what really surprised me about the Aftershow was how much these women were willing to share, how vulnerable they were willing to be. And I believe it's because they've seen and been through so much and have come out better and stronger and think: What the f*ck am I hiding for?"
Anna agrees: "We have received such positive feedback from our customers who say they look forward to tuning in each week. Words they've used to describe the series include inspirational, energizing, authentic, motivational, encouraging, uplifting, and empowering. And they say they've enjoyed feeling like they are part of a community where they can discuss topics that might otherwise be considered taboo."
Creating a welcoming environment for the 50+ consumers has spelled success for QVC outside of the Over 50 & Fabulous programming as well. Another QVC series, Master Beauty Class, a show-and-tell format that gives customers pro tips and techniques to 'master' their beauty regimen, has been buoyed by this consumer as well.
"During Master Class programming, we feature QVC's large assortment of national and indie beauty brands and exclusive products, including many new launches geared toward a 50+ shopper," says Anna. "We also present original livestreams on QVC.com with some of our top beauty experts and QVC program hosts. And customers can chat along with the livestreams and purchase products."
Last January 21, QVC kicked off their largest Master Class ever featuring brand founders, social media influencers—and tips, tricks, demonstrating and new products that livestreamed for 24 straight hours across QVC.com, QVC's Facebook, YouTube, Instagram, and the QVC+ streaming app. The event was so successful, Master Class will return in early 2024.
The QVC team has always recognized that the 50+ customer is tech-savvy and they have found ways to engage with her digitally. "She prefers quality and solution-oriented products that deliver results, and she wants to be at the forefront of innovation and the latest technologies," says Anna. "We speak to her every day across all our platforms. Whether it's a host chatting with customers over coffee on Facebook Live, a beauty expert offering tips and tricks on our streaming service, an entrepreneur launching a brand on our broadcast, or a celebrity vendor taking over our Instagram Stories, our approach has created one of the most loyal customer communities in retail."
But the 50+ shopper isn't just coming for new programming QVC has created for her. She is also discovering (or rediscovering) some of QVC's established brands too.
"I have always spoken to a 50+ customer, that has always been my demographic," says Laura Geller, a makeup artist and founder of the eponymous cosmetics brand, which has been sold on QVC for 26 years and is the longest running color brand at the company. Like QVC, however, Laura didn't always overtly lean into this demographic—but she is now, and her brand is benefiting from the fact that QVC is too.
"I think QVC is doing an amazing job promoting their engagement with woman 50+, and I think it's terrific that they're unapologetic about it," says Laura. "It's bringing some new shoppers to Laura Geller, and it's nice to finally see a retailer or brand that's not afraid to say this is a very important consumer."