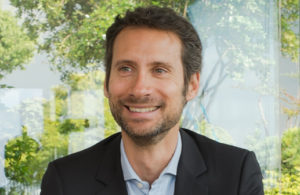 The minute Charles Rosier saw pictures of a child who had been treated for second- and third-degree burns with a wondrous wound gel—and bore no scars as a result— he knew that the creator of the gel, Dr. Augustinus Bader, had to bring it to the masses. But, what if instead of treating burns Dr. Bader could reformulate his potion to address wrinkled skin? Charles, who is now Co-Founder of Augustinus Bader, a three-item line blending science and luxury, has taken Dr. Bader's formula to the masses indeed:  by the end of 2019, Augustinus Bader is estimated to generate nearly $30 million in sales, with double that revenue forecasted for 2020. Charged with getting them to this goal is beauty veteran Maureen Case, who was tapped in February 2019 to lead the company, fill the pipeline, expand distribution and build the brand. Celebrities were one of the first to discover and become loyal users of The Cream, a hydrating face cream formulated to stimulate skin's natural process of rejuvenation, and helped propel it into retailers, including Violet Grey. The brand continues to be so trusted by celebs that Victoria Beckham today announced a partnership with Augustinus on her first skin care product, Cell Rejuvenating Priming Moisturizer, under her eponymous beauty brand. The priming moisturizer utilizes Dr. Bader's proprietary TFC8 technology to contribute to the skin's own repair and renewal systems. Here, Charles and Maureen talk about the rise of one of the most successful indie beauty brands to hit the market in the past several years.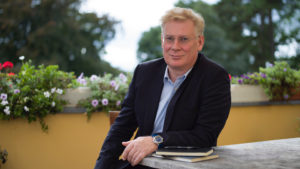 CEW Beauty News: How did you meet Dr. Augustinus Bader?
Charles Rosier: Augustinus and I have a common friend, Robert Friedland. He was an influential character in the life of Steve Jobs – so connected to high-profile people who were highly influential in their respective industries. Robert introduced me to Augustinus saying he was the best brain in stem cell research because, at the time, I had some philanthropic activity around financing researchers in the medical world – and I trusted him because he knew a lot about that space – so we stayed in touch.
BN: What convinced you to dedicate the next chapter of your career to skin care?
CR: It was when Augustinus showed me a picture of a child, a burn victim from boiling water with second- and third-degree burns. She was scheduled for a skin graft. On the third day after suffering the burn, Augustinus applied his wound gel that he created in 2007. After two weeks the burn had healed, with no skin graft needed. When I saw this, I thought, okay, we need to make this available to the world. I asked him if could formulate a cream that takes wrinkled skin to perfect skin. He said yes, but it took me two years to convince him to actually do it. And it took him 18 months to basically convert the medical wound gel, which contains proteins and things that cannot be approved for consumer groups, into a skin care product. I was convinced we could create the most amazing and disruptive products in the skin care industry to help fund Augustinus' continued research and wound gel trials.
BN: How did you finance the company?
CR: I was very passionate about bringing Augustinus' technology behind treating skin burns to the masses, but in order to finance the company (the cost of product development, the team, travel) I had to sell everything—which I did, except for my flat in Paris. But I could see that six months down the line we would need more cash. So I put my last asset, my flat in Paris, on the market. A successful businessman by the name of Jacques Veyrat visited my flat. As a smart buyer, the first question he asked is why I'm selling my flat. I told him about Augustinus and how he is the only person in the world who found a way to trigger stem cells to cure burns with no scars, and how it's important to bring this to the world. So at the end of the visit he said, 'Listen Charles, I'm not sure I'm going to buy your flat, but we need to talk again about your product.' And three months later he invested in the company,  which saved my flat, and then continued to invest beyond that. That was in November 2017 and we launched February 2018.
BN: How did word spread once you launched?
CR: I did underestimate how competitive the beauty industry was, but we were lucky that we received help from (celebrities) Don Johnson and Melanie Griffith who shared the cream with their friends. This was about November 2017. So by the time we launched in Q1 2018 we already had a following in Hollywood. But for premium skin care, people need a reason to buy the product. Celebrity endorsement is not enough. I think the success of our cream has been a result of multiple organic celebrity endorsements and beauty editor support and word of mouth, but also because this skin care works. If you're investing in your skin health by buying a premium product, you need a reason to give up your existing product. Results are the reason.
BN: How is the company faring now?
CR: We closed 2018 with between $5 million and $6 million in sales. This year global revenue will be around $25 million to $30 million. It's quite remarkable. And mostly with one product. Today our U.S. distribution includes Neiman Marcus, Cos Bar, Saks Fifth Avenue and Violet Grey. In Europe we are in Galleries Lafayette in Paris and Berlin; we have a flagship store in Paris; in Italy we have Corso Como; Lane Crawford in Hong Kong, and small boutiques in Italy and Spain.
BN: What about selling to retailers like Sephora?
CR: Maybe once you have a certain brand recognition and your story is known, then Sephora is the right platform. I think our brand is still in the phase where we need to raise brand awareness. We need to explain why this product is different. The story behind it, the purpose of the brand, etcetera. And I think we need maybe a little bit more of a forum where we have dedicated people who can explain the story.
BN: What are you doing to drive brand awareness?
CR: In the fall we launched our first campaign that involved social and regional advertising. In 2020, we will add on to that with a potential for billboards and will maximize e-commerce. I think where we are lucky is that until now, we've benefited a lot from organic endorsements. So in some ways we've had fewer marketing efforts compared to other brands, while the organic micro-community of the consumer being an ambassador has made us a stronger brand. Now we need to focus on accelerating growth because obviously our objective is to not stay a niche brand. We want to become a major player.
BN: Talk about the decision to bring in Maureen Case as CEO.
CR: We chose to bring in Maureen because she is a brand builder. She has worked on scaling up brands, which in some ways have a similar price range to us, and a consumer demographic and story she is familiar with. It is a good fit.
BN: What's in the pipeline?
CR: We will continue to be the carrier of a disruptive technology. So you have the carrier for the face in two different textures, and then the carrier for the body. We have a healthy development of products. We will release products only when we are convinced we add something new to the market. If you look at the clinical results for the body cream, it is the best body cream in the world. We want every product we launch to be the synonym of excellence. It will be an investment in skin health for the consumer.
BN (to Maureen Case): If the industry wasn't paying attention to Augustinus Bader before February 2019 when you joined, they did when you started.
MC: It is such a privilege to come and build this brand and build it in a new way, a very modern way, in making sure demand precedes anything that will launch, going to where the consumer is and making sure we are there for her, and looking at a digital-first component. My job is to really scale the brand. Our home market is the U.S. even though we're a brand born in Germany with a French cofounder and a team in London. We are all virtual, and committed to growing this brand to be the biggest name in skin care.
BN: What's next for the brand?
MC: We are going to continue to expand globally. So my job is to grow the business really fast, get the right team in place, and not live by old rules. In coming from a billion-dollar company with so many layers, it is refreshing to be fluid and fast. 2020 will be a big year for us to cement our place in this crowded beauty landscape.