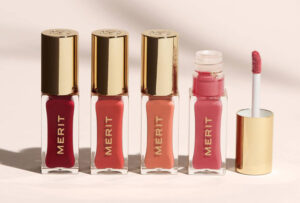 With the goal of reimagining luxury beauty by offering clean, sustainable, accessible products, Who What Wear Founder and CEO, Katherine Power, is unveiling her latest venture, Merit Beauty. The collection of makeup essentials features a curated range designed to highlight one's natural features while cutting out excessive steps and products.
"In 2020, we learned that we just don't need as much," said Katherine. "We got used to our natural hair texture, bare nails and minimal makeup. Merit was created so we can get ready in five minutes, with high-performing products that'll last us all day, even if our only outings, for now, are on Zoom. Less is more."
The seven-piece collection debuts today with complexion sticks ($38), cheek colors ($28), highlighters ($30), lip oils ($24), brow pomades ($24), a lengthening mascara ($26), and a blending brush ($30). With a commitment to sustainability, all boxes used to house products are FSC-certified. Orders are shipped direct-to-consumer in 100 percent recyclable shipment packaging.
This will be the second beauty venture for Katherine, who launched skin care brand, Versed, in 2019. A serial entrepreneur, she branched into the spirits category in the summer of 2020 with organic and vegan wine brand, Avaline, in collaboration with Cameron Diaz. Here, the busy mom tells CEW Beauty News about the development of Merit, how she balances running four companies, what she learned during COVID and her best advice for entrepreneurs.
Beauty News: What was the inspiration behind launching the brand?
Katherine Power: A few years ago, I started to feel like I didn't connect with any of the beauty brands on the market. I grew up wearing the legacy luxury and prestige brands that my mother had once introduced to me, always gravitating towards the products that made me look 'natural,' but after having my son, I wanted to wear cleaner formulas than those brands offered. As the clean beauty landscape started to grow, I tried a lot of great products, but always felt like they were being marketed towards a younger customer who was looking for newness (and excess) at every turn.
I felt compelled to create a brand that would reimagine luxury beauty for modern consumers like myself, by making it cleaner, well-edited, and accessible. Merit is the antidote to the overwhelming, saturated world of beauty with too many steps and 50 shadow pallets being dropped every week. It's built around the concept of minimalist beauty and the fact that we just want to look like ourselves, but better.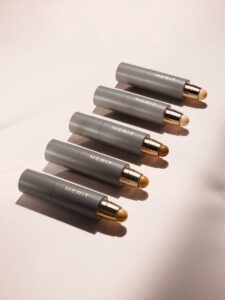 BN: What kinds of consumer trends and insights informed decision making?
KP: I've been quietly working on this brand for almost four years now. Some of the formulas, like The Minimalist Perfecting Complexion Stick, took more than two years to perfect, and in the meantime, I've been staying in close contact with my digital community to understand their needs. In the last two years alone, we've spoken to more than 4,000 people through focus groups, shop-a-longs, and surveys, honing in on exactly what they are looking for from the makeup brands in their life. Of the people we surveyed (mostly females, 28-45 years old), 66 percent wish their makeup routine was cleaner, 85 percent of them want to look 'natural,' but better, and 77 percent with more cosmetics brands aligned with their lifestyle. Ultimately, they want high-performing, easy to use products that create a polished look in minutes, and don't irritate their skin.
By the beginning of 2020, beauty and self-care had reached a fever pitch — it was a saturated market with products coming out every few days, full of ingredients we couldn't pronounce, palettes with 50 colors when we only used two on a night out, 10 steps in a skin care routine, and more and more additions to the list of what it takes to be 'ready.' When everything stopped in March, we all reset, switching to natural hair, nails and lashes, really minimizing our daily routines. It seemed like the perfect time for Merit to launch, to help streamline our makeup bags.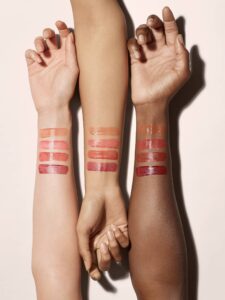 BN: Who is your target audience?
KP: Merit started as a personal need I had, and it turns out, there are a lot of people just like me. We are targeting the older end of the millennial spectrum, as well as Gen X, though I think about this target more as a psychographic than an age bracket. Our customer is busy, driven, seeking quality, and cares about things like clean ingredients and a brand's impact on the environment.
BN: How do you balance running three (and now four) different companies?
KP: Each of my brands has a stellar executive team that supports the vision and execution of the brand. It allows me to split my time between the brands, to go in deep with one or two at a time, depending on what's going on at that moment. I am deep into Merit as we gear up for launch, but the next month it could be fundraising for one of the others or a complex deal that needs my attention.
BN: What are your go-to beauty products (not your own)?
KP: I created Versed and Merit to fill gaps in my personal care routine — so I truly use them for my skin care and makeup every single day. From Versed, my go-to products are our Sunday Morning Antioxidant Oil-Serum and our The Shortcut Overnight Facial Peel — Versed has truly changed my skin. I also love Biba de Sousa's skincare products, including her Micellar Water and Glyco-C Thermal Organic Pumpkin Peel (Biba actually works with us on the formulation of the Merit complexion products). I also really like Glossier's Solution, which reminds me of a slightly less harsh Biologique Recherche P50 toner. For my hair, I use Ouai, Briogeo and Rene Furterer.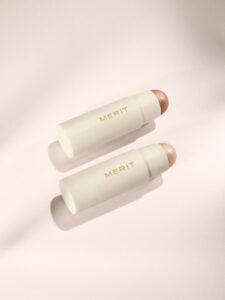 BN: What did you learn about yourself during quarantine?
KP: How grateful I am for my health. I experienced COVID-19 in March, so, fairly early on in the pandemic. The experience and the months spent working from home really streamlined my life in many ways — it simplified my routines, gave me more time with my family, and allowed me to focus on what's important.
BN: What advice do you have for female entrepreneurs?
KP: You will never feel completely balanced, but you can build in practices that get you pretty close. Having a strong support system, at home or at the office, is essential. If you don't have the perfect system, make creating one your top priority for 2021.
BN: Can you share what else we can expect to see from Merit throughout 2021?
KP: We'll continue to focus on beauty and personal care through our minimalist, less is more lens. We're developing new products with the same strenuous product development and sustainability process, with a focus on streamlining your vanity by eliminating steps where we can. In addition, we'll innovate when it comes to responsible luxury, and creating products that are safe for body, skin and planet. We're proud of where we currently stand but as technology rapidly changes for both packaging and formulas, we're thinking about how we can continue to push the envelope and minimize our global impact.