Indies continue to capture more market share than their corporate counterparts, and Kosas Cosmetics is one to watch, being one of the fastest-growing clean beauty brands out there. Investors indeed are taking notice. Led primarily by Stripes Group, the brand recently raised a Series B round of funding to accelerate 2020 growth plans—and beyond. Known for innovative product offerings such as its best-selling Tinted Face Oil, Kosas has now firmly established itself in the makeup-meets-skin care niche, which has become increasingly popular as consumers seek cleaner, multi-tasking beauty options. At the forefront is founder and CEO, Sheena Yaitanes, who has an eclectic background in fine art, organic chemistry and business. Sheena started Kosas from her kitchen table in 2015 with just four lipsticks, and in five years built a $20 million business. Now sold in retail giants such as Sephora, and industry favorites including Credo and Goop, the brand looks to continue to strengthen and grow distribution both here and abroad. Beauty News recently spent five minutes with Sheena to discuss the Kosas customer, future scaling and their latest product launch.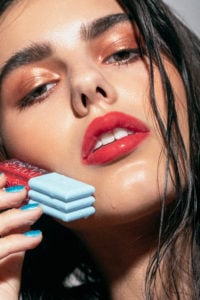 Beauty News: Was Kosas founded on a certain principle or did you simply create the products you wanted to see in the market?
Sheena Yaitanes: I had never, ever met a lipstick that felt good. I had never, ever met a foundation that looked good throughout the course of an entire day. I would have to scour the earth to find a simple peachy-orange blush. I didn't want to scour the earth anymore. I just wanted it all in one place, and I knew it was possible, if someone (me) took responsibility and made it happen. I had the idea probably 10 years before Kosas happened, but I was afraid to face it because I knew it was my calling. There was only going to be one shot for me; it had to be the right time.
BN: What's something no one tells you when starting a business?
SY: How vulnerable you have to be to put your heart and soul out there into the world. It's scary but ultimately it's the most rewarding part.
BN: Kosas has become known for innovative product offerings, like the Tinted Face Oil and the water-based 10 Second Eyeshadow. Would you say that's your main point of differentiation?
SY: Kosas is clean makeup that really works. You can feel the difference in the formula and ingredients when you try it. We don't use stock formulas or follow the concept of 'marketing ingredients' where things are added just to say they are in it. We make sure each ingredient is used as its most effective, skin nourishing level. Think four to five the levels that other brands use them.
BN: Who is your target customer?
SY: From Kosas's packaging to application, it's about keeping it easy, fun, playful, and not having so much pressure to 'get it right.' We believe in the new face of makeup for everyday life. Women are busy and they don't have time to be so precious and perfect with their makeup – they want foolproof, effortless makeup they can apply quickly or on-the-go.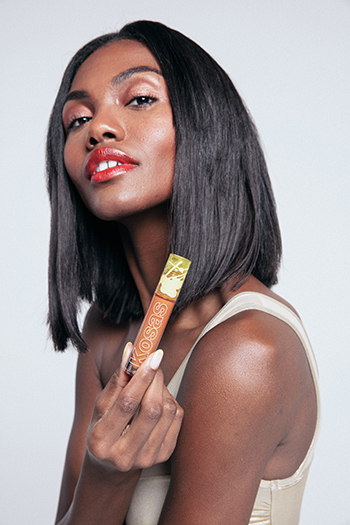 BN: What has made the brand succeed thus far at converting social media engagement into sales?
SY: Kosas is resonating strongly with audiences on social media, and seeing a ton of growth without paid influencer partnerships because we are having such honest, transparent conversations with our customers.
BN: With more funding secured, where are you looking to scale the most in the near future – marketing, international distribution, product development?
SY: Our Series B raise will build out the company's team, finance new product development, expand presence both domestically in North America and internationally further into the Australian and Canadian markets, as well as expand global marketing efforts. The capital will also fund large-scale marketing efforts in LA including a pop-up, out-of-home advertising in key markets, strengthening our influencer partnerships and an overall increase in digital marketing.
BN: What do you consider your biggest achievement?
SY: Tinted Face Oil took two years to develop because it was an entirely new format of foundation. Moments like Tinted Face Oil and 10-Second Eyeshadow have been big breakthroughs for me because they are a totally new approach with a certain risk involved. So when they land and solve problems for women, I feel so proud.
BN: What can we look forward to seeing from Kosas in 2020?
SY: We just launched our first concealer, the Revealer Super Creamy + Brightening Concealer. It is a double-duty product, bringing the best of traditional concealer to light up the under eyes and deliver potent botanicals to brighten, soothe, and plump the skin. We are also planning to expand into several new product categories in 2020.