May marks Asian American Pacific Islander Heritage Month and with that comes heightened awareness and attention toward brands made by these creatives, from food to fashion to beauty.  Here, CEW Beauty News presents a selection of AAPI-owned brands making major moves in the world of beauty as they give back to their communities.
Brand: Elorea
Founders: Wonny Lee, Su min Park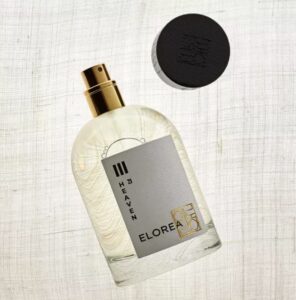 Behind the Brand: Elorea was founded by Wonny and Su min after the couple was inspired when walking into a beauty store in South Korea in 2019 and saw only fragrance brands from the West. The couple was motivated to fill a gap in the K-Beauty market that was overflowing with cosmetics and skin care brands but had few players in fragrance South Korea.
All in for AAPI Heritage Month: "Putting our money where our mouth is really is what's going to make a difference. We're more focused on the long run, basically normalizing it [helping out the community] to the point where we want to be everywhere."
Wonny and Su min have worked with multiple AAPI-focused organizations in New York including the Korean American Community Foundation (KACF), The Korean Society, and the Korean American Family Service Center (KAFSC).
What's New?: In addition to selling Elorea on their site, the brand will  be available on saksfifthavenue.com this summer. Plans are also in the works to go in-store at the Saks Fifth Avenue flagship in Manhattan. In addition, they are looking to launch their own store. Elorea's long-term plan? To become "the first globally-recognized Asian luxury brand" with products in body care and skin care, as well.
Brand: BYROE
Founder: Amy Roe
Behind the Brand: While attending Columbia University, Amy was inspired to create a brand that took a health-forward approach to eating salads and infusing that into peoples' skin care routines. BYROE's focus on salad-inspired ingredients such as tofu and tomato was also inspired by Amy's South Korean background and the integral aspect of vegetable side dishes (banchan) at every meal.
All in for AAPI Heritage Month: For the month of May, a portion of BYROE's sales is going towards charitable programs including The Asian American Foundation, National Asian Pacific American Women's Forum and The National Queer Pacific Islander Alliance.
What's New?: BYROE will launch a new product on August 17, the Kiwi Detox Gel Cleanser, which will retail for $38. It contains apple and kiwi seeds, and ingredients such as BHA, AHA, and PHA.
Brand: Eadem
Founders: Alice Lin Glover, Marie Kouadio Amouzame
Behind the Brand: Alice stated, "Before launching EADEM, Marie and I were marketing colleagues at Google, and have been friends for nearly eight years. Even though our cultural backgrounds may seem very different (Marie is French and born in West Africa and I'm a Taiwanese American), we had so much in common as women of color; finding skin care that suited our skins' needs was a constant battle we  both were fighting! I've spent most of my life figuring out my severe acne, eczema, and the resulting hyperpigmentation and it was through this exploration that we realized that there was a real need for safer beauty, specifically for our melanin-rich skin. And so, EADEM was born."
All in for AAPI Heritage Month: "We like to celebrate our AAPI community every day, every month, at EADEM as my background and heritage are inherently weaved into the brand's DNA. From day one we have made it a priority to share stories from our community in our online journal, as well as on social media, such as our Laying It Bare series which highlights BIPOC women we admire. In addition to this, we make it a point to tell our own stories whenever we can to spread awareness."
What's New?: "Our active community has been so instrumental in helping us decide where to go next. We're still working on many things, but we look forward to filling out the user's routine soon."
Brand: Youthforia
Founder: Fiona Chan
Behind the Brand: Fiona came up with the idea for Youthforia during the beginning of the pandemic, when socializing was restricted, and she realized "makeup for me is all about going out and having fun with your friends." Due to a habit of falling asleep in makeup after a night out  and experiencing intense allergic reactions as a result, Fiona was prompted to come up with a type of makeup one could fall asleep in. The first product Youthforia launched was the popular BYO Blush, a color-changing blush oil that reacts to one's skin's natural pH, which works to visibly reduce the appearance of fine lines and give cheeks a youthful glow.
All in for AAPI Heritage Month: For the month of May, Youthforia will be donating a partial portion of profits to Act To Change, a non-profit organization working to address bullying, including in the AAPI community.
What's New?: Youthforia's blush oil isn't the only skin-enhancing makeup product the brand has to offer; currently, Fiona is in the midst of patch-testing a foundation that is safe to wear to sleep, with an anticipated launch in 2023. Youthforia will also be launching two new face makeup products this year.
Brand: Sunnies Face
Founders: Eric Dee Jr., Bea Soriano, Jessica Wilson, Georgina Wilson, Martine Cajucom Ho
Behind the Brand: Sunnies Face was originally created in the Philippines and officially launched in the U.S.  May 16. The brand is lauded for its packaging aesthetic, marketing and range of shades  to suit a wide variety of skin tones.
All in for AAPI Heritage Month: Georgina and Martine stated, "With Sunnies Face entering the U.S., our goal is to represent our community by creating a space for Southeast Asian beauty and giving visibility to the Philippines on a global scale. It's really exciting for us to be able to use our brand to shine a light on Filipino culture and show how diverse Asian beauty really is, and we hope to modernize and diversify the overall worldview on the space.
It's actually a happy coincidence (and one that we are so thrilled about) that our brand launch in the U.S. fell during AAPI Month. As an AAPI-founded brand, it's important to us to develop an ongoing sustained strategy to support relevant initiatives beyond just one month of the year. We are currently working on what this will look like for Sunnies Face on a larger scale and can't wait to share more."
What's New?: "We have just entered the U.S. with our hero product Fluffmatte, and already have consumers asking what's next! Over the next year, we will be introducing our full product line inclusive of makeup and skin care on a rolling basis – stay tuned."
Brand: Squigs Beauty
Founder: Nikita Charuza
Behind the Brand: Prone to dermatitis and experiencing hair loss after the birth of her first child, Pop Sugar Fashion Editor Nikita wanted to create a product to help with hair loss and overall scalp care. She was tinkering around with treatments much like those she remembered making in childhood, inspired by her South Asian culture. From previous experience, Nikita knew that amla (also known as Indian gooseberries), which is featured in Squigs Beauty's Gooseberry Delight Hair Oil, was highly effective in helping maintain hair and scalp health. One of the goals with the brand is to create a "Squigaverse" where customers of various backgrounds feel welcome in trying the products.
All in for AAPI Heritage Month: Throughout May, Squigs Beauty highlighted other AAPI beauty brand owners, such as Glow Recipe founders Christine Chang and Sarah Lee, on their various social media channels and will continue to highlight and spread awareness for the AAPI community and AAPI-owned brands.
What's New?: The brand is still incredibly new to the market, having launched in March 2022. But the brand has released two items, a hair oil and Double Shot Face Serum. Squigs Beauty plans to continue to release products that focus on overall face, hair, and scalp health.
Brand: Tower 28
Founder: Amy Liu
Behind the Brand: During the first year of getting her MBA at the University of Southern California, Amy attended a school event and sat next to Michelle Taylor (former CEO of Kate Sommerville Skincare and President at Kiehl's) and offered to be her intern. Moving forward, Amy continued to work in the world of beauty for companies including Smashbox and Josie Maran, with the plan to eventually create her own beauty brand. As someone who's dealt with eczema for most of her life, Amy wanted to create products that wouldn't irritate sensitive skin but were still fun and exciting to use, thus Tower 28 was born.
All in for AAPI Heritage Month: "This month we launched our AAPI Bestseller Beauty Collection with our friends at Glow Recipe, Cocokind, Live Tinted, Fable & Mane, Mount Lai, Hero Cosmetics, and JINsoon to help raise awareness on the issues and give back, " Amy stated. Ten dollars from every box sold will go to AAPI non-profit organizations benefiting the community. "I'm so incredibly proud of this collaboration and always love working with these brands."
What's New?: "We actually just kicked off a new season of our Clean Beauty Summer School, which we launched back in 2020 to help BIPOC-owned clean beauty companies learn about the industry and build bonds with mentors and other brands. I'm really excited to meet and learn more about this year's group of rising brands. In addition to that, we are working on some big, big launches for 2022 that I can't wait to share more about (soon I promise!) So watch this space."
Brand: Sonäge
Founder: Anisha Khanna
Behind the Brand: Sonäge is derived from the French expression, "bien porter son âge," which translates to, "to look good for one's age." The brand delivers on its promises with an extensive range of eco-friendly, botanically-infused ingredients to provide pro-level results for a spa and at-home experience.
All in for AAPI Heritage Month: "As a woman of color, I have endured endless amounts of micro-aggressions in my professional (and personal) life. I've had to work twice as hard to prove my worth. I did not have a lot of role models that looked like me, and it wasn't until my 30s that I fully embraced being an Indian American. We are at a moment where bullying and prejudice from the top down is setting a tone that gives permission for hatred and bigotry. By supporting events and publishing content, my endeavor is to share my unique perspective, my heritage, and experiences to try and change the narrative," Anisha stated, "We are incredibly proud to support the work of @acttochange and their amazing program the 4th Annual AAPI Day Against Bullying+Hate"
What's New?: This summer Sonäge will launch the Jolie Contour Body Crème, retailing for $60, on their site and on Amazon, a professional-grade, hydrating cellulite cream formulated with virgin, cold-pressed green coffee oil to naturally activate circulation and minimize the appearance of cellulite.