Ami Colē, the makeup that's all about enhancing—rather than transforming—melanin-rich skin, is getting chatted about in the beauty circles that matter. Founded by L'Oréal and Glossier alum Diarrha N'Diaye-Mbaye, the collection is looking to educate and inspire consumers. Here, Diarrha talks to CEW Beauty News about the importance of celebrating culture, community, and clean formulations in building her up-and-coming brand.
Indeed, Ami Colē is a clean makeup brand targeting melanin-rich skin. But for founder and CEO Diarrha N'Diaye-Mbaye, the brand is also very much a vibe.
"We are digitally and physically celebrating melanin-rich women and their stories. We use inspiration from my home country of Senegal and bring it to the world. Senegal is a place that bursts with energy, vibrant colors, and percussion that you can feel in your soul. Even when we have nothing, we always have 'terenga', which means the act of welcoming," said Diarrha, who was born in Harlem.
Since launching her brand in May 2021 with just three products (Skin-Enhancing Tint, Lip Treatment Oil, and Light-Catching Highlighter), Ami Colē has become synonymous with the "no-makeup-makeup" look for both darker and lighter skin tones. "Our formulas are designed to enhance, versus mask, the skin. By doing so, we want to give women of color the tools to actually celebrate their skin and their rich, deep stories," said Diarrha.
Long frustrated by her inability to find products women in her neighborhood aspire to wear, and buoyed by her beauty industry credentials, Diarrha decided to create her own. "For a long time, the makeup offerings on the market were about achieving a full transformation. I wanted to create a brand that celebrates a truer version of [us], pairing it down to stand out and glow," she said.
Building a Brand Based on Data, Storytelling, and Know How
At L'Oréal, Diarrha learned how important it was to create a story and product from a data-centric perspective. "It was my first experience reading, interpreting, and acting against well-known industry reports like NPD and Tribe Dynamics' EMV, which tracked the media value of influencer conversations," she said. At Glossier, "community was king. I learned that it was paramount to listen before anything else."
And listen she did. Diarrha surveyed more than 400 consumers in the early days of product development, confirming that consumers are looking for a my-skin-but-better glow. Cleaner beauty formulations also ranked high in consumer lists of considerations. "This consumer was fully aware of the existing products on the market, the ones marketed to women of color were disproportionately made with harmful endocrine disruptors," said Diarrha.
The brand had a robust debut holiday season, with Black Friday/Cyber Monday sales popping 248 percent month-on-month. The brand has also seen over 38 percent return customers.
Securing outside investment was a laborious process that took two years. "The most valuable asset I had to propose was myself, my vision, and my community," she said. "At this time, fewer than 25 Black women had raised more than $1 million in venture capital. There were many no's and countless Zoom calls. At one point, I counted 143 meetings. But eventually we would find the best partners to bring this vision to life. The process was far from easy, but a testament of how much I believed in this customer, and how much change needed to be made in the venture capital world. Since 2019, the stats have increased from 25 WOC to 96 WOC who have secured $1 million in funding."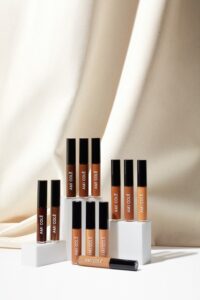 Community Inspiration, Retail Aspiration
Diarrha's source of beauty inspiration since childhood has been her mother's hair salon in Harlem. "I have always been deeply moved by how Black women show up in the world via beauty. My friends, joyous Black women at brunch, the Black women who frequent my mom's hair salon, they all inspire me." Diarrha's proudest moment since launching Ami Colē was being featured in the New York Times alongside her mother in the Sunday Styles section. "Together, we shared our connection to beauty, its legacy in our family, and how important it was to our literal livelihood, emigrating from Senegal to the Big Apple," she said.
For 2022 and beyond, the brand is continuing to build a pipeline of products, always based on customer input. Also in the works is Ami Colé IRL.
"We are looking to secure the best retail partner to bring our vision to life," she said.
"The North Star for Ami Colé is to become the space of celebration for those of the diaspora across the world. We want to expand beyond the product and create a safe space to share and highlight melanin-rich stories."