Arches & Halos, the easy-to-use, affordable brow grooming brand, has a trio of new items launching in time for spring. The brand, which is owned by Beauty Partners and has celebrity brow expert Tonya Crooks as its Creative Director, launched exclusively at Target in July 2019. Recently, the brand shared its launch plans with editors.
"All the products are really purposeful and they all are really, really foolproof and easy to use so that you can be your own brow artist at home," said Logan Bilderback, Arches & Halos VP of Marketing. "One fun fact we've been sharing is that Tonya works with Megan Fox, and when Megan was in Atlanta recently she called Tonya and said, 'Don't you have a brow line at Target?' And she went and bought Arches & Halos with her own money and now she uses our products."
"Everyone has different brows and that's why we tried to create products that are great for everyone. Tonya is a big proponent of finding the right brow shape for you," said Logan.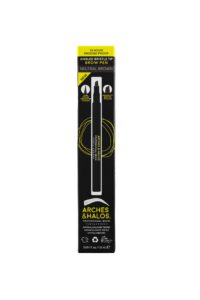 The brand's 2022 launches include Angled Bristle Tip Pen, a versatile pen designed to create super thin, hair-like strokes that shades brows for up to 24 hours. "This product is for the consumer who really loves a pen formula—an all-day, 24-hour look that won't move," explained Logan. Then there's 2-in-1 Defining Pencil & Powder that is designed to define and fill brows quickly and easily. "We came up with these three new products to fill holes we saw within Arches & Halos. We wanted to bring more variety to the consumer," said Logan. "We know that this consumer is on the go, especially with people feeling a little bit more comfortable about going out and about and potentially traveling," she added. Finally, there's Set & Sculpt Styling Wax, an item used to uplift and tame each brow hair for a laminated, on-trend, feathered brow look. "You can put on the sculpting wax, then take the Angled Bristle Tip and fill in any sparse hairs, or give yourself a little boost of color if needed," said Logan. "This is a great addition to our clear gels in the range," she added.
The new Arches & Halos products retail for $12.99 each and are available at Target and Target.com.