This week's edition of Beauty Scene covers two brands' highly instagrammable experiences for consumers to enjoy in real life, plus a nail brand's new kit that makes at-home manicures even easier to DIY. Read on to find out more about Garnier's Mobile Greenhouse Tour, which crossed the nation throughout March and April; makeup brand sensation Wander Beauty's new pop-up store on Manhattan's Upper East Side; and nail brand Olive & June's new Studio Box. 
Garnier Mobile Greenhouse Tour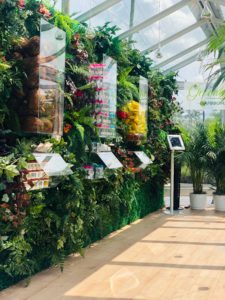 From mid-March until late April, Garnier went on tour driving an education-based mobile greenhouse into select stores across the U.S. The greenhouse included sampling, coupons, live product and recycling demonstrations, and interactive ingredient experiences to give consumers the full experience of By Garnier, Naturally. The tour launched on Sunday, March 17 at a CVS store in South Beach, and ended on Earth Day, Monday, April 22, at 10 Hudson Yards in New York City. In total, the Greenhouse visited 22 locations at six retailers.
In addition to the tour, Garnier has been working with TerraCycle to educate consumers on how to recycle responsibly.  Since the partnership began in 2011, the brand has diverted more than 11.7 million empty products from landfills, providing a solution to personal care and beauty packaging waste with its free recycling program for hair care, skin care and cosmetic product empties. The empty bottles have been upcycled into materials such as raised garden beds, benches and picnic tables to build parks, gardens and community spaces throughout the U.S.
Wander Beauty Pop-Up Shop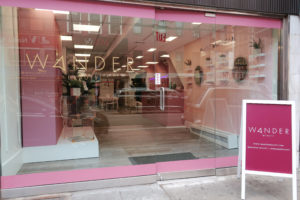 Last week, Wander Beauty invited beauty writers, editors and influencers to celebrate the opening of its first pop-up on Manhattan's Upper East Side, located at 787 Lexington Avenue. The 1,600-foot store will remain open through July 31. "Since Wander Beauty's conception, we've focused on owning the conversation with our consumer, rather than leaning on others to tell our story for us," said Co-Founder and CEO, Divya Gugnani. "By taking the Wander experience offline, we've created an educational, entertaining and experiential retail space that immerses consumers in Wander Beauty and fosters human connection and community."
The space is comprised of different zones to inspire consumer interaction and engagement. The pop-up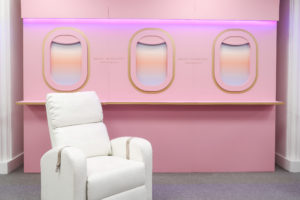 boasts several photographable moments, including a faux private jet, encouraging social media sharing while bringing Wander Beauty's travel-inspired aesthetic to life. "Being a predominantly direct-to-consumer brand, our digital storytelling often focuses on textures, ingredients, tutorials and before-and-after content," said Lindsay Ellingson, Co-Founder and Creative Director. "In our retail environment, we were able to focus more on our travel-inspired aspect of the brand and transporting our consumer."
Wander Beauty is also using the pop-up as a venue to help educate consumers via makeup and skin care classes offered throughout the store's tenure. These courses focus on simplifying beauty routines into 30 minutes or less using the brand's "fewer, better, beauty essentials​" approach. Additionally, the brand will host public and private events in the space, including makeup artist/influencer masterclasses, panels and private shopping events.
Olive & June Studio Box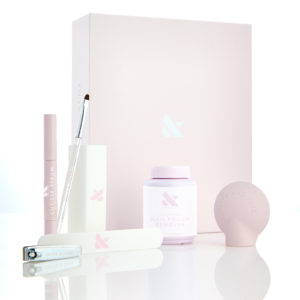 Los Angeles-based nail brand Olive & June launched a collection of products called The Studio Box in April. Retailing for $50, this waste-free manicure kit allows consumers to bring the salon experience home. It includes everything needed to create an at-home mani: the famous Olive & June Poppy handle, which allows users to expertly polish with their non-dominant hand; nail clippers; a file; a buffer; a clean-up brush; a nail polish remover pot; cuticle hydration serum; and a travel pouch.  It also comes with a five-step guide to achieving the perfect mani, and a manicure placemat for mess-free painting. It even features a built-in shelf for phones for post-manicure nail-fies. The Studio Box is available on Olive & June's site