Beekman 1802 created a 'mash made in heaven' when they decided to blend potato pulp into their new skin-resurfacing Potato Peel, launching July 17. "We'd been seeing peels and other at-home treatments on the rise, especially during COVID, but it was challenging for us to formulate an efficacious exfoliating product that didn't irritate sensitive skin," explains Brad Farrell, Beekman 1802's CMO.
Then TikTok users began rubbing raw spuds on their faces, touting the veggie's brightening and tightening benefits, and Ayesha Bshero, Beekman 1802's head of product development, came across research that lent credibility to this TikTok trend.
"I found information on the skin care benefits of African potato pulp extract," says Ayesha. "It turns out, potatoes have an incredible nutrient profile with antioxidant properties. They've got vitamins C and B6, as well as amino acids," says Ayesha. The Beekman 1802 team also discovered that adding potato pulp to a skin care peel could help stabilize acids in the formula and prevent them from becoming more acidic (and irritating), an important consideration when creating a treatment that is safe for sensitive skin.
"When we really started digging into the science, we realized potato pulp was the perfect ingredient for a peel that was safe for sensitive skin," says Brad.
Once the Beekman 1802 team settled on the idea of developing this new Potato Peel, the rest of the formula came together fairly quickly, following the brand's credo of being clinically proven and efficacious, but also kind and safe for sensitive skin.
"Potato Peel is the first Kind-to-skin facial peel as it combines a mashup of our enzymatic potato pulp and our nutrient active goat milk," says Jill Scalamandre, Beekman 1802's CEO.
In addition to Beekman 1802's signature prebiotic-rich goat milk, which was added to the formula to stabilize the skin's microbiome during the exfoliation process, the peel was activated with three types of acid in three different molecular weights. At the smallest molecular weight was 15% glycolic acid (AHA), which "goes deeper into the skin to generate immediate exfoliation," says Ayesha. At mid-weight was 5% lactic acid (AHA) derived from goat milk, which sloughs the surface layers of the skin. And at the largest molecular weight was 5% lactobionic acid (PHA), which sinks slowly into the skin and generates a gentle surface sloughing, while also providing anti-inflammatory and humectant (moisture-retaining) properties.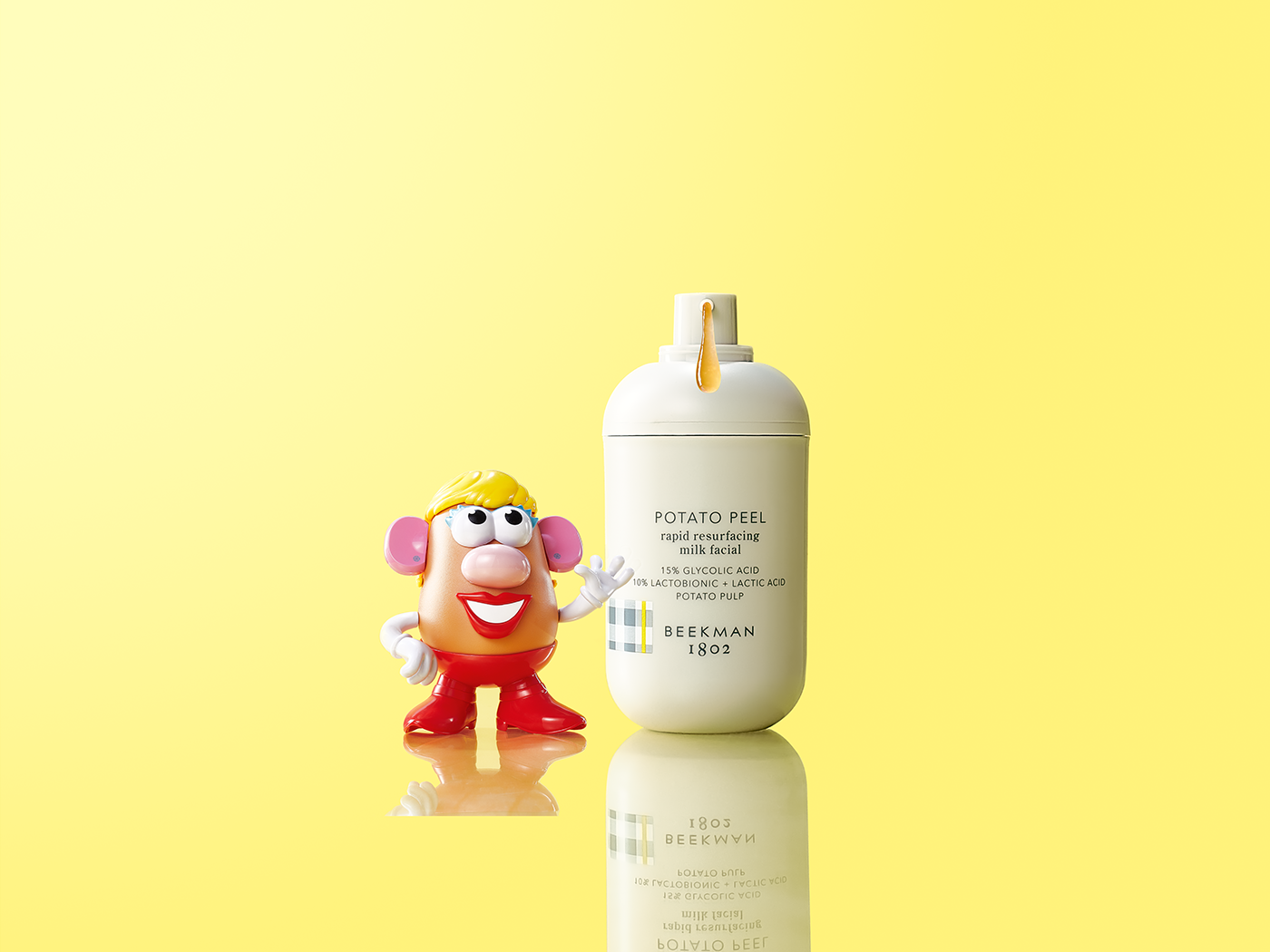 Finally, special consideration was given to the peel's pH level. "Most chemical peels have a low pH [3 or below], but our research showed us that a slightly higher pH is where the skin thrives," says Ayesha. "So, our peel was developed to be between a 3.5 to 4 pH to ensure it is safe for all skin type."
For best results, it is recommended that the milky-gel treatment—housed in a bottle that bears more than a passing resemblance to a peeled potato—be used in the evening two to three times a week. "If you are a first-time peel user, leave it on for five minutes, then rinse it off," says Ayesha. "If your skin is more tolerant or you've been regularly using peels, you can leave it on for up to 20 minutes." The treatment, says Ayesha, is designed to garner visible results immediately, in the form of brighter, smoother skin. "And we highly recommend following the peel with a facial oil, like our Oh! Mega Milk, or our [Bloom Cream] Daily Face Moisturizer," she adds.
Once the Potato Peel formula was perfected, the Beekman 1802 team began to consider how to promote the new launch. "We knew we had something special that really worked, and we'd delivered clinicals that showed it was safe for sensitive skin. But, how do we bring this to life? Should we do a celebrity spokesperson? Should we do a brand ambassador? We wanted to do something really unique, and I hate to overuse the word disruptive, but, yes, we wanted disruptive. We wanted to do something that stopped traffic in the market," says Brad.
"Then we started seeing this nostalgia trend. Millennials loved Toy Story, and Gen Xers and Boomers knew Mr. and Mrs. Potato Head from having them as toys when they were kids," says Brad. "That's when we realized: Mrs. Potato Head would be an amazing ambassador—or, as we call her, a celebrity spokesperson and beauty icon. This year also happens to be Mrs. Potato Head's 70th birthday."
When Brad approached Hasbro about the collaboration, he was met with enthusiasm—and one caveat. Although Beekman 1802 was given the green light by Hasbro to animate Mrs. Potato Head and bring her to life, she would not be able to speak. The actress Estelle Harris, who'd been the voice of Mrs. Potato Head in Toy Story, passed away in 2022.
"But Mrs. Potato Head had to be able to talk, of course," says Brad, so the team reached out to someone they thought could help. "Jill Scalamandre's daughter [Allegra Clark] is a professional voice actor," says Brad. "We asked her to read as Mrs. Potato Head's voice, and Hasbro approved it. She didn't try to copy Estelle, but we did have her stick with the idea of Mrs. Potato Head as a New York/Bronx character."
The result, the Beekman 1802 team hopes, will tickle consumers, as Mrs. Potato Head will appear in "everything from our in-store presentation at Ulta Beauty, to our digital and social campaign, to our influencer PR boxes. One social video will even feature Mrs. Potato Head in a Get Ready with Me,'" says Brad. Beginning July 17, the influencer PR box, which contains both the new Potato Peel and a Mrs. Potato Head outfitted in a spa headband and goat tote, will be available for $70 on beekman1802.com, while supplies last. The Potato Peel will also be sold separately for $49 on the brand's website, its boutique in Sharon Springs, NY, and in all Ulta Beauty stores. 'This launch marks our entry into the full fleet of Ulta doors," says Brad. "By the end of July, we will be in all 1,300 Ulta Beauty stores nationwide."
As for their ongoing relationship with Mrs. Potato Head, the Beekman 1802 team isn't afraid to butter her up a little. "We think Mrs. Potato Head is going to be the star of the summer—and knock Barbie right out of the spotlight," says Brad.