April 2022 has brought out the best in beauty product makers who are aiming to address consumer needs as they get ready for warmer weather. To celebrate spring 2022 beauty launches, several hair brands have upped their sustainability game, including Amika, which is launching refillable pouches, and Unwrapped Life with the return of their shampoo and conditioner bars. In lip care, lip masks are looking to hydrate pouts, such as Alpyn's spring 2022 version that infuses vitamin E-rich tocopherol in formulas. And, primers and frizz-control products are blooming just in time for what will likely be a steamy summer. Here, all you need to know about the best of spring 2022 beauty product launches this spring.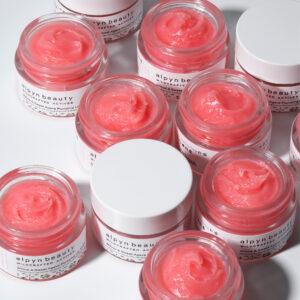 Alpyn Lip Willow and Sweet Agave Plumping Lip Mask
Waitlist Worthy: This lip mask aims to hydrate, plump, and protect, as well as exfoliate to leave lips smooth for a fuller appearance. It can also be used as an overnight repair treatment. This lip mask contains sweet agave leaf, hyaluronic acid, white willow bark, aloe, and a blend of apricot, coconut, and jojoba oils, wildcrafted chokecherries, and vitamin E-rich tocopherol.
Marketing Plan: "Our launch activation began with a teaser campaign and an exclusive launch on March 28," said Nance Hastings, President of Alpyn Beauty. "We have activities planned across all social platforms, focusing on TiKTok and Instagram with stories, reels, and in-feed. The brand will also be hosting a live shopping event hosted by our founder, Kendra Kolb Butler."
Availability + Price: $28 at Credo, AlpynBeauty.com, and Sephora.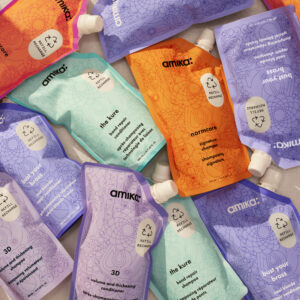 Amika Refill Shampoo & Conditioner Pouches
Waitlist Worthy: Amika's refill pouches of its best-selling shampoos and conditioners launched April 5—just in time for Earth Day. These new, sustainable pouches look to allow consumers to refill existing shampoo and conditioner bottles—just unscrew the top and pour into their empties. The refill pouches were designed to lower carbon emissions by 98.4 percent, compared to traditional virgin plastic bottles (when used for one year, compared to Amika's traditional HDPE packaging).
Marketing Plan: "From inception, Amika has always prioritized sustainability with our planet-friendly mission to be kind and clean," said Kelley Martin, Amika's SVP of Marketing. "We will be supporting the launch via educational content on Instagram and TikTok, as well as tapping into our influencer network—comprised of micros, mid-tiers, and macros—to further drive awareness. Additionally, we'll be tying the launch to a broader focus around Earth Day, which will come to life via Amika's DTC website, blog, and social content, reinforcing our ongoing commitment to sustainability and our pledge to achieve NetZero by 2030."
Availability + Price: Items are available on loveamika.com. Prices range from $34 for Amika Normcore Signature Shampoo + Conditioner $34 to $40 for Amika Bust Your Brass Cool Blonde Repair Shampoo + Conditioner.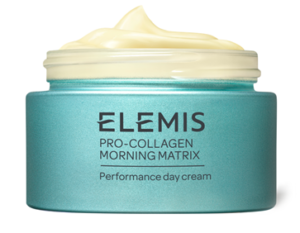 Elemis Pro-Collagen Morning Matrix
Waitlist Worthy: Joining the legendary Pro-Collagen lineup, Pro-Collagen Morning Matrix is a solution for modern living and the stressors that come along with it. Designed as the daytime counterpart to the brand's best-selling Pro-Collagen Overnight Matrix, this formula looks to deliver results and boasts a unique texture.
Marketing Plan: "Throughout the month of April, we will be launching a limited series of short lifestyle videos across all of our social platforms showcasing how this moisturizer fits into everyone's busy routine," said Suzanne Pengelly, Elemis General Manager, U.S.
Availability + Price: $195 at us.elemis.com.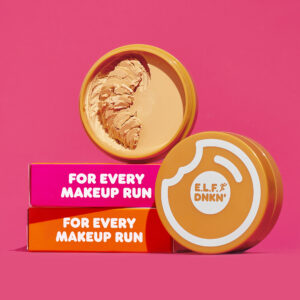 E.l.f. x Dunkin'
Waitlist Worthy: An unlikely, but inspired pairing. e.l.f. Cosmetics has launched a "wake up and makeup" limited edition e.l.f. x Dunkin' makeup collection. Items are available exclusively to e.l.f.'s Beauty Squad loyalty members.
Marketing Plan: "This collab is all about your morning must-haves," said e.l.f. Beauty Chief Marketing Officer, Kory Marchisotto. "Our teams worked closely together to create a collection that would be true in look, feel, and smell. The love is in the details. We've teamed up with beauty influencer and TikTok Superstar, Mikayla Nogueira, who is also an e.l.f. and Dunkin' Superfan, to be a big part of the campaign."
Availability + Price: Items are priced from $6 to $12 on elfcosmetics.com, and in Ulta Beauty stores and on ulta.com.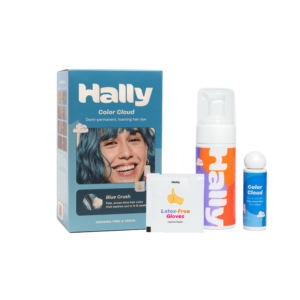 Hally Hair Color Cloud Foaming Hair Color
Waitlist Worthy: Hally's Color Cloud Foaming Hair Color is the first hair dye certified within Conscious Beauty at Ulta Beauty, the retailer's holistic initiative rooted in delivering transparency to inspire more informed product choices. This clean, cruelty-free, and vegan hair color is also the first ammonia-free foam hair dye to hit the market. Infused with natural, nourishing extracts, the demi-permanent dye is gentle on hair, locks in color and is sulfate-, paraben-, PPD-, resorcinol- and gluten-free.
Marketing Plan: "Hally plans to support the launch of the 9 different Color Cloud and Fluffy G items going into Ulta Beauty stores with a dedicated influencer and college ambassador strategy to drive targeted traffic and awareness in-stores and via social media," said Kathryn Winokur, Founder and CEO of Hally.
Availability + Price: $15 on Ulta.com

Jo Malone Blossoms Collection
Waitlist Worthy: Jo Malone is introducing two new limited-edition scents, Sea Daffodil and Bitter Mandarin. The former is inspired by a chance discovery along the Sardinian coast. Sea Daffodil is a solar floral fragrance, radiant with ylang ylang and rooted in warm vanilla entwined with creamy sandalwood. Bitter Mandarin captures the spirit of a Mediterranean summer evening: a carefree buzz in the air.
Marketing Plan: "At Jo Malone London, we pride ourselves as being a fragrance authority within the floral category. Our new Blossoms Collection is an opportunity for us to tell our story in the spring. This season we are focusing on gorgeous scents inspired by a Sardinian summer and long carefree days by the Mediterranean Sea. We are leveraging visually-impactful video assets to create an immersive experience across Hulu, YouTube, FB/IG, Snapchat, and TikTok," said Kendal Ascher, SVP/GM, Jo Malone London, North America. "With this limited-life collection, we hope to reinvigorate the category by engaging with our influencer community with partnerships developing content that can be leveraged on social to drive traffic into our free-standing stores, our brand .com, and with our retail partners."
Availability + Price: $105 for 50ml, $150 for 100ml at jomalone.com and at Jo Malone London Stores, and Jo Malone London counters.

Jo Malone Rodin Olio Lusso
Waitlist Worthy: The Rodin we know and love is back. Jo Malone London is expanding its olfactive offerings by introducing a limited-edition collection with skin care authority, Rodin Olio Lusso.
Marketing Plan: "We will immerse our consumer in a self-care experience with this new sumptuous and luxurious line sustainably sourced with Rodin's beloved Jasmine & Neroli scent," said Joia Zanet, Vice President Marketing, Jo Malone London North America. "We will begin to build skin care expertise by integrating four hero products of the Rodin Olio Lusso Jasmine & Neroli range into the Jo Malone London family, to create a highly sensorial self-care ritual. The line is exclusive to Neiman Marcus and Bergdorf Goodman, and also available in our Jo Malone London stores and on jomalone.com. To support the launch, we will be celebrating in partnership with Neiman Marcus at the Northpark store in Dallas with influencers to experience the line within luxury treatment rooms. Consumers can book a service in our stores on jomalone.com or directly with a stylist to savor an indulgent beauty ritual with essential oils to revitalize skin, and the scent of Jasmine & Neroli to inspire the senses."
Availability + Price: $70-$136, exclusively at Bergdorf Goodman and Neiman Marcus.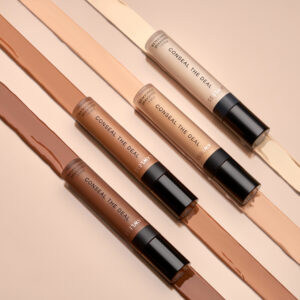 Lawless Beauty Conseal the Deal Full Coverage Concealer
Waitlist Worthy: Available in 20 shades, this long-wearing, lightweight concealer aims to provide medium to full coverage. It offers a self-setting, soft-focus finish that feels comfortable, and looks undetectable on skin. It boasts natural pigments to deliver high-performance payoff, while hydrating properties keep skin looking like skin. The concealer contains caffeine to energize skin and improve tone, along with an antioxidant complex to help protect skin from environmental aggressors.
Marketing Plan: "Our marketing plan amplifies the key message that you can have high-performance coverage and skin care ingredients, all while being clean," said Michael McNeil, Chief Marketing Officer of Lawless Beauty. We've leveraged a mix of traditional and digital strategies to drive sustained awareness and trial. Our founder and CEO, Annie Lawless, met with press and influencers for a pre-launch digital junket, we have created best-in-class digital content, and partnered with a roster of amazing creators from every corner of the makeup world to showcase the performance and versatility of the concealer."
Availability + Price: $26 on LawlessBeauty.com and Sephora.com; available April 11 in-store.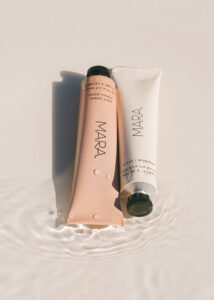 Mara Sea Silk Lip Balm
Waitlist Worthy: Algae+ Moringa Sea Silk Lip Balm was designed to create a spa experience for pouts, similar to a deeply hydrating lip treatment an esthetician applies at the end of a facial. It features an Algae Plumping Complex of three red and brown seaweed actives that specifically target the look of volume, definition, hydration, and plumpness. The Sea Silk Lip Balm comes in two shades, clear and soft coral. The Soft Coral version can be used as a cheek blush or eye gloss as well.
Marketing Plan: "We are seeding to top influencers, makeup artists, estheticians, and tastemakers," said Mara Beauty Founder, Allison McNamara. "We have a TikTok strategy in place to work with creators on unboxings and organic content, and also plan to explore wild posting in key markets."
Availability + Price: $26 at themarabeauty.com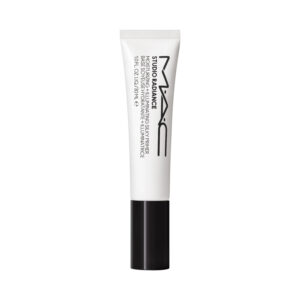 M.A.C Studio Radiance Moisturizing + Illuminating Silky Primer
Waitlist Worthy: This primer looks to create a comfortable canvas to prep skin for smooth makeup application; designed to deliver eight-hour soothing hydration and radiance.
Marketing Plan: "We are introducing the product through press and seeding, as well as partnering with skin care-obsessed creators to show how they begin their makeup routine with the new primer and reinforce its skincare properties like ingredients and texture," said Rachel Lockett, VP Marketing M.A.C North America. We will also have visibility at point of sale, showcasing the primer with M.A.C artist-approved primer BFFs."
Availability + Price: $34 at M.A.C locations and on maccosmetics.com.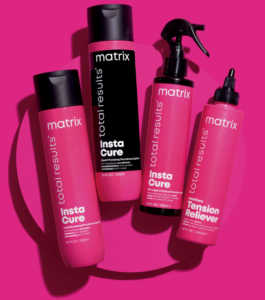 Matrix Instacure Collection
Waitlist Worthy: This collection is a hyper-targeted anti-breakage system infused with liquid proteins to repair and strengthen damaged, dry, and brittle hair, while visibly reducing the appearance of split ends. Hero product, Anti-Breakage Porosity Spray, looks to protect hair and reduce breakage by 60 percent.
Marketing Plan: "As a professional brand, we know that all damage is not created equal," said Matrix GM, Carrington Cole. "This is because every person has a unique hair type and beauty routine. Instacure was created to address all hair types that experience damage, from root to ends, caused by heat and styling. It fills porous areas of the hair strand with liquid proteins, making hair stronger, and also relieves tension at the scalp from tight or protective hairstyles. Our job and plan are to show our consumers the immediate results Instacure delivers, more importantly across all hair types, so that the content resonates with each and every individual."
Availability + Price: Items retail for $22 to $24 at Ulta Beauty, and on Ulta.com and Amazon.com.

Ouidad Advanced Climate Control Products
Waitlist Worthy: The brand's popular Climate Control franchise is expanding to include Frizz-Fighting Hydrating Mask, Featherlight Touch-Up Gel Cream, and Frizz-Fighting Touch-Up Balm.
Marketing Plan: "After 30-plus years of studying curls, we know that for consumers, frizz is their number-one concern. Ouidad's Advanced Climate Control franchise continues to be our best-selling collection, loved by both curly consumers and hairstylists alike for its high-performing Anti-Frizz Nano Technology that works to seal hair's cuticle locking moisture in and humidity out," shared Deborah Marquardt, Senior Vice President, Global Communications, Content & Creative at BBI. "To build buzz for this fan favorite line, the brand will partner with a range of curly-haired influencers, certified Ouidad stylists and educators, and key editors to spread the news across different platforms. The content-focused marketing campaign includes how-to videos, before and afters, testimonials, in-salon and virtual events, social games, and giveaways, and more as we support the line extension over the coming months."
Availability + Price: Items retail for $20 to $44 at Ouidad.com, Ulta.com, Amazon.com, Ulta stores, and in Ouidad salons.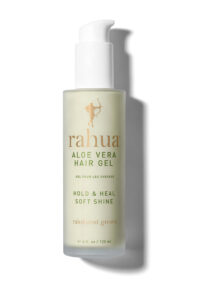 Rahua Aloe Vera Hair Gel
Waitlist Worthy: This hair gel is a soft-hold styler that offers flexible, smoothing capabilities and a burst of plant-based nourishment for the hair and scalp. It's formulated with organic aloe vera, cucumber, and sugar cane to shape and add luster to hair stands while encouraging optimal hair and scalp health. As with all Rahua products, Aloe Vera Hair Gel features symbiotic Rainforest-grown antioxidants guayusa, rahua, and sacha inchi oils.
Marketing Plan: "To promote the newest addition to our styling range, we built excitement toward our plant-powered reinvention of a traditional hair gel through engaging social media content, press, and influencer outreach, and a beautiful PR mailing including an aloe vera plant to highlight the star ingredient," said Rahua Founder, Anna Ayers.
Availability + Price:  $32 at Rahua.com, Goop.com and The Detox Market.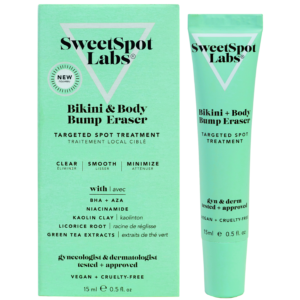 SweetSpot Labs Bikini + Body Bump Eraser Targeted Spot Treatment
Waitlist Worthy: Designed to help with bumps and redness, SweetSpot Labs Bikini + Body Bump Eraser is concentrated with four powerful actives to also help prevent the dark spots razor burn can leave behind. Created to address bacne, buttne, and other bumps, this targeted spot treatment is safe and effective, revealing brighter, healthier-looking intimate skin in one use.
Marketing Plan: "We are dedicated to fundamentally changing the way women see and talk about intimate skin care—for the Bikini Body Bump + Eraser we are leaning into this discussion with an #EraseIt! TikTok & Instagram Influencer challenge that not only puts the product's performance to test but also seeks to destigmatize the shame and embarrassment of bumps," said Julie Chamberlain, SweetSpot Labs CEO. "The launch will also be supported with an integrated go-to-market plan including paid media, search, PR, and influencer marketing."
Availability + Price: $17 at shop.sweetspotlabs.com.
Twenty/Twenty Beauty Clean Sweep Mascara
Waitlist Worthy: This clump-free treatment mascara is formulated to help hydrate and nourish while creating defined, stronger, and longer-looking lashes both immediately and over time. Clean Sweep features hyaluronic acid, biotin, and vitamin E. Like all other twenty/twenty beauty products, it's safe for contact lens wearers and sensitive eyes, and is ophthalmologist tested and formulated.
Marketing Plan: "The origin story of twenty/twenty beauty is rooted in eye health and one of our main points of difference as a beauty brand; so the foundation of our marketing efforts have been built on strong relationships within the eye health community (ophthalmologists, optometrists)," said Amanda Kutner, Marketing, twenty/twenty beauty. "In addition to being founded by an ophthalmologist, we created our Visionary Panel of eye health experts that are integral to our success. For the Clean Sweep mascara launch, we will be leaning heavily into the community we've built to differentiate our formula as one of the cleanest and safest on the market, with the experts to back that claim. Our social media content strategy for the launch will continue to support our position as experts in eye health by sharing valuable, educational content from both the brand's channels and our community of creators and experts."
Availability + Price: $28 at trytwentytwenty.com.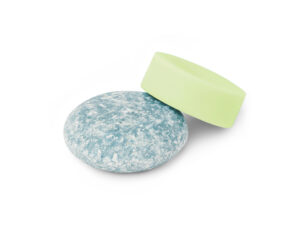 Unwrapped Life The Healer Shampoo & Conditioner Bars
Waitlist Worthy: The brand is bringing back "The Healer" shampoo and conditioner bars.  Last Earth Month, these hair bars prevented 2.7 million plastic bottles from entering the ocean and they're back with a new mission. Partnering with One Tree Planted, the plastic-free beauty brand looks to plant 10,000 trees to help reforestation efforts. Proceeds from each purchase of The Healer bars will help replant trees after the devastating wildfires that burned across the Canadian province in 2021.
Marketing Plan: "We have 54 retailers across Canada and the U.S. launching The Healer in honor of Earth month, alongside our own e-commerce store," said Unwrapped Life COO Allison Teasdale. We will be using a combination of social media posts (IG/FB and TikTok) as well as email marketing to launch the return of The Healer."
Availability + Price: Shampoo & Conditioner Set: $38.50 (or $19.50 each) at unwrappedlife.com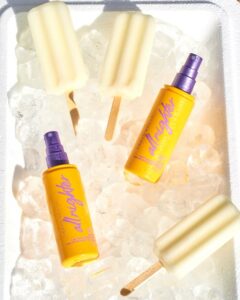 Urban Decay All Nighter Setting Spray with Vitamin C & Cactus Flower Water
Waitlist Worthy: This makeup-setting and finishing spray with vitamin C is designed to hydrate skin and keep makeup smudge-, water- and transfer-resistant for up to 16 hours. Energizing and brightening, the spray preps and sets makeup for a lasting look. Infused with vitamin C, it helps skin feel energized, complete with a light citrus scent.
Marketing Plan: "Urban Decay is promoting the setting spray through special displays at our main retailer, Sephora, through influencer programs, power reviews, and a digital ad campaign," said Delali Kpodzo, VP of Marketing for Urban Decay, USA.
Availability + Price: $33 at Sephora, Ulta Beauty, and urbandecay.com.