Brand partnerships have proved lucrative for e.l.f. Beauty, with some notable collabs including Dunkin' and Chipotle. Now the trailblazing brand is getting fashionable with American Eagle Outfitters, e.l.f''s first fashion partnership.
A limited-edition collection including an eyeshadow palette, a lip balm, and a clay mask designed for "all cheeks" debuts on elfcosmetics.com, in select American Eagle Stores, and online at ae.com Thursday, March 30.
E.l.f. x American Eagle follows the beauty brand's buzzy Super Bowl commercial starring Jennifer Coolidge and is the latest example of out-of-the-box thinking from e.l.f. CMO Kory Marchisotto.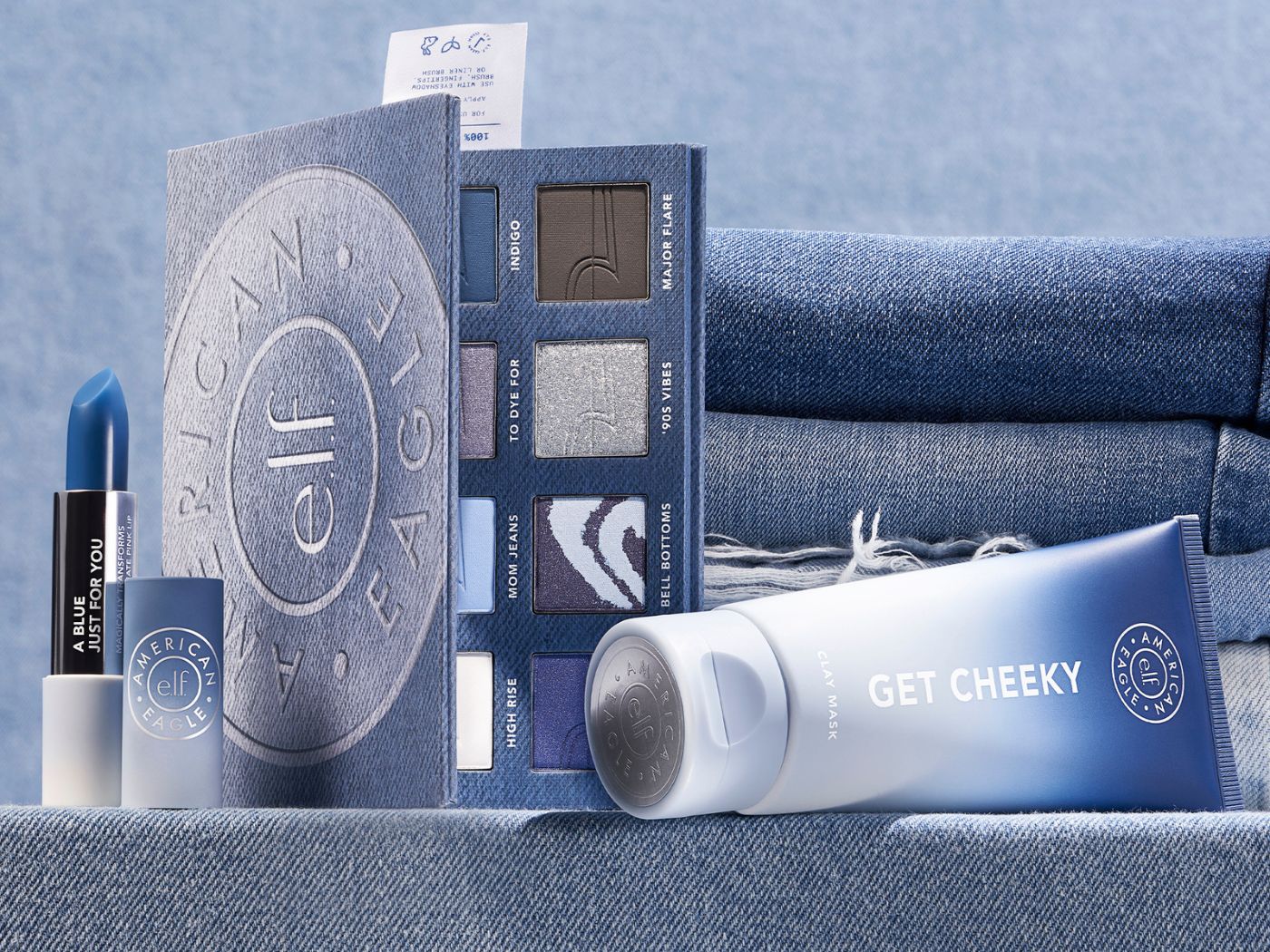 The partnership brings together two of the most powerful Gen Z brands as well as two groundbreaking CMO's with mutual admiration for one another. Teaming up with American Eagle has been on Kory's radar for the past few years. As part of her ear-to-the-social media world (she often joins in social media chats to learn what e.l.f.'s community wants) Kory knew American Eagle resonated with fans.
Craig Brommers, the CMO at American Eagle, was equally impressed with e.l.f's sales-generating campaigns and eager for the chance to put the brands together.
"Imagine me sitting patiently by my phone for two years while I waited for that one call from Kory and team e.l.f. and finally getting it. We've got butterflies in our stomach to launch this: Gen Z's number one beauty brand and Gen Z's number one jeans and all of our shared values," says Craig. "We've never done a beauty collaboration before and the only brand we wanted to do it with was e.l.f." A few other alliances the clothing company has featured include Disney, the Outerbanks, and Lil Wayne.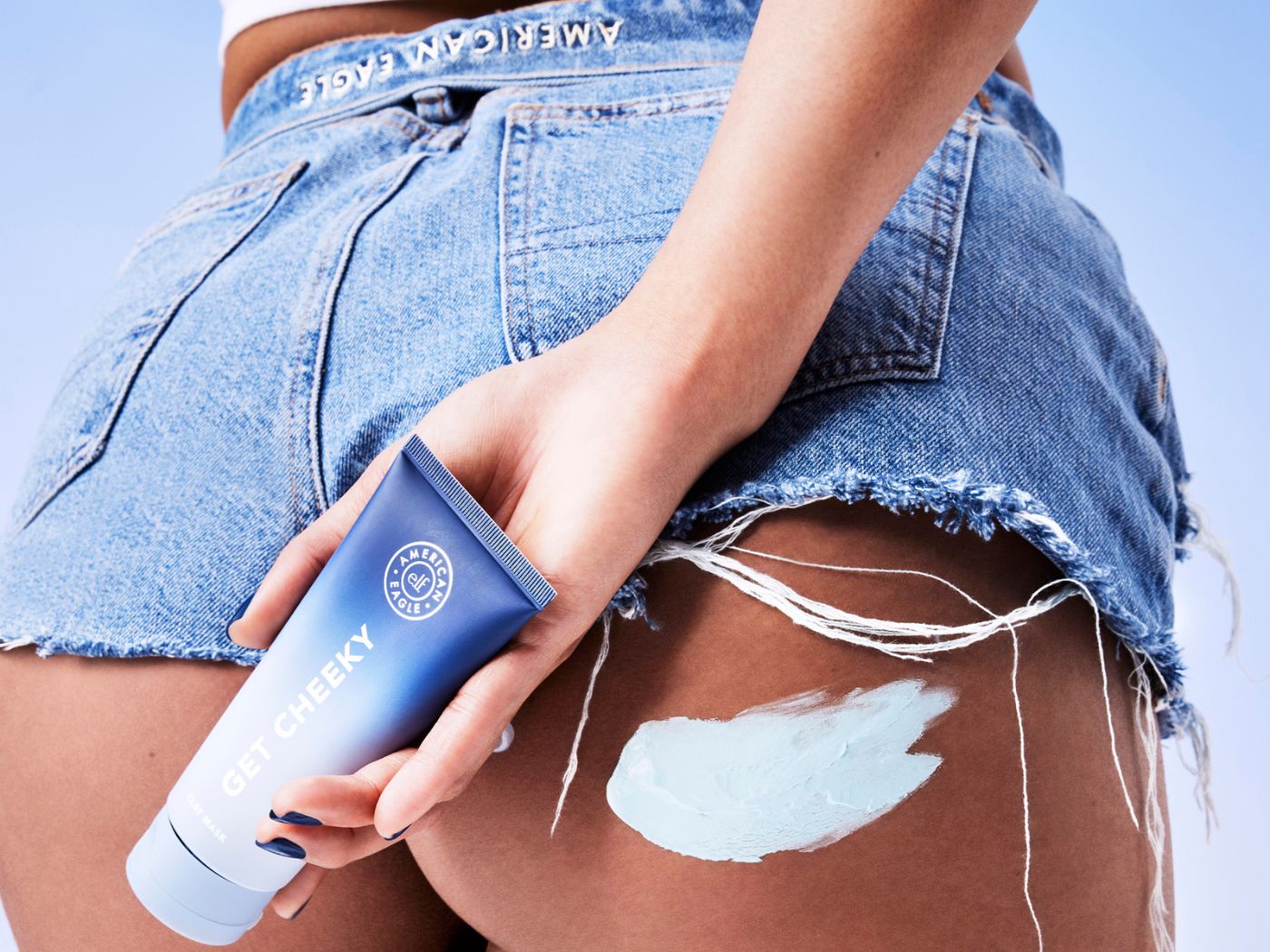 Keeping with the fast-to-market innovations that drive fashion and beauty trends, the duo created a collection in under nine months, or as Craig says, the "speed of Gen Z."
Speedy also describes how fast Kory thinks the products will sell out. "People will want to go online first thing on March 30," she says. History says sales could exceed demand — it took only 44 minutes for a product from the Chipotle collab to sell out. The entire collection sold through in three days.
Several details distinguish the collaboration from merely stamping the American Eagle logo on existing e.l.f. products. "Just look at this makeup bag," says Kory during a Zoom interview to discuss the debut of the line. "How cute is this? It's made of real American Eagle denim." The bag sports pockets, zippers, and button closures. A tag attached to an eyeshadow palette mimics labels sewn into American Eagle jeans.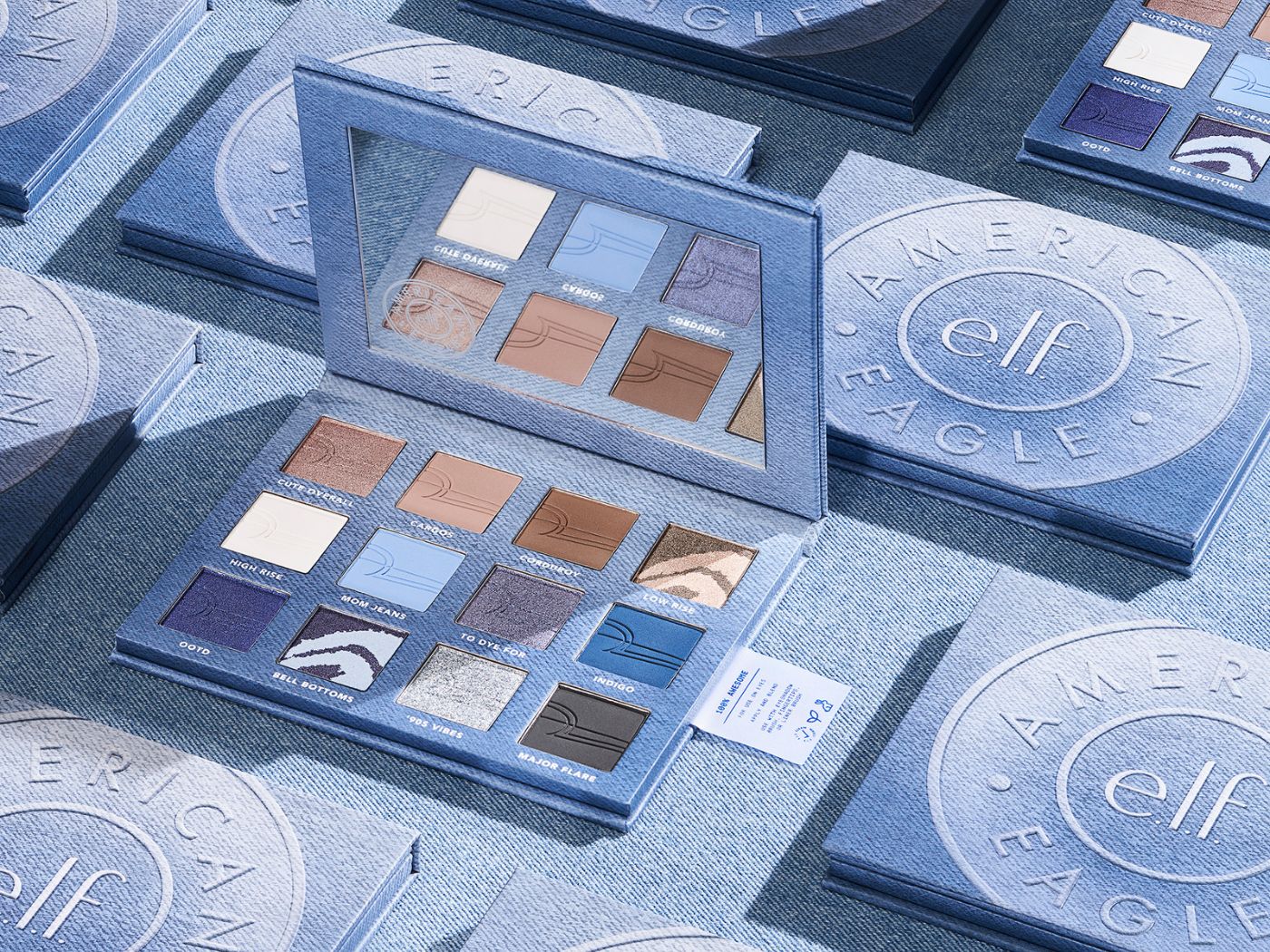 The assortment includes the Denim Daze Eyeshadow Palette in shades such as Mom Jeans and High Rise ($16); Perfect pHIT Lip Balm ($8); Get Cheeky Clay Mask ($11), and Eyes. Lips. Jeans. Makeup Bag ($22 to 24).
The range features a few innovations not currently sold by e.l.f. One is the pHIT Lip Balm, which Kory believes will be a top seller. "It changes from denim blue to a beautiful pink when applied," she explains. Also, a first is the Get Cheeky Clay mask for face and bums "because you need a mask for all cheeks."
Cheeks, both facial and backside, will star in a Selfie to Belfie (a butt selfie for those not in the know) campaign. There will be a specially penned song, a belfie kit, and an invitation to post selfies and belfies on social media. E.l.f. was the first beauty brand to incorporate TikTok into its marketing strategy and continues to be ahead of the curve in harnessing the power of social media.
American Eagle, according to Craig, gained momentum during the pandemic, especially with Gen Z. With more shoppers shifting to online, American Eagle leaned into its social media savvy and authentic brand messaging that helped cement the brand with consumers — the trend has continued as stores reopened (the retailer had its second-best holiday season in history in 2022). The e.l.f. x American Outfitters collab will be presented at checkouts, according to Craig. "We definitely think there is potential for a lot of crossover for both brands," Craig says.