"Science is the new luxury." That's the unofficial tagline of Eighth Day, the luxury skin care brand founded by Dr. Antony Nakhla, a double board-certified dermatologist and Mohs micrographic skin cancer surgeon. "The luxury customer is no longer going to be fooled by fantasy and storytelling," Antony says. "The best that money can buy will be something that you can prove with real science, real results, and real changes in human skin. That's the premise of our philosophy."
Eighth Day was born out of Antony's day-to-day work. About 70% of his practice in the Orange County area is skin cancer and reconstructive patients; the balance is cosmetic. "Every day I deal with skin cancer patients with pretty complicated facial wounds," he says. "Some of the techniques we use to help stimulate skin cells and heal very challenging wounds was the catalyst to the science behind Eighth Day, the use of what we call bio identical ingredients, ingredients that are biologically identical to what's already a part of your body and part of human skin."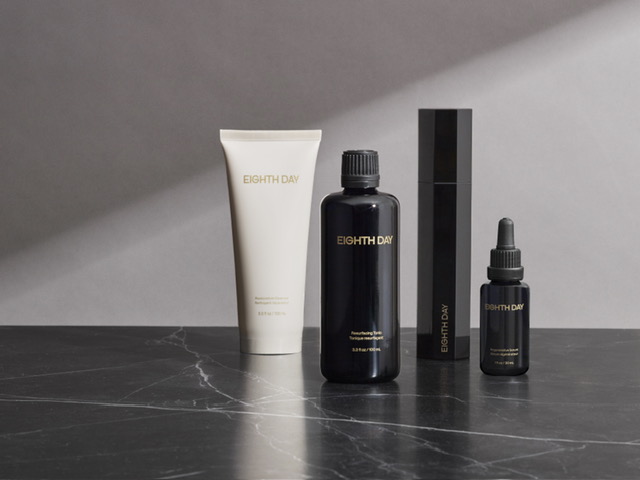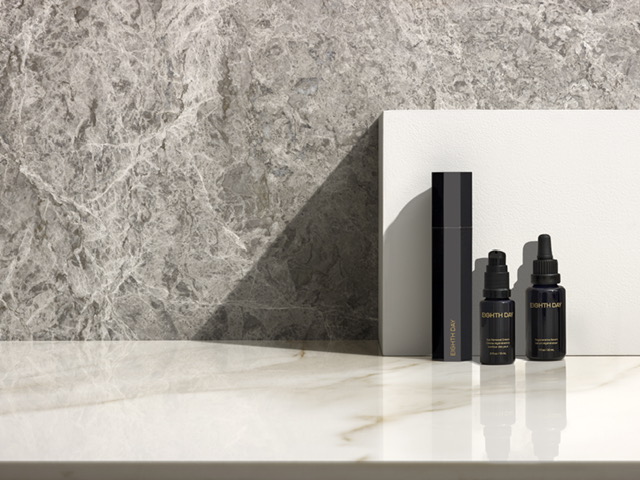 "Science is the new luxury." That's the unofficial tagline of Eighth Day, the luxury skin care brand founded by Dr. Antony Nakhla, a double board-certified dermatologist and Mohs micrographic skin cancer surgeon. "The luxury customer is no longer going to be fooled by fantasy and storytelling," Antony says. "The best that money can buy will be something that you can prove with real science, real results, and real changes in human skin. That's the premise of our philosophy."
Eighth Day was born out of Antony's day-to-day work. About 70% of his practice in the Los Angeles area is skin cancer and reconstructive patients; the balance is cosmetic. "Every day I deal with skin cancer patients with pretty complicated facial wounds," he says. "Some of the techniques we use to help stimulate skin cells and heal very challenging wounds was the catalyst to the science behind Eighth Day, the use of what we call bio identical ingredients, ingredients that are biologically identical to what's already a part of your body and part of human skin."
As the self-care and wellness industries have skyrocketed, so has how consumers approach skin care, who Antony says see it as an extension of their overall health. Subsequently, they search for products that will improve their complexions from the inside out, willing to invest in the difference. "I liken it to ordering a green juice that's cold-pressed organic that costs $19 versus [one that is mass produced] for $7," he says. "You want the best thing, and there has to be a reason why it's the best thing. It has to make sense. The modern customer is now thinking about science."
Eighth Day soft launched in 2018 in Neiman Marcus, but after its initial run sold out, Antony had time to rethink the line during the pandemic. After additional clinical testing, the products were reformulated to be even more efficacious. Additionally, packaging was redesigned to be genderless and sustainable.
"We were rethinking everything through the lens of not only primarily the female customer, but a unisex customer [to make it] something that I would use," Antony says. "In the luxury skin care category, the packaging, to me, looked dated and a bit over the top. I think the packaging was always screaming because the [formula] inside was lacking. I wanted to create packaging that was modern, sustainable, and unisex."
For the revamped collection, outer boxes are made from scraps of T-shirts and denim. Products use PCR, non-virgin glass and they're all refillable.
In the fall of 2021, Eighth Day relaunched exclusively with Violet Grey. The Regenerative Serum became their hero product, selling out multiple times. The ingredient that takes center stage is peptide-rich plasma, which features patent-pending stem cell technology that is formulated to repair, regenerate, and renew skin to treat multiple signs of aging, with a blend of synthetic bioidentical peptides, growth factors, and amino acids, similar to the potent ingredient combination Antony uses in his practice to help heal patients.
"They're derived from ingredients that are from the very source of human life, the original regenerative cells from our bodies," Antony says. "My goal was to figure out how to source the individual ingredients from various places and make a custom blend that was readily absorbed, but also very meaningful for the customer in terms of getting results that are measurable. This includes skin tightness, firmness, elasticity, new collagen production, skin tone, texture, evenness, and color. It has everything you need in a serum in one bottle. This inkey list is stacked."
Antony is completely self-funding Eighth Day, so he can choose the direction the brand takes and its growth trajectory. can grow at his own pace. Ingredients are sourced from all over the world, including a peptide from Korea and another from Pasadena, CA. The line is now available at Bergdorf Goodman, Nordstrom, and Moda Operandi, as well as Harrods in the UK. Additionally, it has strong direct-to-consumer sales. Though the brand will eventually launch more products, Antony intends to exclusively stick to skin care and maintain a tight edit.
Ultimately, the Eighth Day brand looks to be a reflection of its philosophy. "The week is seven days," Antony says. "Eight days is an ancient, almost philosophical idea of eternity, a day that stands by itself. We believe beauty is eternal."