Skin care newcomer Elli K Beauty is centering its brand positioning around Sedona, Arizona, a land that holds a paragon of mother nature's wonders — and one that often receives praise from visitors in search of healing and restoration. Elli K, the female founder of the namesake beauty brand, saw potential in the natural ingredients from the region's red-hued sandstones, and how it could set apart a premium skin care line.
The brand's premium positioning did not end with its unique desert inspiration.
"We are using a very high value of ingredients, but also every detail, like the bottle, scent, fragrance, and the packages," are very high-end, says Ryan Kim, the brand's Chief Operating Officer.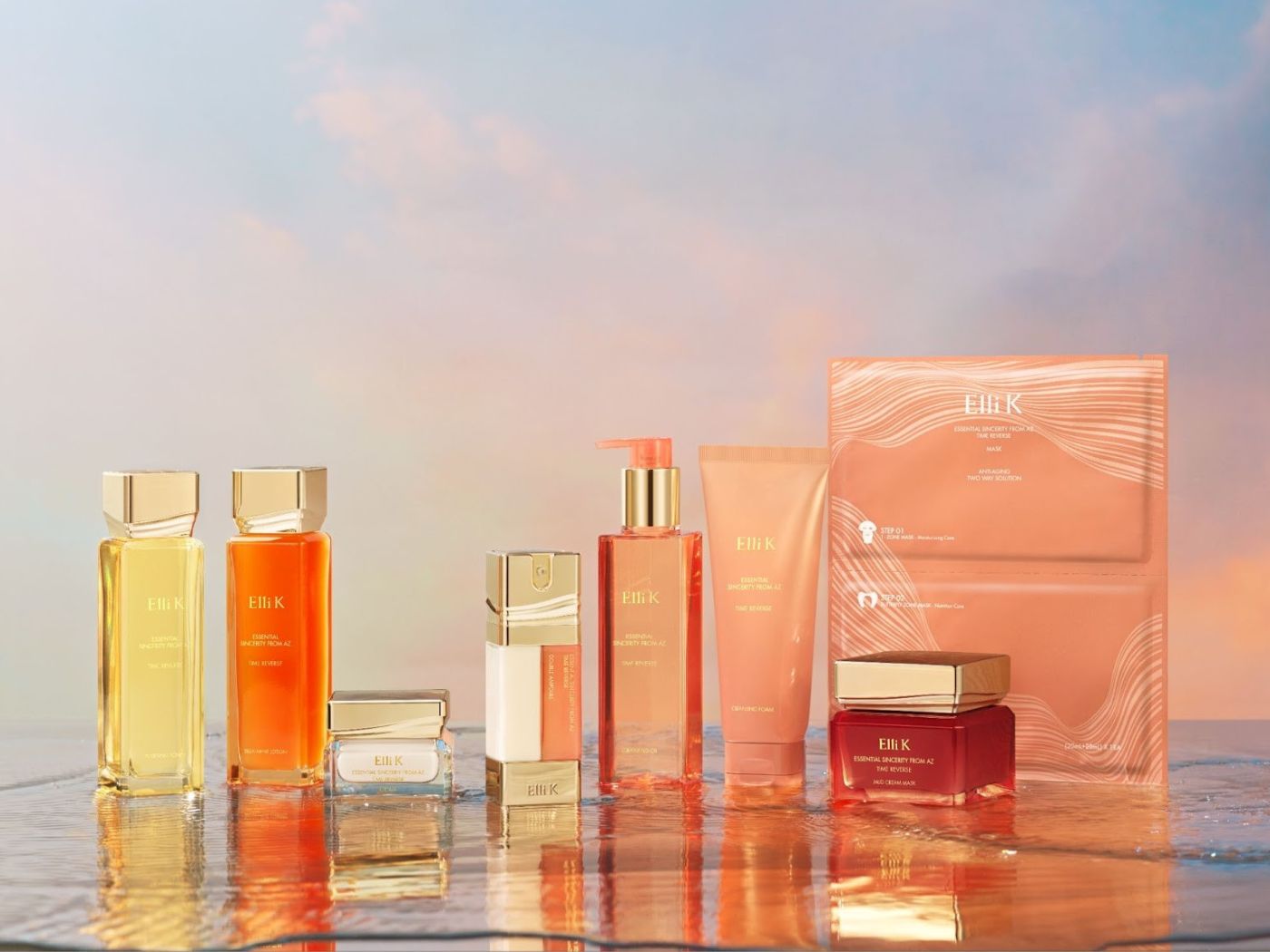 Elli K Beauty is launching online and in a virtual store in the metaverse with the Time Reverse collection, an 8-item line where each product uses plant-powered ingredients, and water from Sedona, which Ryan says contains natural minerals, and Arizona mud, a source rich in iron. The line includes Time Reverse Cleansing Foam, Cleansing Oil, Purifying Toner, Double Ampoule, Mud Cream Mask, Sheet Mask, Cream, and Treatment Lotion. Packaging looks to embody red-hued sandstones with coral-colored glass made of silicon extracted from nature.
The brand's headquarters are located about 500 miles west of Sedona in Newport Beach, California, where it employs 300 people. By the end of 2023, Elli K plans to launch on Amazon; future distribution plans include selling to prestige spas, aesthetic shops, Sephora, and Ulta Beauty.
While prototypes were first produced almost a year ago, it took nearly three years of research and development to perfect the brand's signature "vortex" miracle, which is comprised of a triple threat of patented ingredients — AZ10-Biome, AZ4-RX, and Neurovity — to deliver high concentrations of hydration, moisture, and optimized anti-aging care. Double fermenting echinacea, banana yucca, desert cactus honey, and jojoba seed oil helped create the brand's proprietary formulas.
Elli K Beauty's website aims to deliver Sedona's magical properties via music: users are treated to calming melodies capturing nature sounds from Arizona as they browse through product offerings; seven music stories were recorded for the site by Grammy award-winning sound engineer Dirk Sobotka exclusively for Elli K Beauty. Within the Metaverse virtual store, tech-savvy consumers can browse through product details and ingredients by travelling to Elli K's virtual store right in the heart of Arizona.
"While listening to music they can do their skin care routine, relaxing not only your body but healing your mind at the same time. That's the point Elli K wanted to emphasize," Ryan says.
To get word of the new collection out to consumers, a rolling video ad is planned for three days ending April 20 in Manhattan's Times Square. In the film, water droplets bounce off its Time Reverse Double Ampoule ($195).