Goop is adding emerging brand Epres at a time when luxury hair care, especially bond builders, is all the buzz.
Epres is rolling out (September 22) on goop.com and in its physical doors joining other brands including Crown Affair, Rahua, Innersense, Augustinus Bader, Act + Acre, Roz, and its own brand among others. Epres is the only bond builder in the category accepted by goop.
Epres' Bond Repair Starter Treatment kit consists of four-to-six-week supply and retails for $48 for two bottles of concentrate and a spray bottle. Refill packs are priced at $34.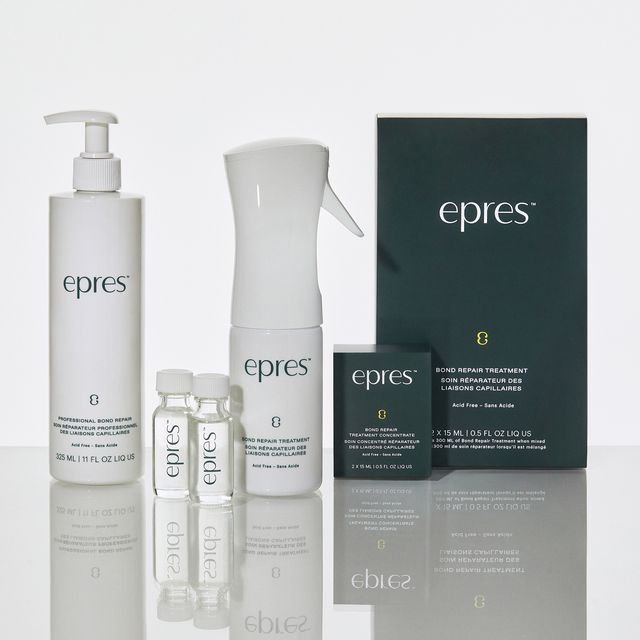 "At goop, we are always on the lookout for innovative brands that prioritize the health and well-being of their customers," said Kelly Fauds, Sr. Director of Buying & Wholesale in a statement. "We are delighted to welcome Epres to our clean beauty lineup, empowering our community to elevate their hair care routines with science-backed solutions."
What distinguishes Epres from the growing pack of bond-builders seduced by the huge dollars brands like Olaplex (which reported sales of over $700 million in 2022) and K18 is its founder—Eric Pressly and his ability to innovate. Along with Craig Hawker, Pressly developed the formula for Olaplex, the OG brand that raised awareness of bond building and kickstarted the growth of premium hair care products.
According to Circana data for the first half of 2023, prestige hair care sales spiked more than 12% (versus 8% in the mass market). People are digging deeper into their pockets for healthier strands—hair produced the highest average price increases in prestige beauty, three times the overall industry rate.
After exiting Olaplex in 2019, Pressly was planning to "retire from the hair care business and travel." Then Covid hit. "I started tinkering with new ideas and created this product in my bathroom in Montecito which is right next to goop," he said. "They were the inspiration to create something beautiful—goop likes beautiful products. Our collaboration represents a shared commitment to bringing safe, sustainable, and high-performance beauty solutions to the market."
Joining forces with Michael Sampson who shares the CEO title with him, Pressly set out to build a better bonder.
After more than a year of formulating and filing patents, Pressly launched Epres in 2022 with a one-step product formulated with his trademarked Biodiffusion technology. Pressly said Epres continues to repair strands even after hair is dry. There is also a professional SKU retailing for $79 for a larger size.
Importantly, Pressly said Epres has been tested on all hair types. "There's not a customer who can't use our products."
With the aesthetics of retailers like goop in mind, Pressly sought to elevate the look of the products beyond the status quo. "It's not just what's inside the product but the outside, as well. We want packaging that's lasting—not just cool and trendy for the moment—but ones that look good at salons and in people's bathrooms."
Availability in salons is a multi-pronged strategy. The Professional Bond Repair SKU is a one-step solution that re-bonds hair structure without reducing the pH which prevents longer processing times that can slow down salon productivity.
Stylists are also trusted influencers who can help educate people about bond builders said Pressly. The influx of brands, some without proven technology, has been confusing to consumers.
Professional exposure and now availability at goop is driving visibility. "Goop gives us a halo effect," said Sampson.
Adhering to goop's beauty standards, Pressly focused on "greener" active molecules that are biodegradable. "Many people talk about making the outside of the bottle environmentally friendly, and we are made from recycled materials, but we are also focused on what goes down the drain."
The potential for bond-builders is huge, Pressly said, adding that he believes Epres can achieve dollar sales commensurate with the industry leaders. "Whether they think so or not, everyone in the world has damaged hair."