The word "disrupter" gets tossed around a lot, but Francisco Gimenez has earned the accolade. As co-founder of eSalon, the award-winning, hugely successful online custom hair color service which he sold 51% to in 2019 to Henkel, Francisco helped create an entirely new category of color that bridges the gap between high-end salon color and drugstore box dye.
Now, the entrepreneur known for bringing technological innovations to traditional industries is once again shaking up the hair color world with Yuv Beauty (pronounced "you've"), his new beauty tech company dedicated to evolving professional hair color through innovation and improved sustainability. The company's debut product, Yuv Lab, was released on April 26 and is billed as the first smart, bespoke hair color lab for salons and freelance colorists, streamlining and automating the color formula process to help dramatically reduce waste and costs while making clients happier.
Indeed, the professional hair color industry has a waste problem. "If you talk to any salon owner, they estimate that at least 40% of the color they purchase goes to waste," says Francisco. Traditional dye mixing relies on an antiquated measuring system done by hand that creates a surplus of unused formula. "What's left in the mixing bowl after coloring a client's hair gets tossed out, as does unused product in the multiple bottles of color opened to create that person's shade." Colorists typically need two to three shades to mix a client's color but use only about a half or a quarter bottle of each shade. Since opened bottles of color have a short shelf life before the formula begins to oxidize, if what's leftover isn't quickly used on another client, the remaining product gets thrown away.
On top of that, "salons typically purchase a professional color brand's full portfolio of, say, 150 shades, many of which are nearly identical with very subtle pigment differences," says Francisco. "Everything I learned for eSalon about the professional color experience opened my eyes to all the unnecessary spending and excess waste that's occurring, and I thought, there has to be a better business model."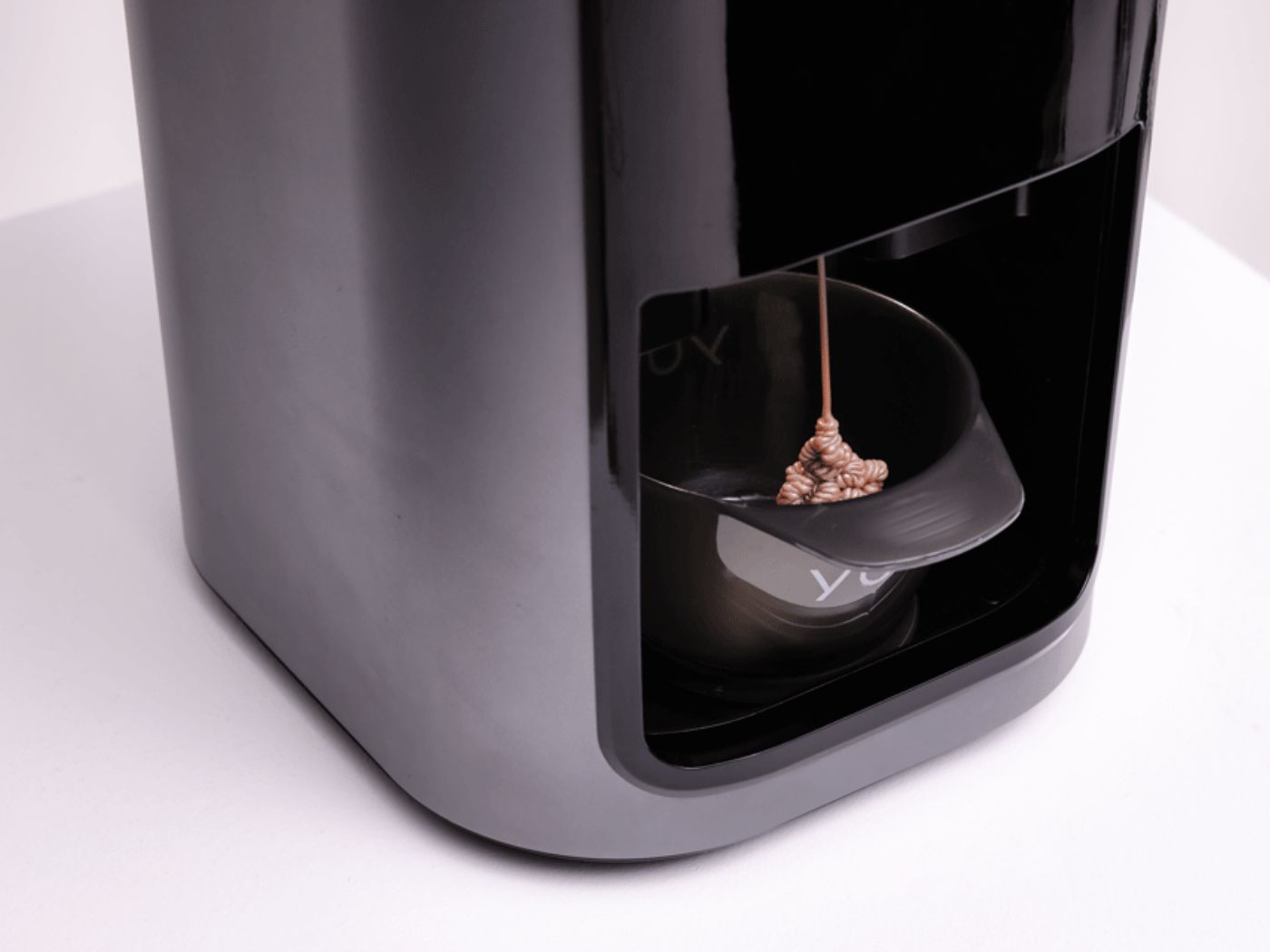 His solution: Yuv Lab, a patent-pending, digital smart device system that aims to make professional hair color more efficient, cost-effective, and sustainable.
Featuring a sleek machine that looks like a mini espresso maker that's light enough to carry under your arm, Yuv Lab can store and dispense millions of custom color formulations. Instead of a colorist hand-measuring and blending a client's formula, Yuv does it all with the touch of a button. The machine's sensors measure and calibrate exactly how much of each color is used on a client, then store that information online, doing away with the space-consuming method of keeping clients' formulas on handwritten notecards. Each time the client returns, the machine dispenses only the precise color amounts needed, preserving the rest so nothing goes to waste.
Yuv also ditches single-use plastic color bottles, replacing them with more sustainable refillable aluminum cartridges (every delivery includes prepaid return shipping labels to send empty cartridges back to the company). The proprietary colors are made at a specialty lab in Switzerland and formulated without PPD or PTD, two common causes of hair dye allergies, and without animal testing, fragrance, parabens, phthalates, heavy metals, drying alcohols, silicones, and other undesirable ingredients.
But perhaps the biggest difference with this digitized color system is that salons don't purchase any color inventory upfront. Rather, Yuv provides cartridges of color on consignment, then bills based on how much is used. The smart system tracks a salon's color consumption over time and adjusts consignment deliveries to match what the salon uses, streamlining inventory and saving precious shelf space.
"We bill for the grams of color used, which is precisely tracked by the Yuv Lab machine and stored in your online account," explains Francisco. "The cost per full tube of color is roughly the same as what the other major salon brands charge, but it's pay-as-you-go color, so you get better value because each tube lasts longer, and you never pay for unused formula." He estimates that Yuv can reduce product waste and cut spending on color by as much as 35% on both fronts.
Salons and independent colorists pay a £50 monthly fee (about $62 at current exchange rates) to use Yuv, which is currently available only in the U.K. "But even with our fee, you still save 25% to 35% on overall color costs because Yuv cuts out product waste and you're not paying for inventory," says Francisco.
And there's no compromise in creativity, he assures. "The colorist still designs all the client formulas — Yuv is just the smart assistant that ensures exact shade measurements and precise blending every time, which takes that stress off the colorist. From an operations standpoint, this saves the colorists time because they're not writing out and measuring formulas by hand, and it saves salon managers time and employee resources because their inventory tracking and restocking is all automated by Yuv."
Then there's the part of the salon color experience that can't be measured in data but is arguably the biggest measure of success: client satisfaction. "When a client feels that their color results aren't consistent, you may lose that client," says Francisco. "The precision of Yuv ensures consistent color every time down to the tiniest speck of a shade added in."
Francisco, who relocated from Los Angeles to London in the summer of 2021, chose to base and launch Yuv Beauty in London because "it's a good benchmark market for a hair salon business in that you're connected both to Western Europe and the U.S.," he says. Yuv Beauty has a full-time team of 15 employees and the company is partially self-funded by Francisco with two other primary investors: a Stockholm-based technology fund and Carisa Janes, the founder of Hourglass Cosmetics, who began as an advisor but eventually came on as an investor.
Yuv Lab launches in five central London salons (the names of which can't be revealed until their current contracts with other professional color brands), with plans to roll out to more U.K. salons by the fall, and in the U.S. sometime next year. "Our strategy is to optimize the Yuv experience with our initial five salons before we expand," says Francisco. "We will be working very closely with them to learn which features they use most, how we can best communicate different elements of the system, what tutorials we should create, and so forth. Once we've perfected the Yuv experience with our five partner salons and they are 100% satisfied with the system, then we'll push it out to more salons," says Francisco, who adds there's a growing waitlist of salons that want Yuv Lab.
Francisco has a dual-marketing strategy for the system that leverages his learnings in direct-to-consumer advertising and marketing from eSalon to target the professional salon industry. "We will build up a Yuv sales team and do the traditional route of trade shows and trade publications, but post-Covid, the freelance and chair-renting colorist segment has boomed, so we'll also be creating digital and social media marketing campaigns to target the various freelance markets," he says. "The Yuv Lab system is so compact and portable that it works just as well for freelance colorists as it does in a salon."
The name Yuv means "your unlimited vision" and is also a nod to YUV, an algorithm for digital color calibration (like RGB or CMYK). "Both meanings convey unlimited creative freedom," says Francisco. "With Yuv, we empower colorists to create bespoke shades so precise and exact, they would be hard to do and replicate by hand, and we empower salon owners to be much more cost-effective, space efficient, and sustainable. All of this contributes to a better, more personalized client experience that will keep people coming back to your chair."