The beauty industry's recent shake-out set quite a disruptive scene as executives brace for the second half of the year. Some of the most notable news centered on the recent closing of Shen Beauty's Cobble Hill store in Brooklyn, Farfetch's exit from beauty, and Amyris filing for bankruptcy. But what wasn't in the headlines was the emergence of several new retail formats that look to offer consumers new places to shop.
Sally Beauty, known for its array of professional beauty products, is testing out a new store format targeting millennials, value seekers, and discount beauty shoppers. According to Sally Beauty executives previewing the concept during a recent investor's presentation, a new retail pilot called Happy Beauty Co. has hit Texas and Arizona. Currently, five stores are operating, three in Texas (Denton, Mansfield, and Frisco), and two in Arizona (Maryvale and Peoria). Several more locations are planned for each state.
The Happy Beauty Co. retail concept merchandises an array of beauty categories, including makeup, facial skin care, body care, nail, and hair care in a bright, cheery environment accented by colorful displays that pop out against the store's black-and-white checkered concrete floor. Fixtures lean more upscale than those typically found in Sally Beauty stores. The kicker: everything is priced under $10. The assortment features name brands such as LA Girl, TreeHut, and SpaScriptions; there's also a major commitment to private label products. Sally Beauty-owned brands, such as HB Co and Our Skynn, are prominent in the assortment, too, and look to boost profit margin. Beauty brands from around the globe, especially items imported from Korea and the UK, lend an international flair to the product mix. Beyond beauty, Happy sells coffee mugs, candles, bath bombs, and home decor.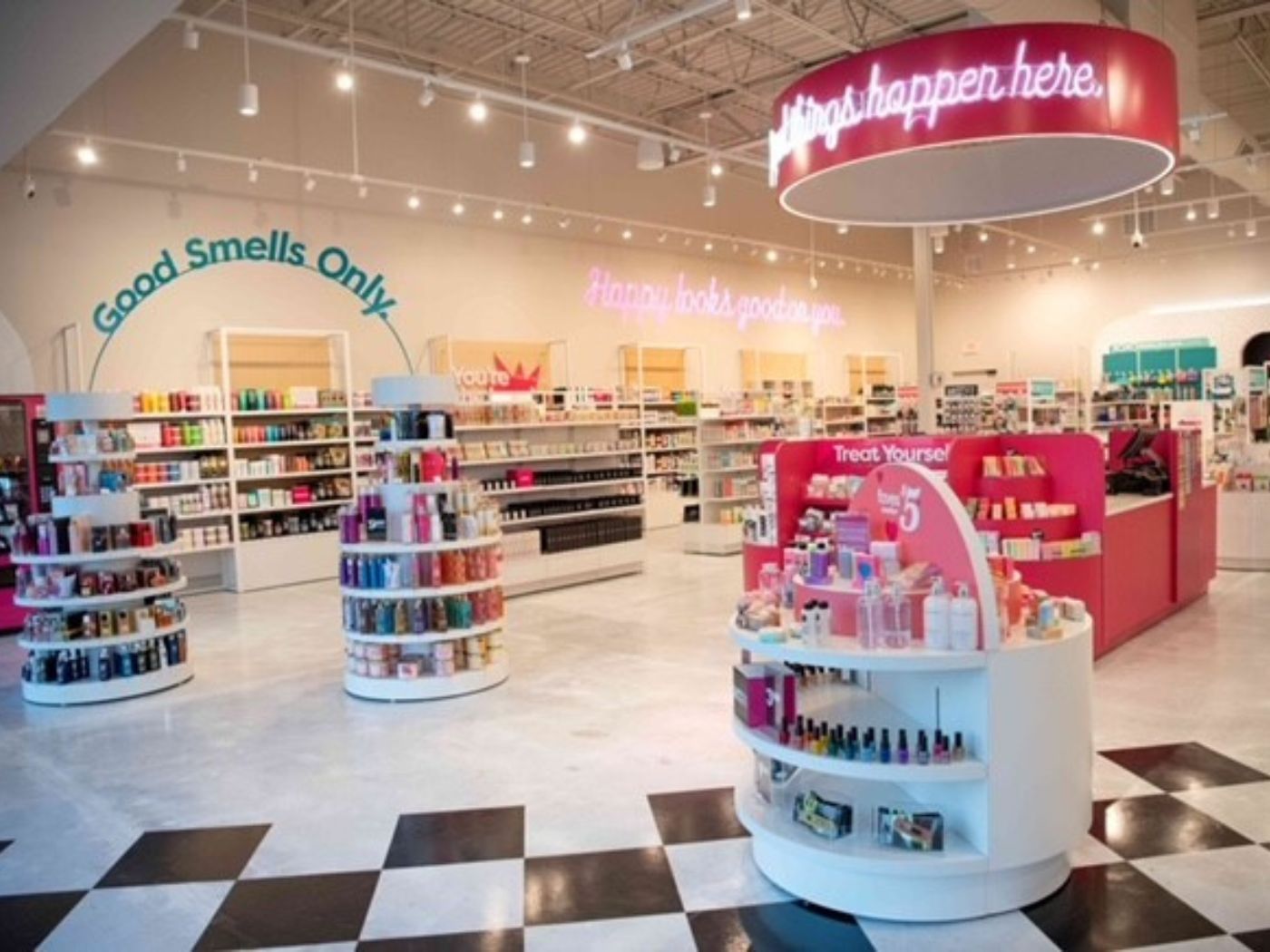 During the presentation to investors, the company said they're tapping into a $30 billion opportunity in beauty and personal care spending for households earning under $60,000 a year.
Bryan DeYoung, Group Vice President, Sally Beauty Holdings & Executive Sponsor of Happy Beauty Co., said the new format, "offers a high-quality mix of brands and products to the budget-conscious beauty shopper. We wanted to create a fresh, distinctive, and fun retail setting where our customers can be immersed in beauty, while saving money."
Ashley Helgans, an analyst and Vice President at Jefferies, said of the protype, "The concept is timely given trends of consumers trading down."
To inspire product discovery, for every $25 a shopper spends, Happy offers an item from a bright pink vending machine it developed and designed called The Bliss Machine. "It's cute and a fun way to get a free item," says Roni Townson, a shopper at the Mansfield store in Texas.
According to research from WSL Strategic Retail, 56% of consumers believe prices will escalate, ultimately increasing the appeal of lower-priced choices, including store brands.
Social media is already buzzing over the concept, with TikTokers praising the store's range of international brands, clean beauty options, and the retail concept's value pricing. Several identified the product assortment as value dupes to premium brands. "This one looks like a 'wanna-be' [Sol de Janeiro] Bum Bum Cream," posted one shopper. Social media was also full of compliments regarding the large choices of skin care and makeup—and the fun experience—using The Bliss Machine.
Happy Beauty Co. could also appeal to consumers currently shopping for beauty at dollar stores, such as Dollar General's pOpshelf, which recently announced it was slowing the growth of its beauty-filled concept, reducing the planned store rollout count from 150 to 90. Dollar General's CEO Jeff Owens says consumers are pulling back on what is nice-to-have versus necessities. Dollar General's original floorplan concept continues to emphasize beauty, including a proprietary brand created by Maesa called Believe Beauty.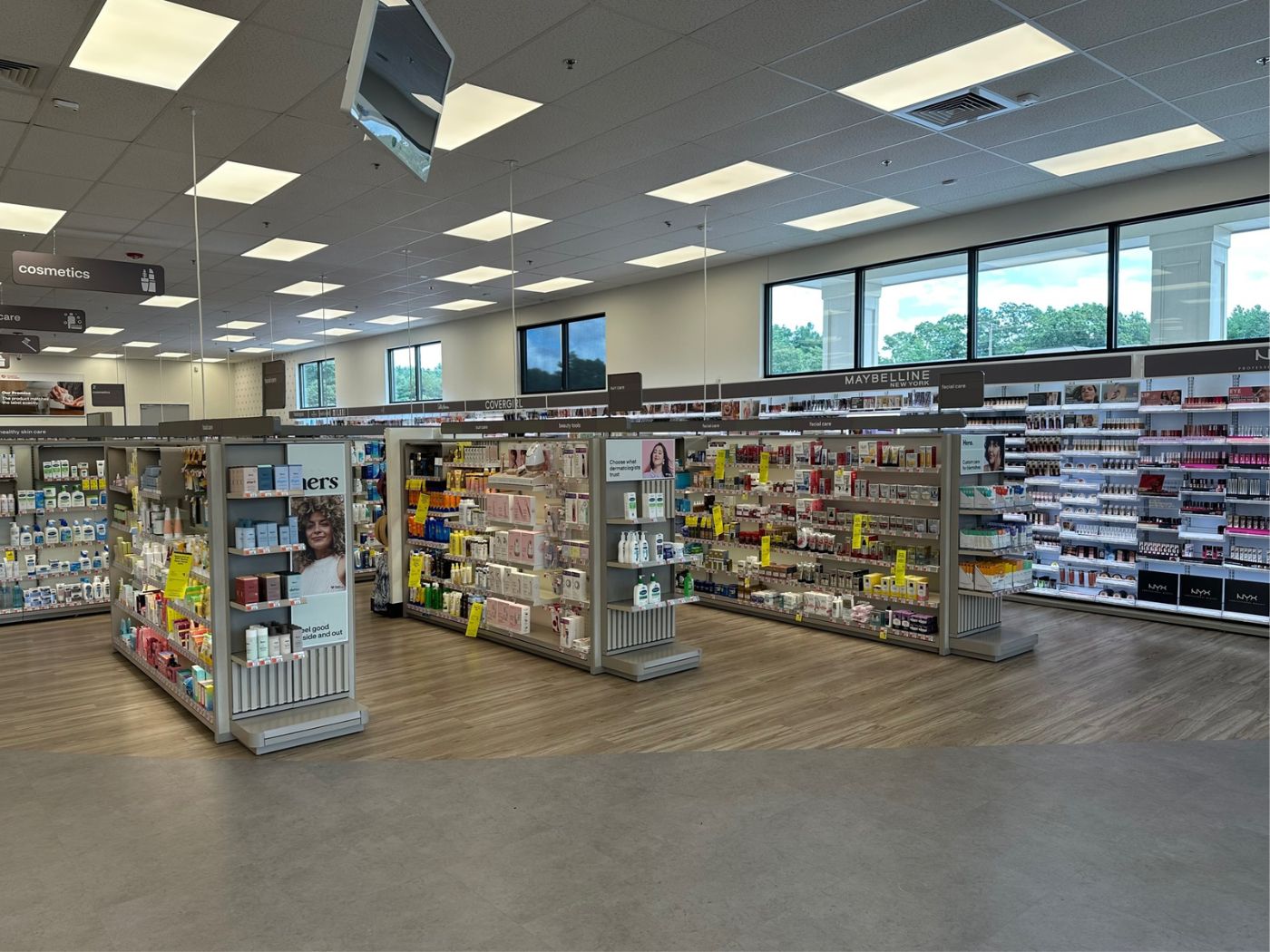 Value isn't only about price, and CVS Health is reimagining its stores to make it easier for consumers to shop all its aisles. Retail shelves are currently overloaded with products that often leave customers confused and without assistance.
With that in mind, under the direction of Musab Balbale, CVS' Senior Vice President and Chief Merchandising Officer, the store is experimenting with a format that pares overall stock-keeping units by 18%. Balbale, who hails from Walmart, says the streamlined plan better aligns with CVS' merchandise mix overall.
"The first thing we're trying to do is increase the relevance of our health and wellness offering, less from an assortment perspective and more from the storytelling and editorial nature of the format. This is a continuous effort and evolution to serve the health and wellness needs of our local communities," Balbale says.
He explains the goal is to make it easier for shoppers to find what they need—and perhaps be captured by something they may want, like a beauty purchase. There is a housekeeping benefit to the new design, too: with fewer items, vendors, and staff can stock shelves and remove clutter.
One of the newer stores is based in Millis, Mass.—a town 30 miles outside of Boston—and is clean and bright without a cacophony of signs dotting shelves. One shopper at the store said she noticed the difference between it and an older store nearby. "It felt the opposite of cluttered. It's open and spacious," she says.
Storytelling is also part of the appeal at Thirteen Lune's first LA stand-alone retail location on Larchmont Avenue, which opened this past summer. Thirteen Lune, which also operates shop-within-shops at JC Penney, revealed a 1,700-square-foot space that highlights more than 100 brands, 90% of which are BIPOC founded. The remaining 10% are ally brands that are inclusive in their product assortment and culture.
Thirteen Lune features six brands with "in residence" status, meaning they have shops within the store to make a bigger splash. For example, the Pattern beauty area has a huge photo of founder Tracee Ellis Ross and a dedicated display painted in the brand's signature yellow that is suitable for Instagram. The other brands with dedicated spaces are CTZN, Ranu, Inala, and By Rosie Jane.
To encourage shoppers to hang out in the store, the entrance features a lounge decorated with oversized couches. There is also a salon on the premises complete with eyebrow services.
"I wanted to make a more equitable playing ground," says Nyakio Grieco, the founder of Thirteen Lune, adding she wanted to create an inclusive space for brands. "I am excited to be part of this new paradigm of beauty and to be part of a company working to make the industry more equitable for all."