India is beauty's new jewel.
With China's economy stalled, the beauty industry is shifting its growth opportunities to India. According to Tanya Rajani, Principal Analyst, Beauty & Personal Care for Mintel, the mounting beauty buzz can be attributed to rising disposable income, urbanization, exposure to global beauty trends, and the growing interest in social media.
Perhaps even more exciting is consumer sentiment in India, which has been described as "intoxicating." Shalini Vadhera, Founder and CEO of Ready Set Jet, a U.S.-based brand that sells in India, said, "You can feel the pulse and progressive energy that's happening in India," adding that it is the fourth-largest beauty market in the world behind the U.S, China, and Japan.
Identifying India's Beauty Consumer
Fueling growth in beauty sales is a new generation of customers exposed to global beauty trends via social media. The population skews young: 64% are under 35. "They are on social media all the time driving a huge shift to Western lifestyles. They are more interested in beauty than ever and have disposable income," said Deepika Vyas, Chief Executive Officer and co-founder of U.S.-based Avya Skincare, adding they will be the driving force of the industry over the next 30 years. The under-35 set is joined by an older and established consumer who is well-traveled and exposed to luxury brands.
"It's already a beauty-driven market when you think about [Indian] weddings and Bollywood. We are seeing a surge of entrepreneurs and founders wanting to celebrate the heritage of India and create solutions for hyperpigmentation or celebrating skin tone," she said.
India is divided into tiers based on population and economic factors. Larger cities, such as Mumbai and Delhi, are considered Tier 1 (100,000 people or more). Less populated regions (10,000 people or less) are classified as Tier 3 and Tier 4. Much of the future of brick and mortar exists in expanding to markets outside of big cities.
Some stats about India's beauty consumer population:
In July 2023 India overtook China as the most populated nation.
Euromonitor estimates per capita gross income will rise more than 130% through 2040.
Sales of beauty and personal care are on target to surpass $30.5 billion in 2023, according to Statista.
Skin care and cosmetics are among the fastest-growing segments with CAGR projected at 8.9% and 10.9%, respectively, through 2025.
Online sales currently represent less than 10% of overall beauty and personal care sales but are growing triple-digit year-over-year.
Consumer spending on beauty is growing, with 33% of consumers having bought a new beauty product that they haven't tried before, according to Mintel through March 2023.
Sephora's Big Move
Signifying India's promise is Sephora's recent partnership with the country's largest retail conglomerate, Reliance Beauty and Personal Care Ltd. A wholly owned subsidiary of Reliance Retail Ventures, LTD., the sector operates more than 18,000 doors in the country ranging from grocery to consumer electronics stores.
India is not a new market for Sephora, which opened its first stores there in 2012. Over the years Sephora continued to expand, albeit slowly, with different partners—international companies need to establish an Indian subsidiary, form joint ventures, or enter into licensing agreements with Indian partners. As part of the new deal, the existing stores that were under Arvind Fashions Ltd, will be transitioned to Reliance Beauty and Personal Care Ltd.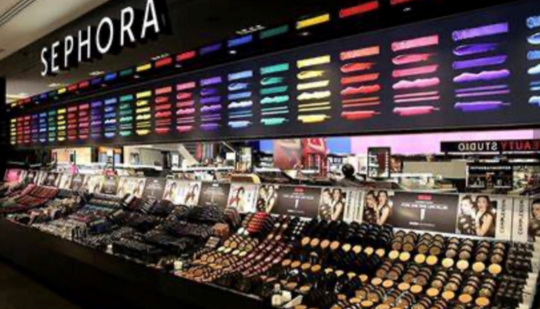 "The partnership gives [Reliance Retail Ventures Ltd] exclusive rights to build and enhance Sephora's presence in India across channels," Reliance Retail said in a statement about the $11.89 million deal.
Sephora Asia President Alia Gogi stated that India is one of the largest untapped markets. "We are tremendously excited to partner with the largest retail group in India to step-change our business," he said in a release.
Reliance is expected to expand Sephora into new markets beyond major cities in India where most of its current stores exist. While industry experts applaud the transaction thanks to Reliance's expertise in retail, they expressed surprise since earlier talks between Reliance and Sephora had stalled.
Compounding that, Reliance Retail Ventures Limited opened its own multi-channel beauty retailer, Tira, in April. Called the Ulta Beauty of India, Tira sells local and international beauty brands in stores, online, and via an app. There are currently two physical Tira stores with plans for at least 100 more country wide. "We aim to break down the barriers in the beauty space and democratize beauty for consumers across segments," said Isha Ambani, Executive Director of Reliance Retail Ventures Limited, in a statement. The app, which the company said has been downloaded more than one million times, sells premium brands including Estée Lauder, L'Occitane, Bobbi Brown, M.A.C, and Clinique. Mass brands include Maybelline, Neutrogena, L.A. Girl, Physicians Formula, and Hindustan Unilever's Lakme (India's number-one cosmetics brand). Tira enters a growing list of multi-channel competitors, such as Nykaa, Walmart-owned Myntra, Purplle, and Shoppers Stop. Also popular is Parcos, an omnichannel luxury retail platform that now operates 62 physical stores selling premium scents and makeup.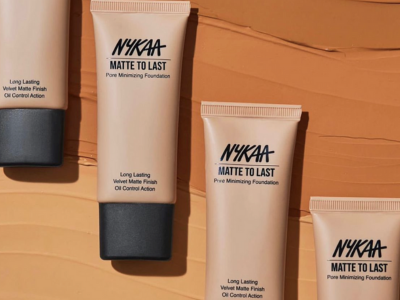 Nykaa, which went public in 2021, doubled its physical store count over the past two years to more than 140 doors and is one of the buzziest contenders. "Nykaa has grown like gangbusters," said Vyas of the company founded in 2012 by Falguni Nayar, with a vision of building an omnichannel beauty-focused retail business.
Last year, as part of its New Incubation Ventures, Estée Lauder partnered with Nykaa in an initiative called Beauty & You, to discover, spotlight, and propel the next generation of Indian beauty brands. Nykaa plans to add another 50 stores in fiscal 2024. The stores feature brands such as Smashbox, Clinique, and Sulwhasoo, as well as items from Olay, Maybelline, and Nivea.
Competitor Purplle also bowed in 2021 as an online retailer and has since added brick-and-mortar stores. The company operates 10 units with plans to build out in markets beyond well-developed cities. The company has high brand awareness with access to almost every zip code in the country.
Shoppers Stop is yet another Indian power retailer. It was recently handpicked by NARS to be its entry point into the country (along with about 10 Sephora doors) for online and physical distribution. Buoyed by strong performance of beauty in its 107 department stores, Shoppers Stop opened a standalone beauty concept in 2019 called SS Beauty by Shoppers Stop. There are currently 15 of the beauty-only doors with plans for 13 more in 2024.
Also vying for beauty shoppers is The Tata Group, which opened 20 technology-driven stores in India using tools such as virtual makeup kiosks and digital skin tests. The physical stores augment Tata's beauty shopping app, CliQPalette.
Opportunities in India are attracting big retail names from outside the country, too. Galeries Lafayette is opening two stores in partnership with Aditya Birla, a leading Indian conglomerate with its own brand stores. Planned is a 90,000-square-foot shop in Mumbai, and a 65,000-square-foot store in Delhi, which are scheduled to open in 2024 and 2025, respectively.
Natura & Co, which just sold off The Body shop, has announced plans to open 50 more stores in India, especially in Tier 3 and Tier 4 markets.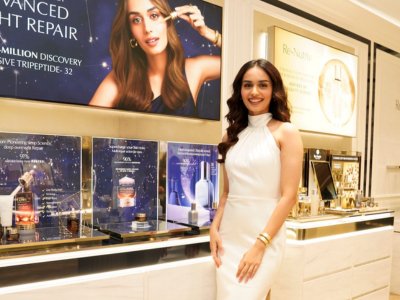 Brands Want in on India
There's no brand too big or too small for the Indian beauty market. And they're entering in different ways. Legacy brands are establishing footholds in the country via acquisitions. Estée Lauder, for one, recognized India's potential in 2008 when it took a 20% stake in Forest Essentials, an Indian beauty firm that specializes in ayurvedic formulations. The company continues to build a presence with greater distribution of its portfolio, as well as with programs like the partnership with Nykaa. In its review of fiscal 2023, Fabrizio Freda, President, CEO, and Director of The Estée Lauder Cos., singled out India as one of the emerging markets delivering organic sales growth. "India grew nearly 50% for the year, driven by the excellent performance by our long-standing brands in the market and the very successful launch of The Ordinary," he said.
L'Oréal sees opportunities in India, too. In September, the global beauty leader announced the expansion of its Dermatological Beauty Division into India starting with CeraVe. During the company's 2022 annual earnings conference, L'Oréal CEO Nicolas Hieronimus said India would be the company's next billion-market. L'Oréal currently has 13 brands in India including L'Oréal Paris, Garnier, Maybelline New York, NYX, Matrix, Kerastase, Redken, and Cheryl's Cosmeceuticals.
With more than a 40% share in beauty and personal care, Hindustan Unilever is the biggest brand in the country. Its portfolio includes Lakme, Dove, Glow & Lovely, (recently rebranded from Fair and Lovely as part of Unilever's commitment to embrace inclusivity), and Acnesquad. To remain competitive against the sea of encroaching rivals, Hindustan Unilever is stepping up innovation with expansion of the Pond's portfolio, a new "Glitterati Collection" under the Lakme brand for festival and wedding season, and new hair serums. Skin care and color cosmetics sales are up double-digits year-over-year, according to the company's most recent financial report.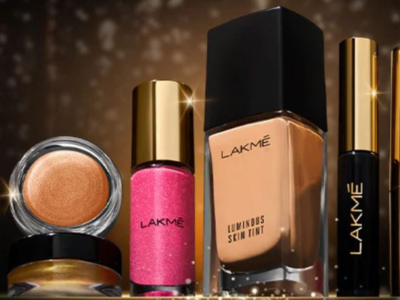 Last year, Puig took a majority stake in Kama Ayurveda, India's leading Ayurvedic beauty and wellness brand. The brand is sold in more than 50 company-owned stores along with distribution with other retail and online partners. With awareness of Ayurvedic rituals on the rise, Puig also expressed expanding the brand globally.
Rare Beauty's launch with Sephora in India was its second-largest endeavor behind the U.S., the company reported—another validation of demand in the country. Rare is now sold in 36 countries.
NARS, in addition to its splashy debut in October 2023, is planning a store for New Delhi in December at the Select Citywalk Mall. In October, NARS' parent, Shiseido, also opened its first door in India—a 400-square-foot boutique in Mumbai. Shiseido has been available in India for more than 20 years.
Brands created by Indian founders who understand the country's diverse complexion needs are also gaining traction. "Social media opened up the world," said Vadhera, who was raised in America but frequently travels to India. "For the longest time, we had these legacy brands that didn't have the colors or textures that catered to South Asian women. We've started to see these amazing homegrown brands pop up and bring products that are more relevant to them."
Two of these brands include Sugar Cosmetics and Renee Cosmetics. Earlier this year, L Catterton Asia led a Series D funding round for Sugar Cosmetics, which has a global goal to reach more than 40,000 doors in over 500 countries. Renee Cosmetics has also expanded from its DTC roots to sell on websites such as Nykaa and Myntra, as well as in shop-in-shops with physical retail partners. The brand raised $25 million in a Series B funding round led by Evolvence India.
The (Near) Future of Beauty in India
Coresight Research has identified some of the next hot categories in India, including men's, children's, and luxury brands. "Indian men are increasingly open about using beauty products and vocal about their skin care routines," said Swarooprani Muralidhar, Director of Research in Coresight's India office. For younger consumers, brands such as Super Smelly and Tikitoro have launched personal care products with the mission of offering toxin-free alternatives to a younger demographic.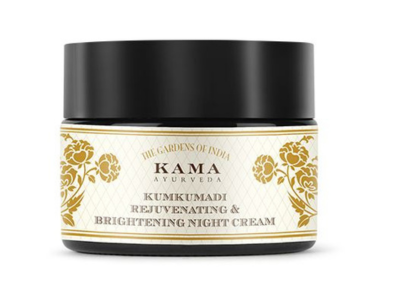 Within luxury beauty, Kama Ayurveda and Forest Essentials are two Indian brands that are aiming to elevate the ancient Indian medicine system of Ayurveda. Another high-end homegrown brand to watch is 82°e, launched by Deepika Padukone, a Bollywood actor and brand ambassador for Louis Vuitton, Cartier, and other brands. 82°e incorporates various ingredients indigenous to India. With Padukone's backing, 82°e is likely to raise the visibility of Indian beauty brands on a global circuit.
With a young population ready to spend, India offers huge potential for brands looking to expand. Muralidhar's advice for brands looking to get in on the sales bonanza is to team up with beauty platforms such as Nykaa, Purpelle, or Tira to reach a wide segment of consumers in both major cities and smaller markets where offline retail infrastructure is underdeveloped, but consumer demand is present. "The popularity of do-it-yourself online cosmetics tutorials, the growing consumer preference for natural and sustainable beauty products, the rise of direct-to-consumer online beauty brands, social media and beauty influencers, and favorable demographic changes will drive the market," she said.
There's plenty of room for growth, confirmed Ayas. "Indian girls growing up didn't use cosmetics much…but that's changed. Lifestyles are shifting and products that weren't available are now coming into the market. There's a huge demand for products made in India as well as international brands. India is where the economic and population growth is."