Glossier Grant Initiative for Black-Owned Businesses winner, Eadem, is a new beauty and lifestyle brand and community created by women of color, for women of color. Beyond the product line, Eadem's digital platform features inspiring women of color. Among the brand's offerings is a curated line of hyper-targeted skin care for melanin-rich skin.
Eadem co-founders, Alice Lin Glover and Marie Kouadio Amouzame, met while working at Google. Marie is a Black woman, born in West Africa and raised in Paris, where she studied computer science engineering. She has experience in brand growth, social and B2B marketing, and formerly served as the Head of Brand and Strategy at Airbnb. Alice was born in America of Taiwanese immigrants, and married into a Mexican family. Her expertise is in brand strategy and design, which she led across Google's largest platforms as well as with multiple DTC startups including Beachbody, Daily Harvest and KonMari.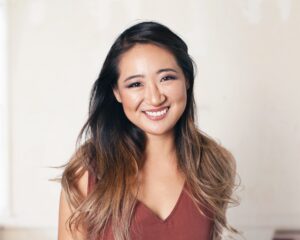 "Creating this brand started as a product obsession with skin care," Alice said. She noted that the brand's reason for being is prompted by the question: What's your definition of beauty? "It seems simple, but it's important because so many of our definitions are defined by outside sources," Alice said. When Alice was growing up, mainstream media in America projected an image of beauty that was homogenous—not diverse. She was also privy to her family's cultural ideals about beauty, for example, not being too tan. "In a world that loves binaries and checking boxes, we don't have to be either/or — meaning American or ethnic; beautiful or dark skinned," Alice explained. "There's plenty of room for ands."
As Alice and Marie established a friendship, they swapped dermatologist tips. Marie taught Alice about French pharmacy products; they visited South Korea together. Alice always had severe acne and eczema. Her dermatologist gave her hydroquinone cream products (an ingredient that's banned in the EU and in several countries in Asia and Africa). "It really opened our eyes to the lack of non-toxic, effective, and targeted skin care options for melanin-rich skin — the fact that women of color are up to 12 times more exposed to beauty-related, harmful chemicals is proof that change is needed," Alice said. "Our brand exploration evolved into a larger platform," Alice explained. "We're passionate about building community and fostering a diverse space to drive beauty conversations from the point of view of diverse skin tones and cultures."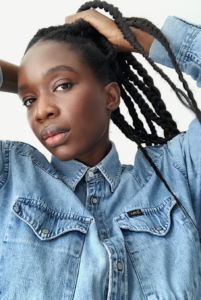 "I think our friendship became even deeper when we started to travel together; I showed her around Paris, she hosted me at her family's home in Taiwan," said Marie. They bonded over their upbringing as children of immigrants. "Our parents are always right and they do not congratulate us often," Marie said. The idea to start a brand together goes back many years, but they didn't know exactly how their passion would manifest. "We went to Korea to discover K-Beauty together, became obsessed with the products and routines, and would have threads going with each other where we exchanged beauty tips and tricks," Marie said.
"Over the years we've always spoken about starting businesses, but the time was never right—we might still have a few web domains registered from back then," Marie added. Alice and Marie bonded over a feeling of otherness, which was amplified by being women of color in tech. They took this frustration to fuel the creation of their beauty brand, and they hope Eadem will resonate with women of color who've experienced that same feeling of otherness.
As for the Glossier grant, Marie noted that while the beauty and fashion industries have reacted in a public-facing way to the divisiveness in 2020, they're "unfortunately still seeing the same pattern: BIPOC are consistently excluded from the beauty conversation." At best, BIPOC are included in a tokenistic way, Marie added. "The brands that create beauty products don't hire diverse teams, so on a fundamental level, products are not built with us in mind," she said. The #pulluporshutup campaign only further proved this, she said. Marie and Alice were encouraged when Glossier announced their grant program, and while they were in very early stages of Eadem, they took a leap of faith and applied. "I know there were thousands of really incredible Black-owned brands under consideration, so it was surreal when we got the news," Marie said. "I've followed Glossier's journey from day one, and have always admired what Emily has built, so in a way it was a moment of validation that we were on to something special."
Eadem's consumer is the modern woman of color, Alice said. "She's a woman who finds herself code-switching between her family, home, work and school, who feels the need to minimize the real her to be accepted," she explained Marie added that Eadem is not about a specific race or subculture, but it's about the unique perspectives and specific needs of women of color. "Eadem is about the freedom to explore and understand beauty on our own terms, defined by each of us individually," Marie said. "It's about being your own self while staying true to your heritage."
Their top concerns as women of color are hyperpigmentation, melasma, acne and eczema, Marie added. "We worked closely with a dermatologist, who is a woman of color herself, to develop science-backed formulas," she said. She believes the intentionality of the product line will resonate with consumers. "From the formulas to the delivery system and ingredients, we've produced the products with women of color's unique needs in mind since day one," she explained.
COVID affected Eadem in a few ways. "The obvious challenges were around supply chain, for example, getting product ingredients and samples in a timely fashion," Alice said. But there were personal challenges during this time, as well. Alice found out she was pregnant just before the lockdown. "The fear of being immunocompromised not only elevated my anxieties around staying healthy while pregnant but emotionally it was quite isolating — I experienced my first Zoom family funeral and wedding," she said. Alice has been unable to see any family since quarantine began, as they're far away. "Marie and I haven't physically been in the same space since February, and many of my friends still don't know I'm pregnant!" Alice said. In March, Marie had to deliver her baby alone at the hospital, because it was during the peak of the pandemic and partners and doulas were prohibited. "And through everything, there is the fact of being Black in 2020 and facing the daily emotional toll that brings," Marie said.
After years in development, officially unveiling Eadem through the Glossier grant was big, Alice said. The duo has been encouraged and inspired by the early response they've received. "People have reinforced our intuition that a brand like this needed to exist, from saying that growing up they wish this brand existed, or that for once, they felt a sense of belonging on Instagram," Alice said. Alice and Marie hope to continue amplifying the voices of women of color and also deliver on their promise with amazing products that are made for these women and are clinically proven to work.