Contactless.
The term has emerged repeatedly during the COVID-19 pandemic as concern for catching the virus reached a pinnacle. Ways to pick up food, receive groceries and pay for purchases are just some of the tasks that have become doable without human contact.
Implications for the beauty industry offering contactless forms of product trial stretch well beyond the current pandemic. Selling beauty has always been about personal touch, experimenting with a tester, taking home a product sample or receiving one in the mail.
But in a post-COVID-19 world, hygienic trial is top of mind for brands, retailers and consumers. That means testers are disappearing from Ulta Beauty to Sephora and from CVS to Target.
Even as beauty selling is being reimagined, one message is clear—product discovery and samples are paramount. Virtual consultations and AR can help in product selection, but nothing supplants the real thing. Statistics support the need: Gartner L2 reports that almost 50 percent of all beauty shoppers say a complimentary sample inspires them to purchase a product.
Sampling will be forever changed, but its importance won't be altered. Nimble brands are shifting dollars into safe, hygienic sampling options. Single-use samples are perfect in tandem with curbside pickups, delivery sampling, direct mail, and in-store environments.
Concerns of wasteful packaging have been supplanted with an urgency for safety to reduce risk of contamination. No wonder retailers and brands are on a quest for sanitary sampling options across beauty categories.
Arcade Beauty Has the Solution for All Sampling Needs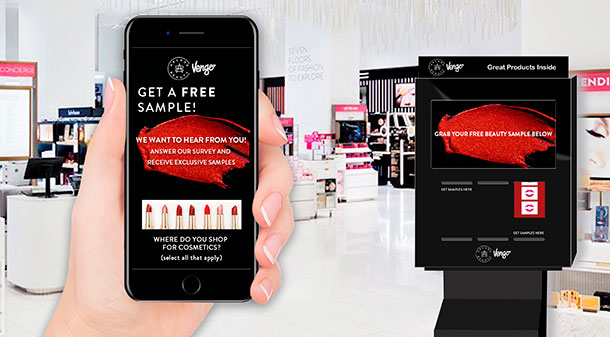 Arcade Beauty, the global leader in sampling solutions for the beauty industry, has made safety and product discovery a priority over its 100-year history. The company is leveraging its portfolio of innovative, patented sampling technologies to provide contact-free, single use solutions. Although the company's heritage is fragrance, its research and development capabilities have crafted options for nearly every makeup and skin care product, as well.
"At Arcade Beauty, we have developed what we call 'contact-free sampling', which is done via hermetically-sealed samples which can contain anything from color cosmetics, including powders such as blush and eye shadow, to lip colors, or skin care products. In fragrance, we also have a range of products, from scent samples to skin testers, that we offer in various single-use application options," says Larry Berman, Arcade Beauty's Senior Vice President, Sales, North America.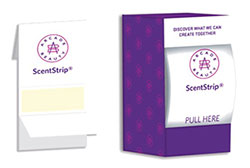 Arcade Beauty offers everything from ScentTalker, a self-service dispensing solution for the fragrance category with individual ScentStrips inside, a great alternative to the traditional tester, to mini mascaras. Each solution is developed for product categories where sampling is a lead-in to purchase. For color cosmetics, Arcade Beauty's BeautiSeal allows brands to offer samples of a wide variety of shades and formulas that can be affixed to marketing materials or offered in a stand-alone format.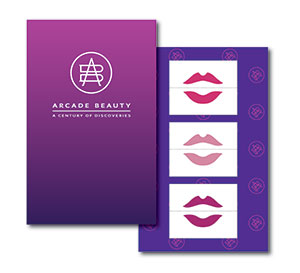 Arcade Beauty's BeautiPod offers a full-face application, perfectly designed for skin care. For lipsticks, Kiss-A-Peel and LipSeal, can be applied directly to lips, allowing consumers to fully experience the shade and texture. Powders can be sampled with ShadeSeal, a unique silk-screened sample, which can mimic the look and payoff of a compact. Easysnap features a one-hand opening system, a safe and hygienic packaging option for hand sanitizer and a variety of liquids and creams. These are just some of the sampling tools in Arcade Beauty's arsenal.
Arcade Beauty, in partnership with Vengo, also offers a contactless sampling experience designed for retail. With Vengo, beauty consumers can safely engage in product trial through an immersive digital experience that drives interest, sample redemption and purchase intent.
Additionally, Arcade Beauty's in-house agency, Abeo, can help brands reach and engage with consumers wherever they are, through targeted social media sampling campaigns. Abeo can help brands activate, acquire and grow their consumer base.
Questions & Answers with Larry Berman, Arcade Beauty's Senior Vice President, Sales
CEW: How are you able to react so quickly to contact-free sampling? I believe these were existing solutions—did you have to add or tweak?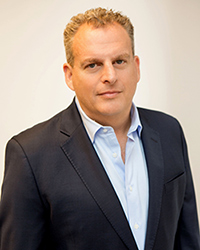 Larry Berman: Single-dose product sampling is what we do at Arcade Beauty. It's in our DNA. With over a century of expertise, we have the manufacturing capabilities and know-how to support our industry through today's reality and the challenges that come with it. Our clients are quickly rethinking traditional product-testing methods, and how hygienic, single-use 'contact free' trial is now essential at the beauty counter. We are using existing technologies that have been tweaked to meet immediate needs, and span all beauty categories and distribution methods. While many of our patented label technologies have typically been available on a card, we are also offering quick and economical options that are readily available in bulk or in self-dispensing formats.
CEW: How important will this new way of sampling be to bring beauty back to growth?
LB: 2020 was off to a strong start across most categories, posting growth through February. However, in March, prestige beauty felt the impact of retail store closures. Physical interactions with products play a significant role in purchasing decisions, and the ability to touch and feel is something that virtual experiences simply cannot offer. We know that 82% of consumers are more inclined to purchase after seeing, holding, or sampling products in person. 81% of Gen Z prefers to shop in stores, and 73% like to discover new products in stores. Arcade Beauty makes this product interaction possible: safely and hygienically.
CEW: Expand upon how Abeo, your in-house agency, can further help brands/retailers.
LB: We know that sampling works.The question is how can one measure the success of their sampling program? Abeo's intelligent digital sampling solution provides our partners with the opportunity to reach their targeted consumer, engage them through product trial and then based on their unique objectives, drive reviews, social content and conversion. During the entire campaign, we are tracking and capturing valuable consumer data.
In addition, our partnership with Vengo gives brands the opportunity to provide a full consumer journey: They can target consumers online through Abeo, and then drive them to pick up in-store via Vengo. These turnkey solutions have allowed us to create a complete sampling ecosystem.