Beauty Partners was founded in 2010 by Barry Shields, a beauty executive who's held roles at Procter & Gamble, Revlon, and Coty. Joining Beauty Partners' stable of brands, which consists of Red Carpet Manicure and Arches and Halos, is Nailtopia, one of nail's newest players in the clean and green space thanks to fruit and vegetable extract-infused formulas that look to deliver six days of chip-free wear. The brand launched in Ulta Beauty in March 2020, and despite aligning with the beginning of the global pandemic, Nailtopia gained traction as a DIY alternative when nail salons temporarily shuttered operations. Fresh off a successful 2021, Nailtopia today consists of 77 shades, and at the end of the month will launch 14 new mini shades and several new treatment items, including a sea-inspired line; fruit infused oils; and Ultimate Wear Topcoat, one that is that light activated. Here, Barry talks about why he left corporate America to create his own business, and why Nailtopia is a brand to watch.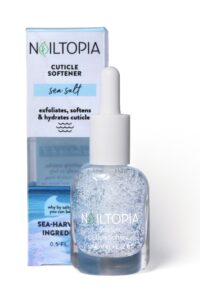 Beauty News: Tell me a bit about your background and how you founded Nailtopia?
Barry Shields: My business partner, Bruce Kowalski, and I met at Del Laboratories. We have known each other for 20-plus years. I was a Senior Vice President running the international division when Coty bought us, and Bruce was U.S. Vice President of National Sales. We realized there were so many opportunities [in the market] and we had the vendor relationships, the supplier relationships, and the retailer relationships so in 2010, we both left Coty and started our own company. We began by doing private label and then some exclusive brands. We have divested ourselves of a few brands today, but are still active. We have a brand called Defy and Inspire that has been in the marketplace for about six and a half years. We've done over $25 million with that brand in Target, it's a great partnership. Bruce and I also started Red Carpet Manicure with our manufacturing partners in California.
In 2018, we started to find white space niche opportunities [in the space that Nailtopia now occupies]. We looked at formulations and how to differentiate ourselves. We saw the clean green sustainable trend, which is where everybody will eventually compete. And we created proprietary, patented nail lacquer formulations that are 85 percent bio-sourced with vegetable-based ingredients like potato, corn, wheat, and manioc. Our nail color and care is all non-toxic and 100 percent vegan. Nailtopia is also superfood-infused. There's real science behind each one of the ingredients, whether it's citrus, raspberry, blueberries, spinach and so on. It's part of our nail treatment story. When we presented it to retailers, the team at Ulta said, "We love the concept." They are all about clean, green, and sustainable. They asked us to launch it exclusively with them, which we did March in 2020. Perfect timing! We couldn't get it to market fast enough. Ulta is our flagship account.
BN: Are you chain-wide at Ulta Beauty?
BS: We are in the process. Nailtopia is in about 650 Ulta stores and, of course, Ulta.com. We are also in some CVS stores and elsewhere. This year, we will be in select Target stores. Slowly but surely, we are cascading our distribution, and in masstige too.
BN: You're in salons as well?
BS: Starting to be. We want to be selective in the professional world.
BN: What are your bestselling products?
BS: Our kits are a best-seller. You have to care for your cuticles as you care for your nails. That's why we all always talk about holistic treatment of your nails. There's the raspberry- infused collection that helps nails become hydrated, blueberry-infused to support the conditioning of nails and cuticles, orange-infused to support harder, firmer nails, and spinach-infused for nail strength and revitalization. We have a 99 percent bio-sourced, acetone-free nail polish remover. It's an avocado oil-based formulation which is our bestsellers despite being very expensive. We're launching it in a two-ounce form this month.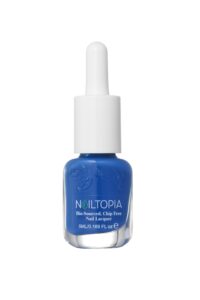 BN: How difficult was it to create clean formulations for nails?
BS: Developing our plant-based formulations wasn't easy. Our nail lacquer, for example, is made up of three different collections of ingredients. There is a base gel, and ours is bio-sourced, including corn and sugar cane as the base gel to hold the formulation. Plasticizers [that make nail polish more flexible and increase the durability of the polish] can either be done synthetically or through plant-based ingredients to make sure that the film adheres. Ours is 100 percent vegan and cruelty-free. We are fully conscious-beauty, Leaping Bunny certified. It took us a while to get that kind of clean green sustainable formulation, and make it really work. We have also developed the treatment side of nail care, too. We didn't expect it to be as big as it is. That's why we are expanding that part of the business. It has a lot to do with women using glue-on nails and gels. We also have our existing base coat and top-coat products, both bio-sourced. We have the first-ever bio-sourced, light-activated topcoat that dries and hardens for a much longer wear than the ordinary topcoat. Our core shades are all about care and color. We launched Nailtopia with four collections of nail treatments, each with their own unique point of difference. For example, there's the consumer who has dry dehydrated brittle nails, dry cuticles and so on.
BN: The cap purposefully looks like a dropper, right?
BS: Yes, we custom-tooled the bottle so that it has an apothecary look, with a leaf embellishment that helps hold the bottle, in addition to being aesthetically pleasing. We launched with the silver cap, but now have the first biodegradable cap. The entire brand will feature the white cap in February. You can put it in a compost, and it will decompose within six months.
BN: What new products will you be launching in 2022?
BS: In late January, we are launching three different collections in miniatures exclusively at Ulta. There is dual purpose to it because, first and foremost, nobody ever finishes a full bottle of nail color. And then there's the sustainable issue. Why spend $10 when you want to try some new trending shades? You can get 10 manicures out of this miniature 5ml size. There will be more bundles and kits coming out this year. Our holiday kit sold out.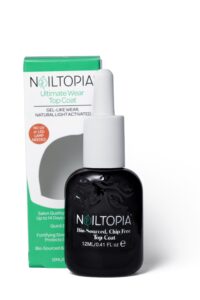 BN: How do you stay in touch with your consumers?
BS: We have a maintenance group comprised of about 150 women, all nail enthusiasts and some of them micro-influencers, who we talk to on a regular basis. It was amazing to discover the number of women who have ridges and yellowing. So, we created bio-sourced, specialty items to help smooth out ridges, and brighten and white nails. Ours is probably the best strengthening nail treatment. We use a green algae base, which is even more concentrated than our regular product. In order to create a cuticle softener that truly works, we infused it with sea salt as an exfoliant. It is a bio-sourced formulation that is good for your skin.
BN: Are you currently exploring new areas of innovation?
BS: A new category for us is a collection of oils that you can use on your nails, and we've also expanded the formulations for use on knuckles, elbows, hands, heels, knees. Each collection has a unique purpose, such as tightening, toning, brightening.
BN: Are you still seeing a rise in DIY nail care?
BS: Without a doubt. Plus, our consumer base is very broad. It includes young mothers who are introducing color cosmetics to their daughters via the nail category, teenagers who are conscious of their health and the environment, and the working woman.
You'll see more of Nailtopia, especially in the Ulta world. At the end of the day, we're a small company and we don't have a deep marketing budget, so the best way for us is to sample, sample, sample.