Made for post-injection treatments, recovery care has always been a vital part of the beauty industry, mainly in the form of ice packs and vials of arnica. But when white space emerges, brands come a-running.
According to Grand View Research, the global facial injectable market size was valued at $12.7 billion in 2022. In 2023, it's projected to exceed $13 billion. And by 2030? Get ready for it — revenue is expected to reach a whopping $27.6 billion. With such high demand, the recovery care category is beauty's new bright spot of opportunity.
"We've always done post-procedure and recovery care, but it's really great to see the beauty industry recognize that and formulate brands and products specifically around it," says celebrity aesthetician Joshua Ross of SkinLab in Los Angeles. "In the past, we'd have to put together recovery care kits individually from different skin care lines, depending on what we were trying to do. We'd do a gentle cleanser from one line, a mineral sunscreen from a different line, because not everything is one size fits all."
This is true especially when downtime varies by procedure. The best way to ensure a face-enhancing investment, says Joshua, is with the proper recovery care to protect it from negative reactions. And with the increase in invasive and aggressive procedures, such as Halo Laser treatment, micro-needling, peels, and fillers, there's more of a need to treat post-serviced skin, which presents as red, hot, and swollen and that's often uncomfortable.
Several brands are blazing a trail, each of which fills a white space in the blossoming category.
Aesthetics educator Amy Batra, Co-founder and President of Maskād, created a line of at-home and professional recovery products with Dr. Sanjay Batra, a scientist, regenerative medicine expert, and former Wake Forest professor. The science-backed brand includes both a Professional Post Procedure Mask and At Home Post Procedure Mask.
The Professional Post Procedure Mask is made with highly purified water and is meant to be used by doctors or professional technicians who have the option to choose a topical ingredient (such as platelet-rich plasma, exosomes, growth factors, and hyaluronic acid) to use immediately following in-office treatments.
The At Home Post Procedure Mask is similar to the professional variant except it's made with arnica, vitamin E, chamomile-hydrosol, green tea extract, and hyaluronic acid, in addition to highly purified water. It's meant to be used by patients post-procedure and can be paired with a topical ingredient recommended by their doctor.
Maskād also offers two serums to work alongside the masks: the Anti-Aging Serum with Peptides (to visibly improve the appearance of fine lines and wrinkles, dull, or uneven skin tone, and sagging skin) and a Hydrating Serum (to replenish moisture and restore radiance and a smoother complexion). The brand also has a Derma Roller to prepare the skin to receive the optimal benefit from serums with the mask.
"[These masks] act as a second skin for your skin and act as a protectant barrier, which is great for post-procedure, especially for more intense lasers where the skin is ablated," says SkinLab's Joshua.
To get the word out about Maskād to consumers, a robust social media strategy on Instagram and TikTok has been created. Professional products are sold through doctors' offices and medispas. Retail items are sold on the brand's website and on Amazon.
Designed to help customers recover faster from the downtime associated with cosmetic injections, Nadya Kozlova and Shay Sim created Viktor Michael, a brand the founders say sits at the intersection of luxury skin care and recovery care. As longtime clinical aesthetic professionals and owners of Kucumber Skin Lounge medical spas across the Pacific Northwest, the duo spent years personally testing the products before launching their brand, one they say is the first conscious, clinical-strength recovery care collection that's proven to reduce post-injection downtime by up to 50%.
Nadya says, "Shay and I saw an opportunity to make a difference. Viktor Michael is our solution to the problem. Regardless of the type of injection, frequency, or practitioner, Viktor Michael is designed to help customers recover faster."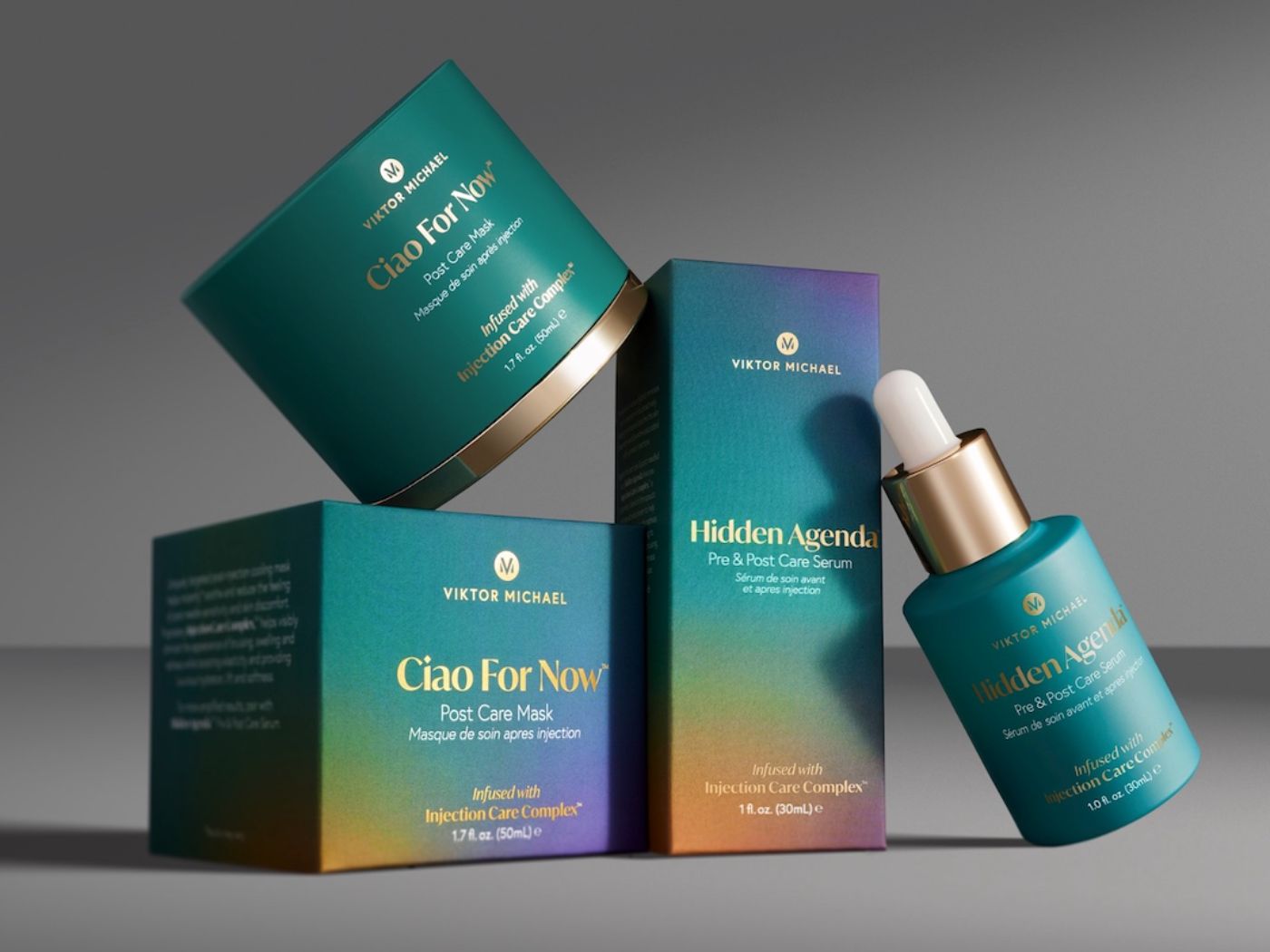 Viktor Michael currently offers two core products: the Hidden Agenda Pre and Post Injection Care Serum and the Ciao for Now Post Injection Care Mask, both of which feature their Injection Care Complex, a proprietary, patent-pending complex of enzymes, acids, and phytoactives. Both are proven to reduce the appearance of injection site irritation while also helping skin look and feel softer, smoother, and more hydrated. They're also consciously formulated with EWG-safe ingredients that are known to support skin health, boost hydration, promote collagen and elastin production, and reinforce the skin barrier — all while remaining gentle enough to use on sensitive skin.
Both products take on "4 Levels of Action," an approach that ensures readiness, recovery, regeneration, and radiation of the skin during the full injection treatment process. Items are dermatologist-tested, hypoallergenic, paraben- and gluten-free, cruelty-free, and vegan-friendly.
"We're also trying to hit the retail space, while a lot of recovery care brands try to stay within the clinical space," Shay adds. "We wanted [the packaging] to be attractive for anybody who wants to purchase online at their own discretion." Items sport vibrant gem-toned boxes, which aim to be aesthetically pleasing and Instagram-worthy.
Education is at the heart of the brand's marketing strategy, says Nadya. In addition to the brand's blog, Viktor's Vault, which dives into a variety of skin care subjects, Viktor Michael is working on upcoming campaigns and sharing posts via social media on Instagram and TikTok. "We plan to take this brand globally," she says. Currently, Viktor Michael is sold online at viktormichael.com and in their Kucumber Skin Lounges. The brand also recently partnered with Shen Beauty in New York.
Another brand that's well-known in the recovery care category is Revision Skincare, which, Joshua says, "understands what post-procedure is because they're working specifically with doctors and medical estheticians to develop the skin care line in totality."
Dr. Alisar S. Zahr, Senior Director of Research and Clinical Development at Revision Skincare, points out why the brand is resonating. "From pioneering the use of peptides to developing proprietary technologies and conducting novel ingredient and end product research, our products are clinically validated to protect, treat, and enhance the skin," she says. The brand also controls every step of its supply chain, from product concept to market introduction, so it can maintain standards of quality, safety, and stability.
Revision Skincare has a Pre & Post Procedure Regimen including a Gentle Cleansing Lotion, a C+ Correcting Complex 30%, D.E.J Face Cream, a Hydrating Serum, and an Age-Defying Moisturizer with Sunscreen. Items are sold exclusively through authorized Revision at revisionskincare.com, dermstore.com, and other certified online retailers.
Thrive Causemetics is getting in on the recovery care game, too, with Defying Gravity Deep Hydration Moisturizer from its new Bigger Than Beauty skin care line. This rapidly absorbing antioxidant-rich gel-cream moisturizer aims to lock in hydration with its Barrier Restore Complex, packed with antioxidants and hyaluronic acid to smooth the appearance of fine lines and tone while improving the appearance of elasticity. The item sells for $49.
One of the biggest names in celebrity facial plastic surgery is also addressing the recovery care trend. West Coast-based Dr. Jason Diamond has launched Metacine, which consists of two at-home products, including InstaFacial Plasma, a serum that can be used for post-treatment recovery care since it's packed with bio-identical growth factors like synthetic epidermal growth factor (EGF) and insulin like growth factor-1(IGF-1) to promote the skin's ability to heal. The line was founded by Dr. Diamond; Tammy Goodarzi, Chief Brand Officer; and Dr. Jessica Combs, who is also the brand's CEO. Mark Ferdman is the President of the brand.
"This formula, which includes a complex of five of these different growth factors and a copper tripeptide among other amazing ingredients, is a great choice after a procedure. Our clients use the Plasma between their in-office InstaFacial treatments. The wound healing characteristics as well as the Plasma's anti-aging qualities make this powerhouse serum great, post-procedure and for everyday use," says Dr. Combs.
Another product doctors turn to for recovery care is Regen [Hx] by Alphascience. The brand is not specific to recovery care but works well post-treatment due to its cooling and relieving effect.
"A lot of times when people are post-procedure, they have inflammation and redness in the skin. It can get really itchy and you don't want to scratch your face, so this would be like a more elevated and natural form of hydrocortisone," Joshua says. "It's naturally derived, there's black currant seed oil, helicine, and glycerin, which is a great skin-soothing ingredient." He adds, "There's also helianthus, sunflower seed oil, and sodium hyaluronic, to soothe the skin post-procedure and help expedite the healing process."
As more of the population opts for services that leave a blemish before their final beauty result, recovery care is becoming as important as the treatment itself. Consumers will likely have the final say in how the category evolves, and what remedies are coming down the pike.