Most presidents of beauty brands spend years inside the industry working their way to the top. But not Jenny Son, President of Dae Hair, who took a totally different route. The LA native dedicated her early career to the entertainment industry — and that outsider's perspective is what has allowed her to carve a unique path for herself and Dae Hair.
Jenny started in brand development and consumer insights at Disney. "I did the network studio thing and what I've learned through that is in a studio system you're working with thousands of people," Jenny says. "They all have different job functions and to me, that was so fascinating. There are so many jobs to make one movie or one TV show work." Seeing how each person had such a niche and individual role made an impact on Jenny.
After a few years, Jenny switched to retail and then private equity. "I got exposed to so many different areas of businesses across marketing and strategy, and then fell into private equity by accident, where it was just so fascinating," she says. "I finally felt like I found something that was dynamic enough. In private equity, you're looking at different businesses — it could be entertainment, consumer products, beauty, wellness. It was so wide, and I love learning so much about different industry segments."
As SVP, Head of Private Equity at Wpromote, the nation's largest performance marketing agency, Jenny helped strategize with private equity firms and operators to grow their business, considering everything from structure to strategy to optimizing revenue to assessing deals and risks. That led her to do her due diligence for beauty clients.
But that's one realm she didn't expect to end up in. "I never thought that I would be in the beauty industry," Jenny says. However, she met Amber Fillerup Clark, the founder of Dae Hair, through her work. "Everything was very organic," Jenny says. "We saw eye to eye on how businesses need to be built and the rest is history. I almost fell into beauty and I'm so grateful because it's been the most amazing journey."
Jenny was eager to join Dae because she believes they hit the trifecta of a beautiful brand. "What makes a brand so special is it has three elements," she says. "One is performance, which is obviously table stakes for any big company. The second is simplicity. The way that we've designed our styling product is so that you can't mess it up; it's bringing simplicity into haircare. The third part, which is so important, is sensoriality. The reason why people love that brand is that addicting smell, and it brings that experience of performance and simplicity together. It's married all of that."
Jenny's business and entertainment background shaped her management style and viewpoint of the beauty industry. "My team always says it's not like [I'm] a beauty exec talking to another beauty exec," Jenny says. "It's a person that just knows business that is asking the questions from a business standpoint, like, 'Is this a good decision?' 'Is this something that we will do in any business?' 'Does this make sense financially?' 'Does this make sense from a customer experience standpoint?' Although we have functional experts, I look at myself as a producer. All of these elements coming together is what I'm best at — I know good talent when I see it. I know business needs when I see it." With her outsider's perspective to the beauty world, she intentionally disrupts the way things have been done for so long. "I think it's been a good balance," she adds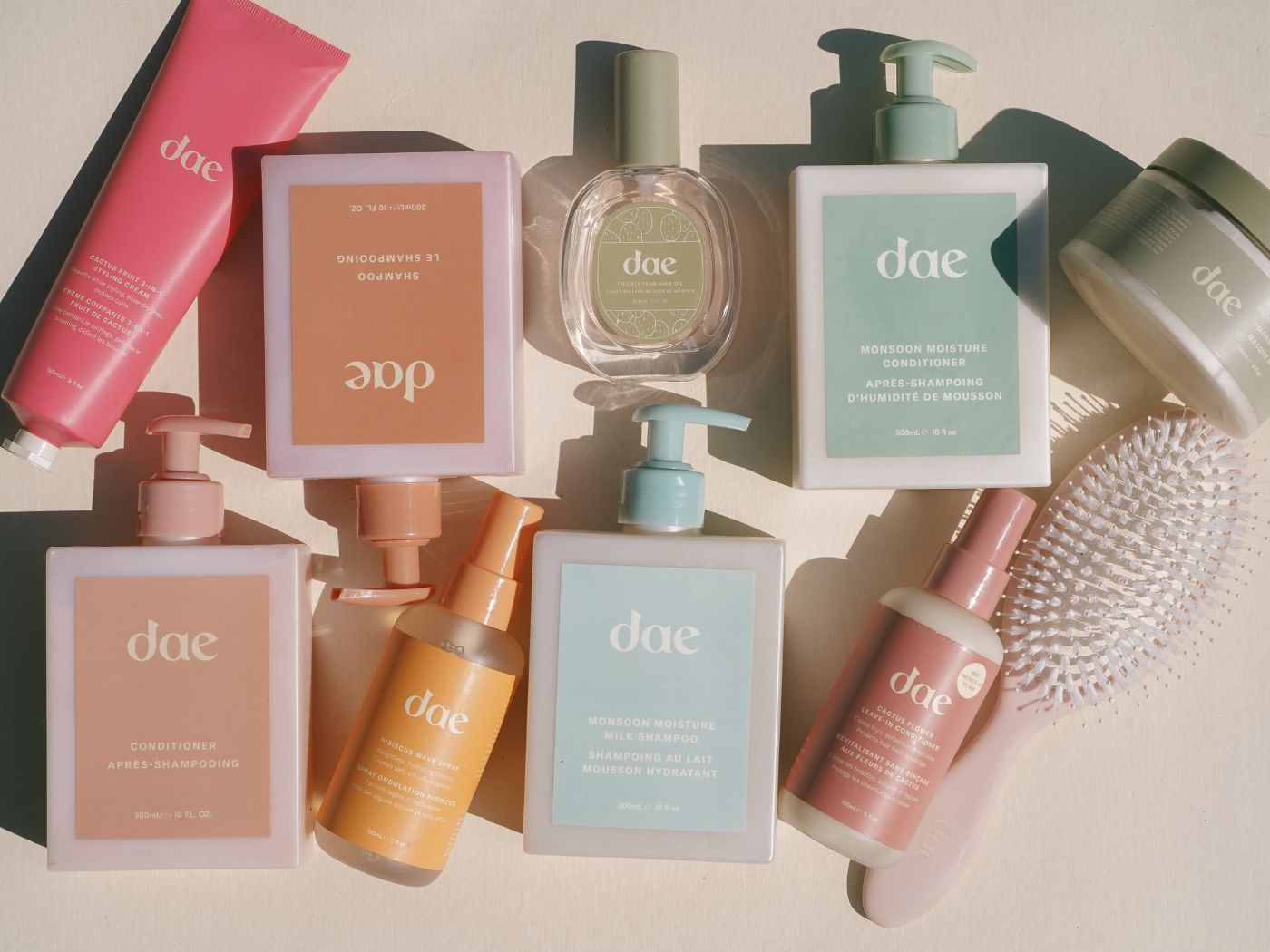 Dae Hair started in January 2020 as direct to consumer, then launched that March in Sephora. "The brand was kind of built with Sephora," Jenny says. "Right now, we have so much room to grow, even within the four walls of Sephora, that we're working to solve that. Going back to private equity, I think a lot of people seek distribution as a short-term goal, but I do think there is merit to really growing with a strong partner." Even if the expansion is slower, Jenny believes that's the right way to grow a company, pointing out that it can take consumers a long time to discover a brand. Her plan is to continue their trajectory and expand their growth with Sephora by homing in on the trifecta that makes Dae special, as well as educating consumers.
Currently the brand sells everything from shampoo, conditioner, treatments, masks, styling products, brushes, and scalp care items. Candles and scrunches are available, too. Prices mostly range from $26 for a Signature Shampoo and $28 for a Signature Conditioner. Bundles and kits are also on offer at varying prices, as is a Cactus Fruit Flower 3-in-1 Styling Cream for $28.
Though there are plenty of influencer-helmed brands, Jenny believes Dae, which is still privately owned, stands out for its authenticity. Dae's ingredient story focuses on desert botanicals, and Amber grew up in Arizona and was also a hairstylist. "Amber has built such an incredible business," Jenny says. "She's so savvy and such a creative vision. She's bringing something that's very unique and easy to understand. The whole idea of lightweight, buildable, foolproof hair care didn't exist."