Kohl's and Sephora have formed a long-term strategic partnership to bring prestige beauty and service to an expansive audience, with Sephora at Kohl's, a fully-immersive, premium beauty destination.
Each shop-in-shop will measure approximately 2,500 square feet and be prominently located at the front of a Kohl's store. The first 200 shops are slated to open in fall 2021, at which Kohls.com will also exclusively showcase an expanded assortment of Sephora's prestige product offerings. The partnership will expand into at least 850 stores by 2023.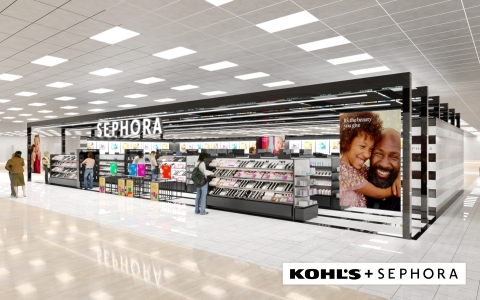 With cutting-edge brand curation and emerging categories like Clean, Sephora will bring its trial and immersive prestige beauty experience with 100 carefully curated beauty brands to Kohl's 65 million customers across the U.S.
Sephora has 500 of its 2,600 stores in the Americas and Kohl's has more than 1,150 locations in 49 states, serving 65 million customers, with very limited overlap between the two store networks. This combined offering will draw new and younger customers to Kohl's and will bring the Sephora experience to millions of new shoppers and existing members of the Sephora beauty community, who may not live close to a Sephora location.
Sephora at Kohl's shops will replace Kohl's current in-store beauty assortment and their positioning at the front of the store will provide maximum exposure for Sephora's brand partners. Exterior signage at locations that feature the in-store shops will display both Kohl's and Sephora branding. These locations will be selected based on existing Sephora store proximity, market opportunity and customer insights. The shops will be staffed by Sephora-trained Beauty Advisors.
Sephora purchases at Kohl's and Kohls.com will be eligible for Beauty Insider rewards benefits, as part of Sephora's loyalty program. Kohl's will also offer in-store returns, store pick-up, and curbside pick-up. Sephora.com and Kohls.com will integrate their e-commerce experiences, allowing Sephora.com shoppers to find the nearest Sephora or Kohl's locations that have their beauty products available.
"The Kohl's and Sephora partnership will bring a transformational, elevated beauty experience to Kohl's from the top global name in beauty," said Michelle Gass, Kohl's Chief Executive Officer.
Jean-André Rougeot, President & CEO of Sephora Americas, said of the partnership, "This is not a pop-up collaboration, but an investment our brand partners can rely on for the long-term; as a company with a history of sustained decades-long partnerships, Sephora has every confidence in the future of this collaboration and the unique experiences it will bring to consumers across the U.S."