UOMA Beauty Founder and Chief Executive Officer, Sharon Chuter, is ready to cater to an even larger audience.
Sharon, who is known both for her inclusive beauty brand, Uoma Beauty, and the social initiative she founded, Pull Up for Change, is launching UOMA by Sharon C. at Walmart.
"Now you can shop for your groceries and throw in a beauty product," said Sharon.
The sister brand will debut exclusively in 3,365 Walmart stores, as well as online at Walmart.com and UOMAbeauty.com beginning June 18.
"We are on a mission to bring more newness, more excitement, more energy to serve more customers in our aisles," said Musab Balbale, Merchandising Vice President for Walmart U.S. Beauty.
"One of our unique opportunities is to make beauty more accessible. We can measure that on a number of dimensions—saving time, being more convenient and making sure our diverse customers, regardless of race, age, size, religion or sexual orientation, feel at home in our aisles. Sharon's new line is synonymous with inclusivity and quality and we're proud to bring that to our customers,"  Musab said.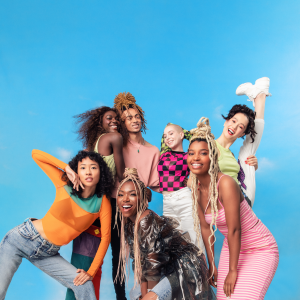 UOMA by Sharon C. includes a 30-shade foundation range, a cleansing oil, vitamin C serum, volumizing mascara, a six-shade hybrid lip stain and gloss and waterless eco-cleansing wipes. A second wave of items will debut this summer.
The formulas are naturally derived, vegan, cruelty-free and packaged in 100 percent recyclable materials priced between $5.99 and $23.99. The master brand, UOMA, has an opening price point of $10.95 for a mini-mascara and tops out at $44 for palettes.
Sharon had been working on a fusion brand almost since the launch of UOMA two years ago, and accelerated the plan during COVID, which fortified her desire to offer lower prices. "How can I say I'm an inclusive brand when I'm excluding some people? Beauty is for every color, every budget, beauty comes in every culture—everybody must be welcome to the table," Sharon explained. "The brand is so personal to me that I put my name on it."
Casting off any concern about siphoning from the original UOMA brand, Sharon said the consumer doesn't know the difference between mass and prestige. "They want great products. They want to associate with your brand because of your values. But I realized I have a brand that was only available to rich people. That didn't sit right with me. Inclusive isn't only about shade. A person walking into Sephora isn't any better than one in Walmart," she said, adding that many brands have second labels, such as Marc Jacobs.
Moreover, she viewed UOMA by Sharon C. as "recruitment" for her prestige range. "It is a way to bring people to the brand and then they are going to stay and upgrade that experience even more," she said.
Rather than join the flock touting clean formulas, Sharon said her ingredients and packaging are centered on "care" without compromise. "I hate the name 'clean beauty' because that's calling others dirty. I want to ensure we have better ingredients that are gentle on skin, but ones that deliver performance," she said.
Clean beauty in particular, Sharon said, has not been tuned into the importance of a wide range of shades. "We want to show we can do it all," she said, noting that she especially believes it will hit the mark with Gen Z shoppers.
It isn't just products that attracted Walmart to Sharon. "They said we aren't only bringing you in for your brand, but the impact you can make at Walmart. That was attractive—to have the opportunity to impact change at the largest retailer in the world," she said. Her guidance will help ensure the chain meets the needs of a diverse audience in everything from assortments, displays and messaging.
"Sharon is an incredible beacon in the industry," said Musab. "She represents not just great products, but also represents progress and diversity and is a constant advocate for 'being better.'"
Her following, plus the quality, price points and brand's ethos, gives Musab the confidence to know UOMA by Sharon C. will succeed. Walmart also has had strong movement of UOMA on e-commerce. Brands such as UOMA by Sharon C. will also have a halo impact on the entire beauty department, he said.
Over the past year, Walmart became proactive on courting more Black-owned brands under the guidance of Angel Beasley, Merchandising Director of Specialty Hair at Walmart. Rather than brands pitching Walmart as buyers, the chain in effect sold itself.
"We changed the way we talked to brands; we pitched them on our strength of sales and the accessibility we offer. We started to share more about our customers," Musab said. "We held a non-traditional open call for minority owners. Our outreach to the beauty community started to pay off and we saw a massive swell of interest from incredible brands."
Sharon was one of the brands Walmart courted. In sync with today's focus on social media, Amanda Fenske, Walmart's buyer for Trend Cosmetics, sent Sharon a direct message.
"When I first got the DM I thought it was a hoax," laughed Sharon, who asked to validate the inquiry with an email. Although many retailers were wooing her, Walmart's values aligned with her vision. "They were in it for the partnership, not just to have a Black-founder on their website."
UOMA by Sharon C. is expected to appeal to beyond people of color. "While it starts with serving consumers whose needs have not been met, it concludes with formulas and a set of products with universal reach across skin tones, age and generation," Musab said.
The better-for-you formulas and recyclable packaging are part of the bigger story, he added. "COVID has taught all of  us that we need to be more conscious of the quality of products we are putting into our bodies and more conscious about what we are doing to our planet," Musab said.
Calling UOMA by Sharon C. one of Walmart's biggest independent  launches, it will kick off on an endcap. In August, the brand will move in line with other beauty brands. "Sharon has some surprises up her sleeve. This will be a launch that will look different than other launches," he said.
Sharon is especially proud of the display that is equipped with QR codes so people can interact and learn about the products on their smartphones. "Walmart is a completely different experience than prestige. There aren't testers and we eliminated cartons because they are wasteful. So, we used technology," she said. Through social platforms consumers can link to filters or click through to buy.
"UOMA by Sharon C. exemplifies where we are headed. It speaks to diversity and inclusivity that we want to bring to our aisles in an increasingly accelerated way," Musab concluded.