Sharon Chuter, the Founder of Pull Up For Change and Uoma Beauty, revealed her latest Make It Black campaign with a roster of new beauty exclusives. Make It Black debuted in 2021 as a collaboration with several brands to create limited edition black packaging for select items during Black History Month and to raise money for emerging black business founders.
She also reiterated her push to redefine, literally in the dictionary, what it means to be Black.  She is calling for definitions in dictionaries to reflect positives of the word Black. "Black is luxury. American Express has its Black Card; Black is fashion and it is timeless," she said.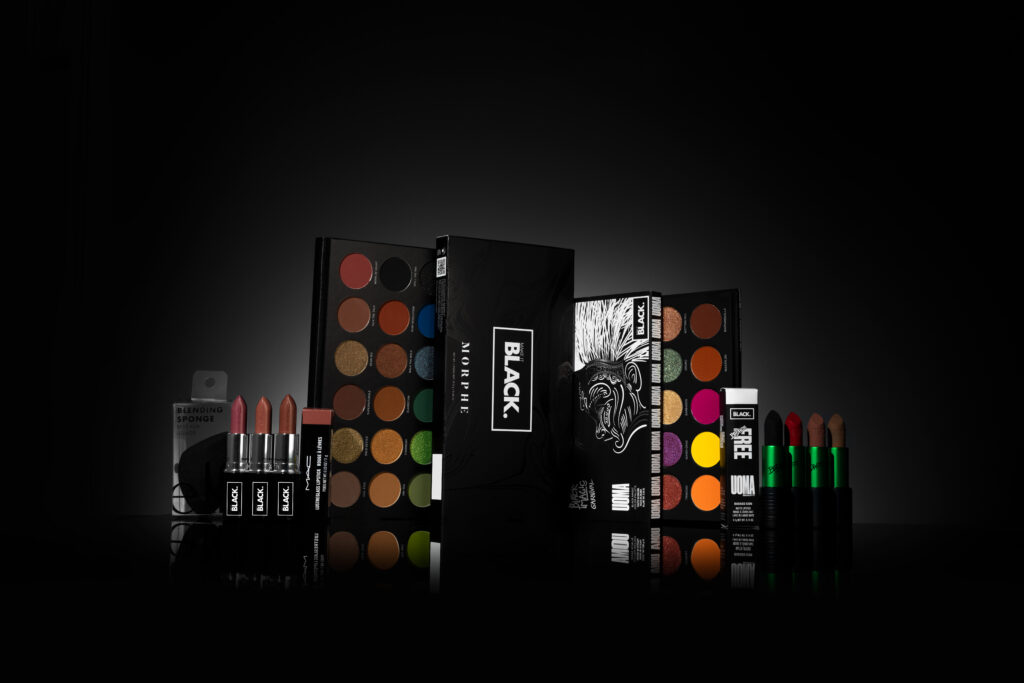 During a virtual event with editors, Sharon—wearing a T-shirt touting "Black Is… Cool AF"—revealed eight brands partnering on the latest campaign, each with exclusive product collections packaged in sleek black packaging.
"This year's Make it Black is going to be bigger and better," she promised. Launching today, February 3, are items packaged in black by Uoma Beauty, E.l.f. Cosmetics, M.A.C Cosmetics, Mented, Morphe, Flower Beauty, Ulta Beauty, and Ipsy/BoxyCharm. Most of the exclusives feature items the brand is known for, such as Morphe and its palettes, M.A.C and its Lustreglass Sheer Shine lipsticks, and Uoma's Make It Black Badass Icon Matte lipsticks. The "Black Is…" T-shirt is also available as part of the campaign.
Andre Branch, Senior Vice President, General Manager for M.A.C Cosmetics North America, discussed the brand's involvement in Make It Black, as well as Sharon's Pull Up for Change movement that kicked off June 2020. The social call-to-action asked companies to publicly disclose the number of Black employees in corporate office and leadership roles.
"Pull Up For Change puts forward a meaningful and transformative mission and I am incredibly proud to join forces with Sharon and put the weight of M.A.C behind this campaign. True to our founding credo, we at M.A.C believe we have a responsibility to create an equitable playing field for all ages, all races, all genders, from our employees to the communities in which we live and work."
As part of the company's commitment, in addition to three limited-edition Lustreglass lipsticks, M.A.C will donatine $150,000 to the Pull Up For Change Small Business Impact Fund to help support more Black founders. "[This is] something we believe our founders would stand for today," Andre said.
All limited-edition products will be available for purchase throughout Black History Month (February) and will be sold online at Ulta Beauty, through Ipsy and BoxyCharm's subscription boxes, and via the Make It Black and participating brands' websites. M.A.C's products will also be available through Nordstrom online and in stores.
Sharon also teased a second Make It Black campaign in the works for this summer that will include 2,500 physical stores. "Make it Black shouldn't happen just a few times a year…it should happen every single day."
In a statement, Monica Arnaudo, Chief Merchandising Officer of Ulta Beauty, praised Sharon's efforts. "Ulta Beauty is proud to join Sharon and Pull up For Change to empower Black beauty and drive meaningful change in our industry," she said. "As a values-based company, we share the passion to shape how the world sees beauty and the intention to build greater equity for Black founders. Make it Black helps achieve this and we're honored to support as the exclusive retail partner."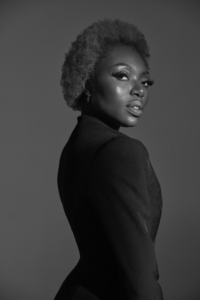 One hundred percent of the gross profits from the special black packaged products will funnel to the Pull Up for Change Impact Fund which deploys capital to Black-owned businesses and are allocated as grants to emerging Black founders. Last year's campaign raised more than $400,000 that was directed to eight emerging Black business founders at the Essence Festival of Culture. The goal this year is to hit $1 million.
The latest Make It Black campaign is designed to deal another blow to systemic racism, said Sharon, by reclaiming the word black and making consumers understand that black is nothing but beautiful.
Last year Sharon introduced a petition to get the Oxford English Dictionary and Merriam Webster Dictionary to update their definitions of the word Black. There are already 6,220 signatures including Sharon's open letter explaining her positioning. She's going to convert the signatures into letters she will parse out over the year calling for new definitions of black.
"Make It Black is no longer accepting the things that historically could not be changed. It is changing the things we cannot accept. Black must be redefined," she said.
Even in the aftermath of Black Lives Matter, Sharon pointed out the difficulties of garnering funding for Black founders. "As a Black female founder, I understand first-hand the struggles of raising capital or accessing funding," she said. "In fact, I am one of only 93 Black women in the history of America who have raised over $1 million for startups."
She referenced that the average white male receives $2.1 million to fund a nascent company. "We have a long way to go to create true economic equality and there is no equality without equity. This is where I am proud to play a small part in supporting other Black female founders to make their dreams a reality, and to truly get a seat at the table that they very well deserve."