As told to Amy Keller Laird
I didn't think marketing was a real job. I thought marketers were foo-foo. And that beauty marketing was even more foo-foo. I have a weird background in that I started in mergers and acquisitions at Goldman Sachs. But I found my calling when I made a pivot into marketing at L'Oréal in 2004.
By 2008, I was a Director of Marketing there, and I knew what it took to get to the next level, and I knew I had done the time.
[When I joined Eos in 2008] as the Head of Marketing and Innovation, I was the first non-founder, pre-revenue, employee at the brand. They hadn't designed the egg shape [of the lip balm] yet, only the name. I remember sitting in a brainstorming meeting with the founders, and I was like, 'Look at pot lip balms. Living in New York, it's disgusting to put a finger in there because it's unsanitary.' I saw people putting their mouths in pots of lip balms and applying it directly. So I was like, 'What if we could create a pot you could apply?' And one of the founders, Jonathan Teller, said, 'Invert a pot.'
At Eos, I was able to transform the way I thought about marketing. At the time, there was this thing called Facebook. We didn't have the money to compete with the big guys—Chapstick, Blistex, Burt's Bees—in the traditional way. The only thing we could do is have a voice on an alternative platform.
We did this sphere of influencers sampling program: People got their free sample and passed the word along. When someone purchased one, you saw how many people redeemed a free lip balm because of you. Twitter thought we were spam and shut us down because so many people were interacting. We partnered with Kim Kardashian, Miley Cyrus, and several other celebs at the time.
I was at Eos for just under eight years. And it was time for a new chapter. This was mid-2015, and my now-business partner Allison Statter was a talent manager who had helped me at Eos when I wanted to do talent partnerships and music video placements. She had worked for her father's talent management business for 17 years and had managed Jennifer Hudson, Kesha, Jewel, and Gwen Stefani. Hollywood is a whole other ballgame. It's a relationship game.
She wanted to start a business that tapped into new deal structures, not in the traditional ways of print and TV. She is a visionary and I was excited to take a leap of faith with her! She and her father had invested in a blogger agency at the time. She thought bloggers were going to be the next big thing. And she was right. [The agency] was DBA, which eventually got sold to UTA. They managed all the OG influencers, everyone from Aimee Song to Chriselle Lim.
We spent time writing a business plan for a new type of agency.
In July 2015 we launched Blended Strategy Group, rooted in influencer marketing, (now a fully integrated marketing communications agency), to help people grow their personal brand, or if it's a product brand, help them leverage partnerships with talent and develop and lead their overall integrated marketing communications. We're a cross-section, to intersect a person or brand into the world of pop culture and conversations. Our collaborations included Kylie Jenner and Sinful Colors (pre-Lip Kit and Kylie Cosmetics), Jen Atkin as both a brand founder and an influencer/celebrity, and many more.
Then we created Blended Venture Group, where we provide brand advisory services. We've done this with Live Tinted, with Deepica Mutyala, as well as Gwen Stefani and GXVE Beauty. And we're a partner in Mane by Mane Addicts, which is Jen Atkin's new brand.
Since we were doing this in the product space, I came to Allison one day and said, 'I never thought I was a brand founder, but I want to be a brand founder.' I felt deodorant was a commoditized category. It was a sleepy boring space that needed a reinvention.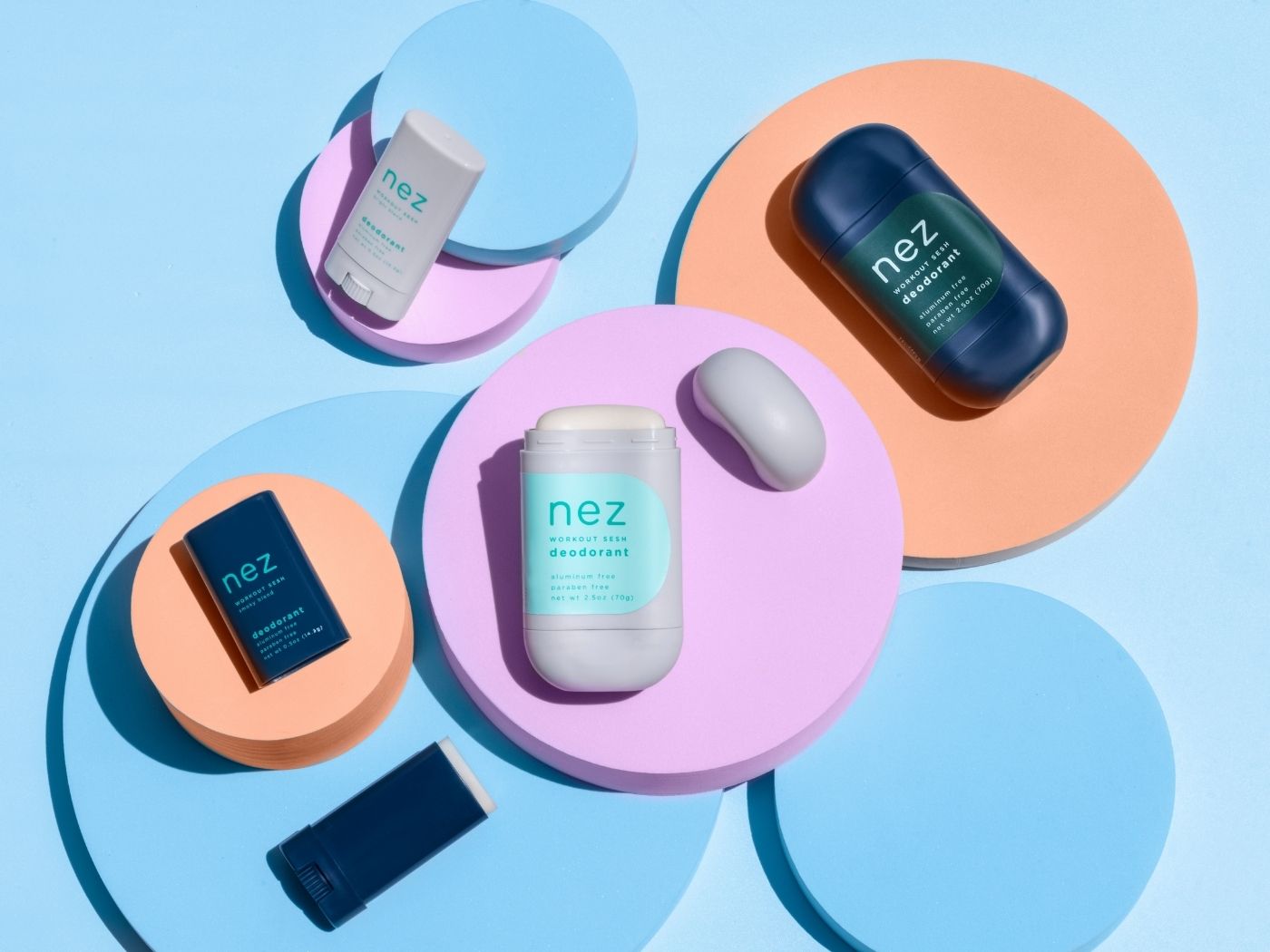 I'm a breast cancer survivor. I had surgery, chemo, and radiation, and I've been in remission for 12 years. [Afterward], one of the things I changed was deodorant.
With Nez, it's taking a routine, a thing that is chore-like, and making it a ritual. Getting ready for your day or night. It's a moment where usually you're not doing something else, so it's time to yourself, even if it's just three minutes. It's like a Zen moment. And 'Zen' spelled backwards is 'Nez.'
Allison was game but she didn't want an off-the-rack formula, and wanted to be sure our formulas worked really well, so we developed three and launched as a three-pack of minis with three scents.
Our deodorants have all the basic ingredients—like arrowroot powder to help absorb sweat, and magnesium hydroxide for malodor—then there are the extra enhancements for [the type of sweat]. In a formula that's controlling for stress sweat, we amped up the levels of magnesium: The arrowroot powder absorbs very quickly, but stress sweat is stickier and sits on your skin longer. And of course we did dermatologist testing for irritation. Ultimately, the formulas glided on skin and were comfortable with or without hair. This is so important for today, in this world of fluidity of gender, because there is no gender for our brand.
All of the things [I learned at Eos] I've carried into Nez today. The cap comes off like a snap. The indent is like an ergonomic shape. I learned at Eos that people like to hold curved-shaped things. For Nez, people like to rub their thumb through the divot—it's a tactile thing. Mentors of mine helped me become the marketer I am. Carol Hamilton [of L'Oréal] is one of my biggest mentors in my career.
We got into Urban Outfitters a couple of months later. Urban was so excited about the brand and the mission and on board with the minis. (It's a big commitment for consumers to buy a full-size when they don't know that the product works.) When we hit stores, I went in and bought a pack and gifted it to the sales associate. I was all excited. I was like, 'I don't need this,' and she was like, 'Why'd you buy it?' I said, 'I'm the founder. Try to sell a lot of it.'
We're talking to other retailers, too. We have some upcoming meetings with prominent retailers now that we've launched full-size DTC.
Of course, I would love hockey-stick growth. But I believe strongly that slow and steady is the way to go. We want to be able to communicate in ways that other brands can't in larger organizations. For Pride Month, we had female-to-male transgender men influencers. When they go through male puberty, the skin changes with testosterone, and it makes your skin texture rougher, so people who identify as male have rougher skin, and they perceive themselves to smell stronger. So many stories [from transgender men saying], 'I didn't realize I was going to stink so much.'
In our small way, we can start to be a voice [of doing what] we believe in strongly which sometimes heritage brands can't do. Brands are like skiers: It is nearly impossible for someone my age to learn how to ski—I'm too scared. The fall is too big. When you're younger, you bounce right back up. When you're younger brand, you can take some risks. But if you're a massive and heritage and legacy brand, it's hard to take the risks.