A Better Way to Manage In-Store Talent
Today, beauty brands spend billions of dollars on in-store talent to drive sell-through, increase brand loyalty and improve consumer engagement.
And yet, there is no effective way for brands to manage talent, measure results or improve ROI on in-store talent spend.
Even though the amount spent on in-store talent to drive sales is one of the largest expenses for most brands, the technology to measure results and optimize ROI hasn't been developed—until now.
AllWork is an end-to-end platform created specifically for the beauty industry that helps brands efficiently find, manage and pay in-store talent. The result: soaring sales, a boost in productivity and overall improvement of ROI of in-store talent spend. And what brand in today's retail environment wouldn't want that?

Wendy Gottfried joined the AllWork team earlier this year as Vice President of Business Development. Wendy has worked with brands for over 20 years to help them maximize their success at retail—including her role as Vice President Divisional Merchandise Manager of Beauty, Fragrance, Lingerie and Swimwear at Saks Fifth Avenue where she was influential in developing the experience-driven new beauty floor at the New York flagship.
Retail Insider Wendy Gottfried on Why Brands Need AllWork
CEW: What attracted you to AllWork, especially with your background in retail? What differentiates AllWork from other services?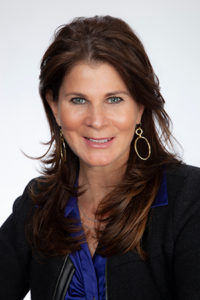 Wendy Gottfried: I was amazed at everything they were doing. This is such a great tool and service that the industry could really use. I have first-hand knowledge about how much brands are investing in in-store support and it continues to be more crucial with the emphasis on experiential retailing. You need to make sure the right experts are in the right place at the right time to drive maximum productivity and sales. Brands deserve the most productive return on their investment for the enormous dollars they are spending on in-store support. AllWork isn't like other platforms brands may have tried. It isn't an off-the-shelf product. It is a software system that empowers brands to efficiently manage their in-store talent. It was built for the beauty industry and understands the nuances of our industry. This is a tool all beauty brands big and small will benefit from.
CEW: Describe AllWork and how brands and retailers benefit.
WG: AllWork's platform covers everything you need in one place including budgeting, on-demand scheduling, mobile time and attendance, training, communicating, reporting, payments and compliance services. We're the first platform to combine everything a company needs to manage and pay their in-store talent.
Here's a real-world example: You are planning to have freelance coverage in a store. You know you have a budget, but you don't know how to allocate the money efficiently. You are using your gut instincts. You might think that Thursday is your most popular day—but you aren't really sure. AllWork helps you evaluate where to spend your in-store budget and provides the data to let you know how to best allocate funds.
We're also a communication tool to connect managers to their field team. This is one of my favorite features and can include sharing photos, training material and merchandising guidelines all through our platform. In fact, managers are our biggest fans.  Our technology not only improves communication for them, but it has been shown to reduce their administration time by as much as 50%, so they can direct their expertise at brand building and spend more time in stores vs their home office.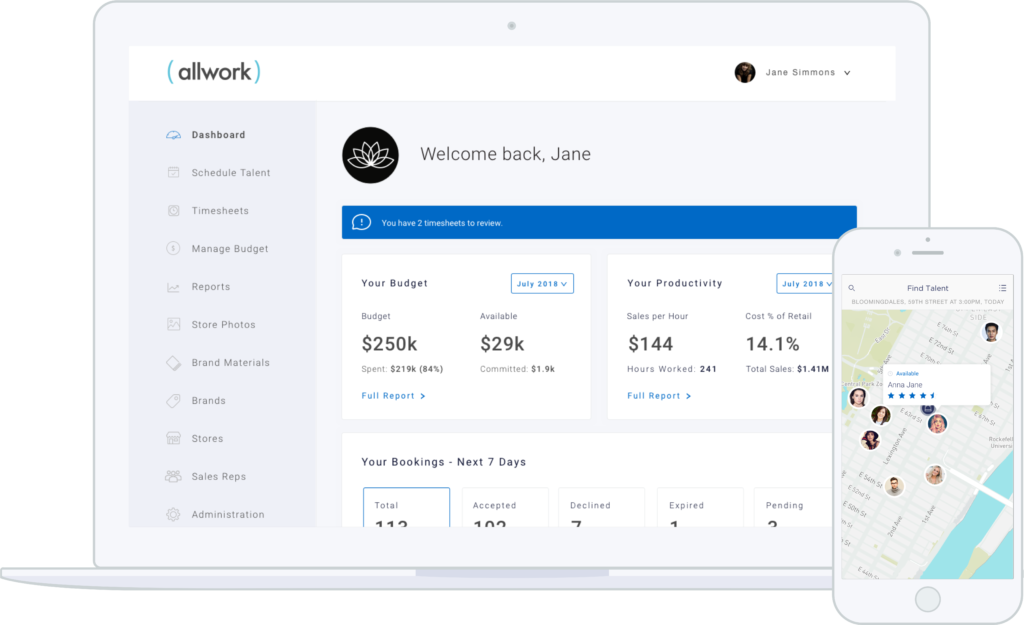 CEW: How have you seen technology impact the beauty industry?
WG: Currently, brands are focusing on consumer apps and consumer-facing technology, which is extremely important, however, there is a whole other side of technology that can help brands run their day-to-day business more efficiently. Now, they are discovering a level of technology that provides business solutions.
We all know the excitement of getting your brand into a retailer—but once the excitement settles down you are going need to get down to business and come up with solutions to manage trainings, merchandising, events and staffing in store. This is where AllWork can help.
Typically, many clients are using a manual process to execute this in-store strategy. Some are using staffing agencies and payroll-specific providers, while others are doing everything themselves using spreadsheets and email—neither of which is efficient or cost-effective. We come in and do an analysis, show the brand our technology and payroll platform, and how they can benefit from just one system and one partner to help drive improved ROI and retail sales. With AllWork, we are hyper-focused on productivity for both the freelancer and manager. And everything is accomplished in real-time with one system of record.
CEW: What are the challenges you hear from your clients and how do you help?
WG: To execute compelling experiential retail, you need an engaged, knowledgeable and reliable freelance team in store. Today, retailers are asking brands to put more people in the stores to assist with sell-through. Brands are doing this, however, they don't even know if the team is showing up at the right store and on time.
With AllWork, when an employee arrives for their shift, they clock-in on their smartphones and are geolocated at work. That way, managers know that their team is showing up when and where they're scheduled to work.
The AllWork app also really helps the talent feel more engaged with the brand. Everything they need is done right through the app including accepting and declining shifts, generating timesheets and communicating with their managers.
CEW: Can you update us on your growth?
WG: We're currently working with over 50 beauty brands—and growing! There are 25,000 shifts worked per month on our platform with 3,000 doors serviced monthly in all 50 states and Canada.
Our sourcing platform, AllWork Beauty, has also grown to 55,000 members across the country. This way, we can also help our clients quickly find new talent when needed.
CEW: How can brands get started with AllWork?
WG: People often hear the term 'technology' and think there is a huge integration necessary but we do not require any system integrations. When you work with AllWork we do all the heavy lifting when it comes to communicating, training and onboarding your team. Brands can be up and running in as little as two weeks. You bring your team and we do the rest.
For more information on AllWork, contact Wendy Gottfried at [email protected].