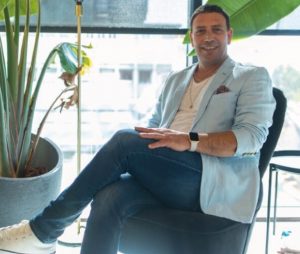 For Mike Sabag, creating a professional in-salon hair straightening treatment had to hit all the right notes. It needed to last longer than traditional processes. Formulas had to work on every hair type. Clients should walk out of salons with their hair looking and smelling good. Most importantly, the product had to be completely formaldehyde-free, something of an anomaly in a category where inclusion of the chemical still occurs.
"Formaldehyde is very toxic," said Mike, founder of Moroccanoil and Saryna Key. "Especially when it gets heated, it starts to collapse the hair and it creates buildups. That's why on the very front of our product, it says Say No to Formaldehyde. What could be more obvious than that?"
His recently-launched The Crown is predicated on a new technology where the product intuitively travels to areas of the hair where it is most needed, and for which it is most suitable. This Acro-Core technology, said Mike, is based on a series of smart molecules composed of ingredients such as bio ceramide, wheat germ, mustard oil, keratin, and acai juice.
"For most products, the molecules are fighting each other to stick onto the hair," said Mike. "Sometimes the section doesn't need it. It makes no sense on a molecular level."
Mike partnered with celebrity hair stylists Ted Gibson and Jason Backe, of the salon Starring by Ted Gibson in Los Angeles, who are The Crown's brand ambassadors for North America.
"It's elegant, simple and smart," said Jason of the product. "Within the first four or five weeks, the results improve every day. There are no build-ups, the volume is maintained, and the product is very lightweight."
At Ted and Jason's salon, The Crown will replace all other in-salon smoothing treatments. The product is being rolled out to prestige hand-selected salons across key cities. Jason said that in addition to the clean and toxin-free nature of the product, its use is also designed to provide an elevated in-salon experience. In his salon, the process will run about $600 to $800, and can take anywhere from two and a half to four hours.
"There's a certain cosmetic feeling these smart molecules give to the surface of the hair, even in how it feels as it's being shampooed," said Jason. "With most regular treatments, the hair gets so flat you can't wrap it around a curling iron, or you need to wait 48 to 72 hours before you can rinse or style. With The Crown, you can leave the salon and jump in the pool and let it air dry and it will be beautiful."
Ted said that the use of The Crown now factors into his consultations with clients, as the product is so versatile it can be used on many types of hair. There are four formulations targeting bleached, color-treated, highly textured and color-treated hair.
"Before, there was one product you put on everyone regardless of type of hair, texture or condition," he said. "For someone who likes to cut and style hair behind the chair, it's very easy for me to adapt when talking to someone about how to give them a completely different experience with a smoothing treatment."