Monique Rodriguez, Founder and CEO of Mielle Organics, secured a nine-figure investment deal from private equity firm Berkshire Partners in 2021, enabling her to chart ambitious domestic and global expansion for the brand, with the goal of making it a destination for curly-haired consumers. Here, Monique talks to CEW Beauty News about how a personal tragedy led her to find a creative outlet in social media, and how with her husband Melvin, she is now at the helm of one of the fastest-growing Black-owned hair care brands in the U.S.
In 2013, Monique Rodriguez, then a nurse, was tinkering with natural ingredients in her kitchen to treat her color and heat-damaged hair. Today, her brand Mielle Organics, is one of the fastest growing Black-owned hair care companies in the U.S. "The company is expanding very, very fast," said Monique, CEO and Founder.
Mielle Organics secured a nine-figure (Series A) investment deal from private equity firm Berkshire Partners in 2021. It has experienced 4x sales growth year over year since 2020, and has more than 100,000 points of distribution in the U.S. "We are in every major retailer across America. We have about 75 employees now, and a 50,000-square foot facility [in Indiana]," said Monique.
Monique's ambitions for Mielle Organics don't stop there. "I want to make Mielle a household beauty brand not just for multicultural consumers, but for textured hair in general because textured hair has no race, it has no culture. Whether you are Caucasian, Latina, African American, Mediterranean, it's textured hair. I want to be that destination brand that meets the needs of all consumers with curly hair."
Seeking a New Path in the Darkest Days
The story of Mielle's rapid ascent can be traced to a dark period in Monique's life. In 2013, she suffered the loss of her son while eight months pregnant. The experience left her questioning her purpose in life. Monique credits her husband, Melvin, as well as her faith, for helping her through those dark days.
"I wanted to find a creative outlet to express myself, and I found that passion in social media. That evolved into me finding a new passion for creating products, pulling out different ingredients, and making concoctions that led to women asking to buy what I was making. My husband saw that it was the therapy I needed, and that it kept me busy from sitting in my room crying all the time. So he encouraged me to keep going, to keep pushing," she said.
Monique's starting point was her own hair journey; she had severely heat-damaged hair and wanted to embrace her natural curls. She connected with women around the world, talking about her hair and theirs. That led to creating products in her kitchen, experimenting with different ingredients, and making up formulas that women then asked to buy. "It became intriguing to me that my hair was once curly when I was little, and how damaged it had become from all this heat," she said.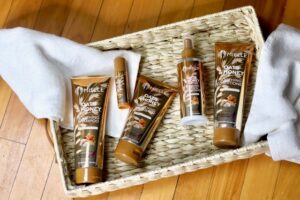 Monique's first product, Mint Almond Oil, was launched direct-to-consumer nine months later on May 2014. The brand now has more than 70 SKUs and several collections. Rosemary Mint Scalp & Hair Strengthening Oil, part of the Rosemary Mint Collection, has over 5,100 reviews on the Mielle Organics site, and is the runaway bestseller. "It is the number one oil product in the multicultural category. It's on fire," said Monique. Other collections include Sea Moss (anti-shedding) and Oats & Honey (for sensitive scalp). "I am especially proud of the Oats & Honey collection because [up until now], there was no collection for multicultural curly hair that focused on sensitive skin that also performs," she said.
Going Global, Giving Back
Monique and Melvin retain a majority stake in Mielle Organics. "It is very rare to have that type of investment deal and still retain majority. It shows the value that our company has, what we bring to the table, and that we can control our trajectory, the destiny of where we see our company over the next couple of years or so," she said.
Despite having such a large distribution base in the U.S., Monique said that the brand's market share is still very low in comparison to conglomerates in the category. "Our plan is to continue to grow our distribution with our retailers, and to deliver more innovation, more of a billboard effect at shelf, and make sure we have our fair share of retail space. The entire Mielle portfolio is not chainwide, only a handful of SKUs are chainwide, so that means there are still consumers who are underserved and have limited options. Mielle should be there if we want to be the brand destination of choice," she said.
Becoming a global name and expanding into global territories is also a brand priority. "That's where we need Berkshire Partners' help, their access, and their resources to make sure that we follow rules and regulations, and expand our global footprint, in the same way we were able to build domestically," said Monique. Mielle Organics is targeting the U.K., and aims to expand in France (Paris), Dubai, Greece, and South Africa. "All those countries that have curly hair," she said.
Normalizing Black success in the industry and supporting Black entrepreneurs is just as important to Monique, which she is championing via her More Than a Strand initiative. Mielle Organics has raised $1 million through its Mielle Mavens Entrepreneurship Fund, and will award 60 women annually (from across the U.S., the Caribbean and Africa) with a scholarship to kickstart their entrepreneurial journey.
"What I hope to do is lead by example and motivate and inspire those who are looking at me. I want it to be normal to not be the first African-American [this or that]. The narrative has to change. It will change when we climb to the top, and continue to reach back and pull up others as well, and help them on their journey. Then it will be normal to see that an African-American woman has secured a nine-figure deal. If more of us achieve it, then it will be normalized," she said.