Beauty colleagues and friends Zoe Weiner and Gabby Shacknai had been talking about how they could unite the beauty industry to stand against antisemitism since the morning of October 7. As two Jewish Americans with deep roots in beauty, Shacknai and Weiner, both beauty and lifestyle freelance journalists, wanted to take their feelings of helplessness and turn them into action.
By Tuesday, October 10, the two had landed on hosting a beauty product sale with proceeds going to humanitarian organizations such as the Israel Red Cross and IsraAID, using items they had in their personal arsenals due to their beauty editor roles, supplemented by products from their colleagues in public relations, from brands, and within the influencer realm.
When they put out the word to their network, they weren't prepared for the response they received, which they said was nothing short of overwhelming: In just days Shacknai and Weiner received more than 15,000 units of beauty products from more than 250 brands, editors, publicists, and influencers representing over 1,000 brands.
"We were both really overwhelmed by the amount of people wanting to do something. When we walked in [to our first beauty sale on October 14] there were 30 volunteers, all women, all so excited. And the same thing [with the October 22 sale], everyone just wanting to unpack product, wanting to help. We could not have done it without the people who stepped up to help. I think that's been really beautiful, too. The sentiment from everyone was they were feeling just as helpless as we were," Weiner said.
At the sale were a mix of mainly prestige beauty brands such as Innisfree, Sulwhasoo, Deciem, The Ordinary, INNBEAUTY, Olaplex, Dr. Dennis Gross, Peter Thomas Roth, Cle de Peau, and 111 Skin. In addition to products, dozens of dermatologists, hair stylists, and aestheticians donated services—ranging from Botox to fillers to facials to surgery—for a fraction of their original price.
"The beauty community has really stepped up, the brands, publicists, and editors who we interact with on a regular basis for our jobs," said Shacknai.
Weiner explained that the brands sold at the sale were a result of publicists donating brands that they represent, as well as brands donating directly, the latter being Cle de Peau, Dr. Dennis Gross, and Peter Thomas Roth. "Not every brand here necessarily came from the brand," Weiner explained.
In midst of organizing more than 200 boxes of products, the editors received a crash course on how to throw an event on the fly, from finding a venue (donated by Maxwell Tribeca), to providing snacks (donated by Popcorn for the People, Baked by Melissa, Chomps, Juice Press, Get Golden, among others), to having security on hand due to the rising incidents of antisemitism.
The first Beauty 4 Israel sale, held October 14, raised $40,000. The sum was matched by "a generous individual" who formerly worked in the beauty industry, bringing the total raised from the first sale to $80,000. Due to the volume of products received, the two quickly started planning a second event, which was held Sunday, October 22. The most recent event is estimated to have raised $35,000.
So, how do the duo feel?
"Exhausted," they said in unison.
"But so proud, so overwhelmed and so overjoyed really by the turnout that we've had at both of our sales, the way that the community has shown up," said Shacknai. "The original idea was to raise money and send it to Israel and the people in need there. But we've really created a community around this. And I think we're both so happy to have that. A lot of our volunteers, a lot of the customers, are people who are really itching for that as well. That's been the highlight for me. There's been a void in the beauty industry of where to go and what to do and who to speak to. So in addition to donating money, it's nice to be able to do something, to take action," said Shacknai, who added that the efforts have all been women-led.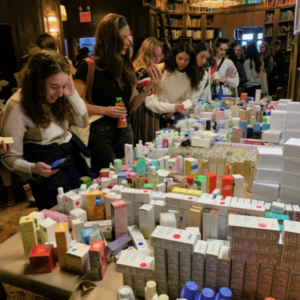 A steady flow of shoppers attended throughout the day of the October 22 sale, all looking for amazing beauty deals. One beauty sale attendee, Audrey Pakravan, works in Global Marketing at L'Oréal, where she said she along with around 200 to 300 other L'Oréal employees have formed a networking group called the L'Oréal Mishpucha (Yiddish for family network) to help support one another during this difficult and isolating time.
Being around like-minded people helped several other attendees feel as if they were part of a community—and safe in mixed company.
Another shopper, Stixx Mathews, an editor at Hypebae, said he was there to support his friend Weiner as he had felt supported during the Black Lives Matter movement in 2020.
"There are so many feelings right now but the most important is that I had to show up and be here for my friends. Personally, it's all just heartbreaking to see division and violence," Mathews said. "As a Black person who has been affected by lots of things it was only right that I return the favor."
There isn't another beauty sale on the docket, but never say never.
"To be honest, we really only planned on one and doing a second one was already a bit of a stretch. We will continue to sell the services and treatments through the end of the month or until they're gone," Shacknai said.
The remaining products will be donated to a few different organizations as well as to frontline workers in Israel.
"I think even without having family there, there's such a connection that Jewish people have to Israel, it's our homeland," Weiner said.