Macy's and Walmart, two of beauty's biggest retailers, have successfully executed an assortment of new initiatives to keep consumers engaged and increase online and in-store traffic. Nata Dvir, SVP, General Business Manager, Beauty, Leased and Food, Macy's, and Jody Pinson, VP Merchandising, Beauty, Walmart, will discuss their winning strategies and more at CEW's upcoming event, How Macy's and Walmart Are Bringing Beauty Customers Back to Retail on Wednesday, December 4. At the event, Nata and Jody will share current and upcoming programs and activations each are utilizing to improve the shopping experience. Here, Beauty News explores a few of the ways the retailers have pivoted to meet the evolving needs of consumers.
Integrating Technology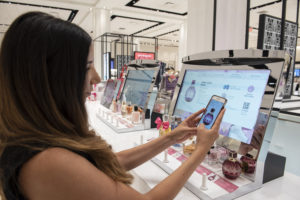 Walmart: The retailer has invested in technology to make discovering products in a virtual environment simple with content-driven tutorials and user-friendly browsing experience Additionally, for the holiday season, Walmart is introducing a new online tool, Gift Finder, allowing customers to input information of gift recipients and their price range to receive personalized recommendations for everyone on their list.
Macy's: YouCam Makeup magic mirror kiosks have been installed in select stores nationwide, allowing consumers the ability to virtually try on more than 250 makeup products from Macy's Beauty department. Additionally, online consumers can take beauty quizzes to find their ideal products, shop by skin care concern, and receive makeup and skin care tips.
Experiential retail concepts
Walmart: In addition to adding new brands and more exclusives, Walmart is beginning to create in-store activations, a first for mass retail.
Macy's: With the goal of capturing Millennials, Macys has created experiential retail concepts to create tactile, aspirational shopping experiences. Last year, the department store launched Beauty Scene: Beauty on Display, an Instagram-friendly beauty lounge on where consumers can play with and purchase products. Additionally, following its acquisition of Story, the retailer rolled out the narrative-driven store-within-a-store retail concept for consumers to explore and discover emerging small business brands in a playful, interactive environment.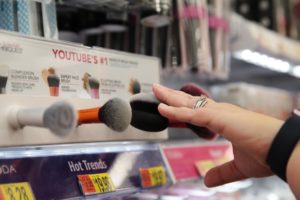 Leveraging Market Trends
Walmart: Noticing customers increasing interest in clean beauty, Walmart has responded to the demand by offering more clean cosmetics and skin care products. Additionally, the retailer tapped into the growing wellness trend and began offering ingestibles within its beauty department.
Macys: Similarly, Macy's has introduced "Natural Beauties", a section of their website where consumers can shop for products that are free of parabens, phthalates and sulfates.
To hear more insights, click here to register to attend CEW's How Macy's and Walmart Are Bringing Beauty Customers Back to Retail. A cocktails networking session kicks off at 5:30 p.m., followed by a program at 6:30 p.m. The event will be moderated by Jenny B. Fine, Executive Beauty Editor, WWD.