As a new year is before us, and with unpredictability abound, CEW Beauty News asked leading industry executives to share their 2022 predictions on what is to be expected on several beauty industry topics. Here, the second installment of opinions and forecasts touching on the future of beauty category trends, skin care, dermatology treatments, and social media with insights from Ulta Beauty's Monica Arnaudo; Shen Beauty's Jessica Richards; Tribe Dynamics' Conor Begley; MB Social's Mimi Banks; Sobel Skin Rx's Dr. Howard Sobel; Opulus Beauty Labs' Dr. Robb Akridge; and The Eco Well's Jen Novakovich.
Category Trends
Monica Arnaudo, Chief Merchandising Officer, Ulta Beauty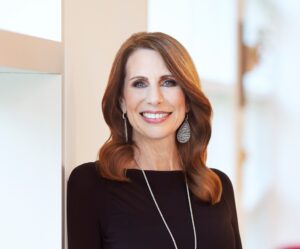 "At Ulta Beauty, we're very excited about the beauty trends and consumer behaviors we expect to see in 2022. After a period of limitations, beauty is proving to be everything but limited. We're seeing strong engagement across all categories, and we expect that will only continue as beauty enthusiasts define their new normal. Skin care, hair, bath, and body categories have been on the rise as consumers continue to prioritize self-care and wellness.
Beauty today is being addressed at all levels, encompassing the mind body and spirit. As the category becomes more holistic, consumers are evolving their routines to focus on the whole self and feeling beautiful from the inside out. We're seeing newness across all categories that support holistic beauty, such as products sourced from thoughtfully harvested ingredients, microbiome-friendly solutions, at-home tools and the 'skinification' of cosmetics and haircare, among other things.
Makeup is also back in a big way and we're seeing an expressive revival, as more people feel empowered to showcase individualism and beauty on their own terms.
People are re-emerging with a stronger sense of self and more defined vision of beauty and the ability to create their own visual definition of pretty with bolder choices and permission to explore how to be more expressive. – Monica Arnaudo
This trend we're calling 'expressive revival' takes inspiration from the 90s and Y2K cultures. We're seeing these looks on Tik Tok, with younger generations experimenting with antenna bangs, bubble braids and looks that represent the pre-cell phone era. It's interesting as most of those experimenting with these looks never lived through them, so it's not nostalgic, but rather exciting and new for them.
In addition to makeup, categories that compliment expression like hair and DIY nails will also accelerate in usage among those looking for a creative outlet. At The Salon at Ulta Beauty, we expect professional hair color services to be in full demand for those seeking popular balayage techniques and now with new Redken express color treatments, guests can save time on root touch ups. Pop on nails and manicures from brands like Kiss, Static and Glamnetic are also providing a creative outlet for guests.
As we think of the role of community in beauty, we expect consumer influence will only grow to create a positive change across the industry in products and experiences. Consumers are increasingly savvier, using their voices and the strength of their communities to influence the changes they want to see in beauty. This includes representation, diversity, equity and inclusivity, sustainable solutions at the forefront of innovation and importantly, the need for brands to stand for something. I'm proud to say we take cues from guests so that our values align, and people feel seen and reflected at Ulta Beauty. Bottom line – we predict 2022 to be a year of limitless possibilities."
Jessica Richards, Founder, Shen Beauty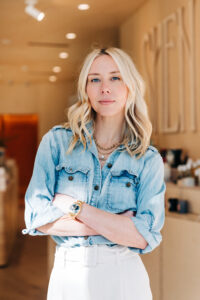 "Although I am not someone who necessarily looks at trends, I would say that everything below the neck is set to skyrocket. The forgotten land of the skin on our bodies, especially the hands, arms, shoulders, and legs, ages just the same, if not more, over time because people do not care for it the way they do their face. I think high powered body care will take the stage.
The scalp has been slowly gaining traction and with the additional stress caused by the world at large people seem to be turning to scalp care or the 'skinification of the scalp'. I have not only noticed supplements from Nutrafol to topicals like Virtue's new line of products called Flourish, which help to stimulate hair growth. Lernberger Stafsing, a hair care brand from Sweden, has a powerful skin care complex in all their hair products."
Skincare & Dermatology Trends, Treatments
Dr. Howard Sobel, Attending Dermatologist and Dermatologic Surgeon at Lenox Hill Hospital; Director & Founder of SOBEL SKIN; Founder of Sobel Skin Rx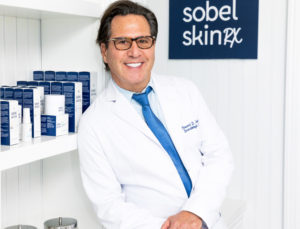 Layering and cocktailing: "Layering lasers and cocktailing in-office treatments is the way we do skin care for maximum multi-benefits. By combining treatments – Botox, fillers, Vivaci and Subnovii Plasma Pen – you can create dramatic improvements that firm, reduce wrinkles, lift, restore volume, remove dark spots, and boost radiance. For the body, we are seeing a combination of Emsculpt, Emtone, and Trusculpt to address tone, cellulite, and fat in one procedure.
Tumescent Liposuction: "We are still seeing patients come in with COVID-19 pounds to shed. Although they are back to working out, patients still do not feel comfortable going to the gym or signing up for surgery with anesthesia and a hospital stay. Tumescent liposuction is an effective body contouring procedure that only requires local anesthesia to safely remove fat deposits with little discomfort and excellent results."
Liquid facelift: "A non-invasive, surgery-free dermatological treatment that can redefine the jaw line and cheekbones, lift sagging brows, diminish lines and wrinkles, and restore lost volume. The use of hyaluronic acid dermal fillers hides puffiness and dark circles under the eyes and increases facial contours. Skin is then smoothed with Vivaci laser and microneeding to promote collagen, refine and rejuvenate the skin."
Dr. Robb Akridge, Founder & CEO, Opulus Beauty Labs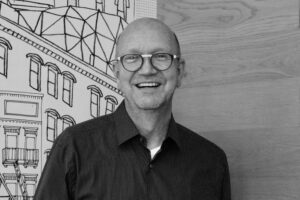 At-home skin care treatments: "The shift to home care over the past year and a half has reinvigorated the desire for at-home skin care rituals. People are now more inclined to purchase treatment-focused skin care, beyond just a single-step product, if the ritual has proven results. With offices open again, the desire to boost skin care rituals and elevate at-home experiences is shifting to an add-on mentality versus replacement for professional services, and we will continue to see this in 2022."
Ritual over routine: "It is not all about getting visual results from your beauty products. The last couple of years have been stressful and many people are now feeling burnt out, leading to a strong desire to take care of their mental wellbeing and take time for oneself. People are seeking elevated at-home full body experiences that provide relaxation and the escape that they are yearning for. They are indulging in full body care from head to toe. Skin care brands are starting to tap into these trends, and I think we will see a lot more of this come 2022."
Temporary shift in supply chain: "There are currently two challenges: cost of goods and lack of labor. U.S.-based companies have for decades sought out countries with low labor costs. However, we have learned over the past few years that being totally dependent on labor and supplies from other countries (although lower costs) is high risk when a pandemic hits. Laborers from all over the world are now demanding higher pay. Fortunately, production workers will probably see better pay; unfortunately, these additional labor costs will probably be passed on to the consumer, resulting in higher priced cosmetic products. The consumer will also start to see packaging shifts to minimize shipping costs, and a shift in packaging for products that were once contained in hard-to-find containers (e.g., glass)."
Sustainability: "Although a strong trend now, the supply change issues will be reinforced by the awareness consumers have when it comes to environmental impact. Less trash in the landfill means a much-needed shift in packaging. A smaller carbon footprint means consumers will pressure companies to provide formulations with less water to reduce carbon footprint when shipped. Along the same line, there will be a trend to produce products in the country where the company originates. Same will be true on lowering the dependence on foreign parts and ingredients. Unfortunately, this last trend will probably be a short-lived trend, and is dependent on our control over the pandemic. Companies will likely go back to old habits and will outsource both goods and labor once there is less risk."
Jen Novakovich, Science Communicator, Formulating Chemist, and Founder of The Eco Well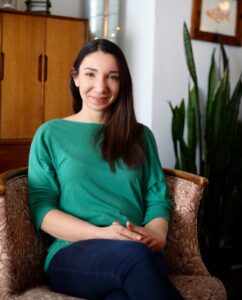 "Science-washing and clean-washing as the new green-washing is a trend that's going to take hold of the industry over the next few years. There's a lot of brands trying to increase bio-based content. A lot of brands trying to figure out ways to be more transparent to consumers whether that's through disclosing their ingredients – which is misleading in my opinion, but it's a trend that's growing nonetheless – or by showing their clinical substantiation, like Codex Beauty does, for example. Showing substantiation is more expensive and impactful, while disclosing ingredients costs nothing, hence why it's becoming more popular.
As a consultant, I see the use of upcycled ingredients becoming more prominent in the market. They've been in use for a long time, but now people are really capturing it with their marketing. I'm working with quite a few brands that are producing products that are either upcycled or designed through biotechnology, with LCA (life cycle assessment) data to substantiate their claims. Those are the top two frontiers for sustainability in beauty that I see.
We can be empowered to make the right decisions as an industry but there's a part of it that's driving us in the right wrong. The EWG has gained so much traction. All the big retailers have different 'clean' certifications that are either loosely based, if not directly based, on the EWG, who have really misrepresented our industry. We need to move towards science and substantiation. We need good science communication that will help inform consumers because at the end of the day they are the ones driving change in the industry."
Social Media Content
Conor Begley, Co-Founder, Tribe Dynamics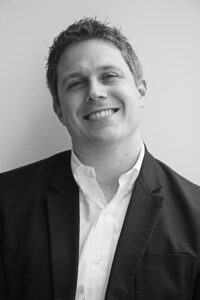 "I almost know the anti-trends better than the trends. As we look at social selling as well as direct selling via the social networks, like Instagram for example, it's just not something we've seen a lot of traction around. To clarify, social media ads are definitely doing their job – people see them, click on them and buy stuff. What's not working so well is brands trying to sell directly through their accounts by posting and tagging individual items.
Since the social media space is theoretically a fast-moving space, there's always this talk around what the next platform is going to be. But if you look at it broadly, in the last 10 years there's literally been two new platforms, Instagram and TikTok. It's fairly rare to see new behavior, or new platforms, or these new things emerge.
YouTube continues to be a very important channel and a powerhouse in the industry. The volume of time spent on YouTube is enormous; a few years ago, it was a billion hours a day worldwide. From what we see on the content and consumption side, YouTube is essentially flat year-over-year, Instagram is down, and TikTok is up. The other platforms, like Twitter and Facebook, are pretty irrelevant in the beauty and fashion spaces.
The attention that brands and the media pay to TikTok will continue into next year simply because it's driven by consumption. From the data we've seen, the volume of content and the interaction with content on TikTok is only growing so I don't see that slowing down any time soon. The emotion that TikTok evokes, the joy, is quite powerful."
If you look at all the platforms, they all have an emotion: Twitter is anger, Instagram is envy, TikTok is joy, on and on. – Conor Begley
Mimi Banks, CEO & Founder, MB Social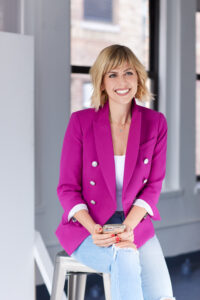 "Social media provided a sense of community, entertainment and, often distraction in both 2020 and 2021. The result: heavy content consumption. Today, both consumers and fans expect brands, businesses, and creators to share content that resonates with them. They are much more selective about who they follow, why they follow and will very easily unfollow those who do not meet their expectations. So, in 2022, content and community will play an extremely important role. Content should inform, educate, or entertain and brands will need to work even harder to retain their community. It's all about video and bringing a brand, a lifestyle, and a message to life. Finally, more so than ever, brands need to listen to their community, pay attention to what's happening in the world and show they mean what they say."