Influencer marketing is a core pillar to doing business today, and the global influencer market is estimated to be $2.3 billion in 2020, according research presented at WWD's inaugural Influencer Summit. Held at Live Nation on June 25 in Chelsea, the event brought together more than 170 executives and influencers in the fashion, beauty and retail space for a day of networking and panel discussions. Here, a summary of highlights from some of the panels CEW Beauty News attended.
Instagram's Fashion + Beauty Partnerships Team: Answering Your Most Burning Questions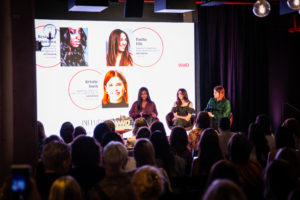 As Instagram has grown to have over one billion users, there are several myths that have emerged about the platform. In a town hall-style session, Besidone Amoruwa, Manager, Emerging Beauty, Lifestyle & Gaming Partnerships; Emilie Fife, Manager, Emerging Partnerships, and Kristie Dash, Manager, Beauty & Lifestyle Partnerships, shared insights on navigating the social media tool.
Hashtags – Don't discount using hashtags as more than 100 million people follow them to either connect with or discover new accounts to follow.
IGTV – More beauty and lifestyle influencers are adopting vertical videos. IGTV can be shared on the feed and offers the ability for brands and influencers to provide deeper content for their audience. The format that works best with IGTV is serial episodic content, as it helps train users to return.
Best practices – Don't focus on a polished feed with specific color schemes, as most people only see individual pieces of content. The panelists noted that teens are gravitating towards images that are more real and raw.
What's coming next – The in-app shopping experience for brands is in beta, but Instagram recently rolled it out for creators as well. There is no affiliate program associated with the feature at this time, and monetization conversations happen directly between the brand and influencer.
How Millennials are Rewriting the Rules of Spending
Nick Molnar, Chief Executive Officer & Co-founder, Afterpay, highlighted several noteworthy stats from a recent study:
Millennials spend $600 billion in the U.S. every year – that's $1 in every $3 in the economy – and 63 percent don't own a credit card.
76 percent discover new beauty brands and products from social media.
70 percent of millennials say they are inspired by beauty influencers and 68 percent make purchases from influencer videos.
45 percent of millennials abandon their cart after they have added all the products they are interested in, because of the sticker shock. This is why brands need conversion tools to reach the consumer beyond this point.
The New Rules of Brand x Influencer Partnerships
Melanie Rodriguez, Vice President, Operations at Octoly suggested brands focus on these three strategy areas for success:
Amplification – It's recommended to send influencers 20 to 200 products a month.
Community –There is no substitute for building in-person relationships.  Brands should aim to have at least one event or experience per quarter.
Commerce – Supply influencers promo codes and giveaways which helps track ROI and increase awareness, while also helping the influencer build audience loyalty.