Skin care designed to meet unique needs is trending in the beauty space. This month, two bespoke brands and one that's DIY hit virtual shelves. Here's what you need to know about new ranges from Atolla, Fresh Chemistry, and Hop & Cotton.
Atolla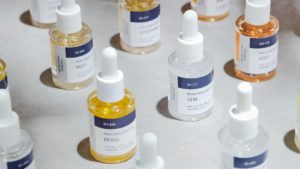 Atolla was founded by two MIT grads, Meghan Maupin and Sid Salvi, who partnered with Boston-based dermatologist, Dr. Ranella Hirsch, to create a customized serum based on the results of a proprietary skin health kit. After a hosting pop-up in New York City last year, then launching in beta earlier this year, Atolla launched to consumers in August. The customized serums arrive on a month-to-month subscription basis, letting consumers adjust formulas based on their skin's changing needs. Each month consumers retest their skin and then update the app so Atolla can anticipate things like weather changes. Each bottle of serum, including the testing to create it, costs $45.
Fresh Chemistry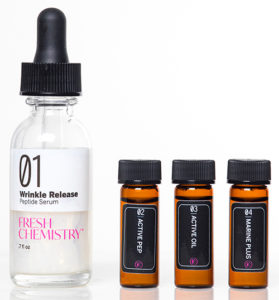 Fresh Chemistry launches this month, created by founder Nisha Dearborn, a former Johnson & Johnson executive. The brand features two serum kits, one for brightening (Glow Getter Brightening Serum Set) and one for wrinkles Wrinkle Release Peptide Serum Set). Serums, which are hand mixed by consumers, start with a base, and then ingredients such as vitamin C, AHAs and peptides are added. The brightening kit retails for $52 for the regular kit and $65 for the Supercharged Set; the wrinkle kit sells for $62, and $75 for the Supercharged Set. The brightening serum uses a lightweight, hyaluronic acid-infused serum base. The wrinkle set comes with a peptide serum base, along with an Amazonian nut oil add-in, active peptide add-in, and marine plus renewal booster, which is sourced sustainably from starfish.
Hop & Cotton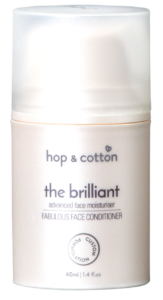 Hop & Cotton is an Australian skin care brand with customized products created for each consumer. The range is cruelty-free and made without sulfates, parabens, fragrance and artificial colors. To get customized formulas, consumers take a proprietary skin test. A formulator from the Hop & Cotton team reviews the results and responds, giving the consumer insights into her skin, making formula recommendations to address the client's skin needs and goals. Each ingredient is chosen for its benefits and compatibility with the client's skin. The brand boasts more than 100 ingredients, including peptides, vitamins, plant extracts, botanical butters and more. Items can be purchased separately. There is also The Complete Regime, which includes The Foam Party, The Smooth Operator, The Brilliant or The Makeover is sold for $226. The Perfect Pair includes The Foam Party and The Steady for $112.