Sasha Plavsic, a former brand developer and consultant, has made "many fails" over the past 10 years while developing her self-described skin care powered makeup brand, Ilia Beauty. But over the past four years "everything started to click," and today Ilia Beauty can be seen front and center in Sephora stores nationwide, and in Canada. Here, Sasha shares her founder journey, the brand's turning point and what's planned for the future of Ilia.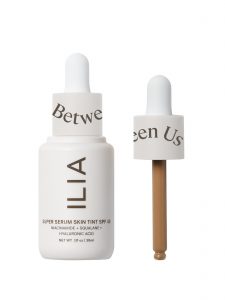 BeautyNews: Talk to us about some of the highlights of your brand's journey.
Sasha Plavsic: All the work over the past decade finally lined up. I had failed so many times in the last 10 years. In 2012 Sephora came knocking on our door, which at the time was me and one other person. I had received a call from Averyl Andrews, the Senior Director of makeup Merchandising, and she said, 'I really like what you're doing.' And we kept in touch.  We did launch in Collette in Paris, and on Net-a-Porter in 2013 — we were one of their first six beauty brands. We had all these little instances where people didn't know about us, because how could they?
I was trying to make things as natural and organic as possible. I always had some synthetics in my formulas, so I was put in the corner, so to speak, like I wasn't a real natural brand. And I felt shame. I think the turning point was in 2014. I started embracing more of what I was already doing, discontinue some of the more organic products in the line, which were hard to scale because of consistency and raw materials, and get to what clean is, which for me was unity of the best of natural and the safest of synthetics. In 2016 I had a bigger meeting with Sephora: they wanted to test the brand. I said okay, but that I needed help. She recommended Lynda Berkowitz, who became our CEO. That was the point when all the dominos lined up, and then tipped. It took us three years to prove ourselves with Sephora.
BN: How did you gain traction in that space?
SP: I know there are many clean makeup brands coming to [Sephora], but we had to go through the ringer to prove that we could have that category there. And there were a lot of moments where we wondered if it would even work. So in order for us to gain green traction, it took three years just to get off the ground. Sephora was going slowly and cautiously because there had been several that had kind of failed.
BN: Where are you merchandised in Sephora now?
SP: Now, we have two bays in Sephora stores across Canada and the U.S. There's only one other brand that has that positioning in clean color. We are currently the number-two growth brand in color, and we have broken their top 10 color brands.
BN: Where was Lynda prior to joining your company?
SP: Lynda is a beauty veteran. She was at Bobbi Brown Cosmetics and Too Faced, and she was a consultant. That's how we met. I made her a partner in the company and came on as CEO. I brought in someone better than me as an operator because I'm a founder, not an operator.
BN: What about funding?
SP: We didn't have any funding until three years ago. Lynda and I talked to different people for our seed round. We were still relatively small, and doing quite well, but we struggling to make ends meet. I am Canadian and not a U.S. citizen so getting a larger line of credit was difficult. It got to the point where we did a seed round of $3 million at the end of 2018. That really helped to put a peg in the ground to hire more help and fill out a plan and a roadmap for what we're doing today. We were careful with how we chose to spend it because it's not a lot of money and we hired carefully over an18-month period. We did a second round a year later for roughly $10 million. Breaking up the funding that way and going step by step was smart. Our company doubled again a year later. We continued to hire the right people for the right positions to build a great leadership team. It's all about the team. I can make great products, but if you don't have money to market it, or a team who knows how to sell it and make the operations work internally, from logistics to ensuring you have stock, you have nothing.
BN: Tell me about Ilia's advertising strategy.
SP: We have an amazing digital department and we do everything internally. In the last year we turned on advertising and we got real. I think for me, it's always been about authenticity and our mission is to protect and revive the skin. When I was doing this brand 10 years ago, I had acne. My mom, who was testing products, had aging skin. So we were working with her and formulating some of these for mature skin, as well as my younger skin, to see what was problematic or reactive. I was really making this for the millennial and her mom.
The ads are about showing real women, women who we see every day in our lives, in a natural environment. We engaged all of our influencers to take pictures and do videos, and it was amazing. They took off.
BN: Can you go back to where you talked about refining what clean meant to the brand?
SP: Clean beauty is a challenge. The word itself is challenging; what does it mean? When Sephora and I started talking back in 2015, they were looking to build out a Clean at Sephora category. So I actually helped them work on the list. (There's another tier coming; they built three tiers and they're slowly introducing them.) Having that list and that set of ingredients helps guide young, new brands and serves as a guardrail. It created clarity around the category.
BN: What are distribution plans going forward?
SP: We have worked toward full distribution in Canada and the U.S. with two bays in each store so Sephora is definitely our most important partner. People are definitely going back to stores. You would think they aren't, but they are. I believe it's really important to have a brick-and-mortar representation as a brand, because no matter what happens in this world, people will always want to touch and feel. It's like a showroom. Buying online is fine but feeling product is very important. The other big important thing for us is customer service. In April 2020 we moved our field team into customer service. We are known for good customer service and giving good shade matching. We have people take pictures and upload them, and we work really closely with the customer virtually to ensure that they're getting the best experience, as if they were in a store.
BN: What's next for the brand?
SP: The brand is 10 years old next month. The first seven years were experimental where I was trying to figure out how to play in this category. I didn't realize the category was being created or that I was at the beginning of it. A lot of time people say you have to do things a certain way, that's when I generally break left.
As for 2022 and beyond, now is really the first time in a decade that I don't have to be in every meeting. I'm so proud of our team and the machine that we've created. It feels very well oiled. This gives me some freedom to go back and dream again in the product development space. And as a brand, we like to be really innovative. If I were in an elevator and someone asked what I do, I'd say I make 'skincare powered makeup.'
In terms of sustainability, the beauty industry is one of the biggest polluters of the planet. And we have many things that we are putting into place to address this. I believe all brands, especially a brand our size, really has to dig deep and figure out what little changes can be made. Because it's not just one, it's many tiny things we can do in order to reduce our impact on the planet.